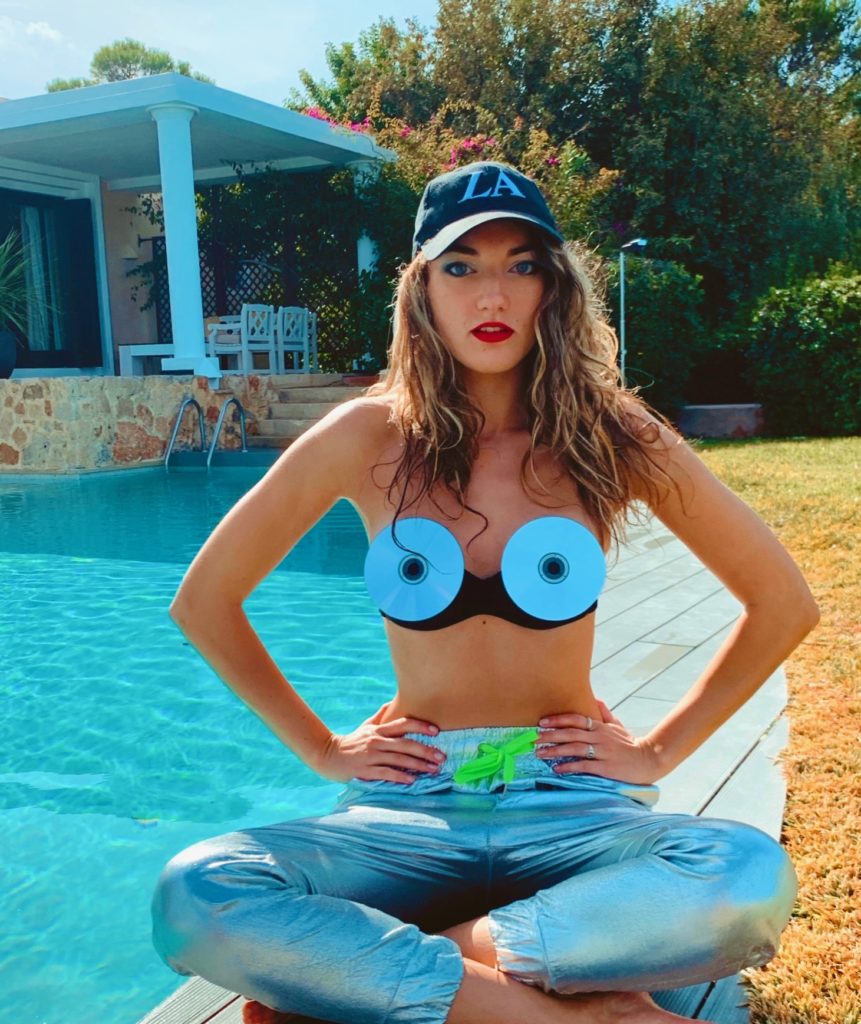 Congratulations on the release of "Kissing Boys" how does it feel?
So exciting! I've been working on this project for a few years now and it's so beautiful to see my vision finally coming to life.
What's the story behind the song?
Kissing Boys is about the magical experience of kissing someone. All those sensation you have when you feel there lips for the first time can reveal so much of a person, if the person is shy, passionate, tender, wild..
Kissing Boys it's not just about boys, it's about all those different people Kissing! All genders, all nationalities, JUST LOVE!
You are an artist from L.A. how did it all begin for you?
I first arrived in LA because I won an award for my first music video at the International Fashion Film Festival in La Jolla and then I met all those beautiful people who believed in my vision and helped me realise it. I LOVE LA and I decided to live here.
What did you listen to growing up?
From classical music to Pop I use to listened a lot to Lady Gaga, Britney Spears, Elton John, Daft Punk and so many more inspiring artist and producers.
The video for "I'm Leaving Right Now" won an award at the Fashion Film Festival, congratulations. What was your favourite moment of putting it together?
My favorite moment was at the award show, when I saw my music video for the first time on the big screen of a movie theater! From that moment, I knew I made it!!!
You directed it too, what was the biggest challenge?
My biggest challenge was finding the right team. But when you find them everything just works perfectly. And there was a lot of challenges that made me change the locations of the music video last minute, and all those difficulties made my vision even better, filming in unexpected places, like Burning Man, or in a beautiful villa in Los Angeles, and on my favourite bridge in Paris: le Pont des Arts.
You are a choreographer, what's the one song guaranteed to get you dancing?
I feel love from Donna Summer and Giorgio Moroder for sure!
You are also a DJ for the legendary French Radio station, FG Radio. WOW! What a CV! How did that come about?
I live next to the radio in Paris and my friends were working there so I spend a lot of time meeting DJ producers and they thought me how to DJ
What's your go to tune to get the party started?
From: Disco To: Disco by whirlpool Productions, really fun track haha!
COVID impacted the creative industry what kept you motivated?
When the clubs were shut down I started writing the punchline of one of my songs "JUST DANCE MOTHER F💖💖💖💖💖", on the streets of Paris, Brussels and Ibiza. Everyday people send me pictures and videos of them dancing on it and telling that it made them smile. Just knowing I made people feel better with a sentence makes me so happy 🙂
The last two years have been a time to reflect what did you learn about yourself?
I actually traveled more than I usually do as things got slow for the music industry, I went to Italy, Ibiza, France, etc. Traveling is really inspiring. To be out of your confort zone, meet new people and live adventures can really teach you a lot about life and inspire you to create new songs.
Did you pick up any new skills?
Yes this last music video Kissing Boys made me learn so much more about directing, organizing a music video (casting, working with a team, directing, editing, …)
Being from L.A. what are your three favourite things about the city of Angels?
I would say living in a place where there is nature, you can go to the beach, hiking, all while living in the city.
Meeting so many creative, eccentric and beautiful people that understand your vision and can inspire you creatively, people with no limit for imagination?
Being surrounded by live music all the time and seeing incredible musicians play.
What are you listening to at the moment?
I'm listening to a lot of old records, from blues to funk and disco
What are you looking forward to next?
My plan is to release an acoustic EP with a few beautiful love songs I wrote during the pandemic.