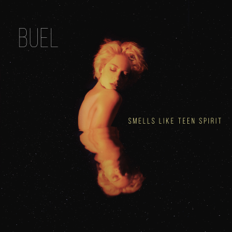 Hello BUEL!
Hi Derek!

Congratulations on the release of "Smells Like Teen Spirit" how does it
feel?

Thank you! I feel really happy. I came up with the idea a couple of years ago but didn't think I would make it come alive. In a turn of events, it felt right to do so.

The video for it is pretty epic, you directed it how did you come up
with the concept?
Thank you! I just had this idea about an alien who's stuck on earth for a while. Just wearing jeans, watching cartoons while snacking. I didn't know if it should be a movie, or a music video but I really wanted to see it. Then by my understanding of Kurt's pain and sarcasm, I thought that an alien being tested by trying to solve a strange rubik's cube with its 3 fingers and it looking entertaining to the others would be the right way to metaphorize it. I think the fact that life is constantly testing us from where we aren't strong at and it making us look stupid from the outside was an inspiring idea for me.
You are a singer/songwriter from LA, how did it all begin for you?
It began when I realized eating pasta and music were equally the most fun things in the world for me when I was 4-5 years old.
What did you listen to growing up?
Bee Gees, The Beatles, ACDC, Rod Stewart, Sting were constantly playing in the house growing up. I didn't choose to listen to them, but I definitely liked the background music that played. Then when I was 12 and joined my first band, the guitar player girl said that if I don't know about Nirvana, I don't know about music. So I met Nirvana, then from there my own taste started to evolve.
You started singing at the age of 4, what were your favourite songs to
sing at that age?
I didn't have a favorite song, I just had these tracks programmed in some musical instruments at home and would hear my dad playing classical music all the time while working, so I would just try to sing idioglossia on the music that was there. I just remember thinking music was my new favorite toy. I didn't know how to play with it, but I was just wandering around it with excitement, sometimes dancing and sometimes singing.

You started performing live at the age of 12, what's your favourite
memory of doing that?
My favorite memory was that, once I passed my first show, I felt liberated. I didn't know if it would go anywhere as a career, but it definitely felt like a purpose that was bigger than anything else I could feel excited about.
2020 was a time to reflect for everyone, what did you learn most about
yourself?
I think I felt that I had good crisis management. I shut myself down completely to the worry about the future and just decided to work on my every moment instead. All of a sudden my brain felt much happier than ever. The worry about the future and your mind wandering around instead of living the moment is such a torture and the fact that tomorrow was totally unknown no matter what I did, gave me a chance to focus on my present fully, maybe for the first time.

You're currently working on your EP, how's it going?
It's going great, the tracks are done. I'm still writing new songs and doing studio sessions, so I may add or replace a song or two, but I know the concept, and it's coming out pretty soon!
What's your favourite track from it?
I recently challenged my brain about this whole 'single' thing. So I thought about releasing a double. Two songs are my favorites: Small Talk and Persona, they're like Yin-Yang, have a good balance together, so I want to release them together.
What are the biggest challenges and triumphs you're facing with it?
The biggest challenge is that; songs are moments, but the production and the whole release process are thousands of moments. So by the time my moment for that song passes and I'm already in another mood, it turns out it's now the time to release that song. So the released song and where my brain is at that moment doesn't match.
The triumph is that I can manage my brain to focus on creating moments for those songs I've done a long time ago. I listen to them hundreds of times and get into my past brain, acting like the old me, it's a strange exercise, but I feel like I'm nailing it.
You are from LA, what are your three favourite things about it?
Oh that warmth you feel, when you come back from the east coast cold. Artists all around. I love being challenged and being around people who work hard.
COVID has had a big impact on the creative industry as a whole, what's
kept you motivated?
I think creativity always wins, especially when it's being limited, it works the best.
What artists are getting you excited at the moment?
I'm really excited about Billie Eilish, Dorian Electra, Christine and the Queens..
What's next for you?

Putting out a lot of music and making sure people who should hear it hear it.