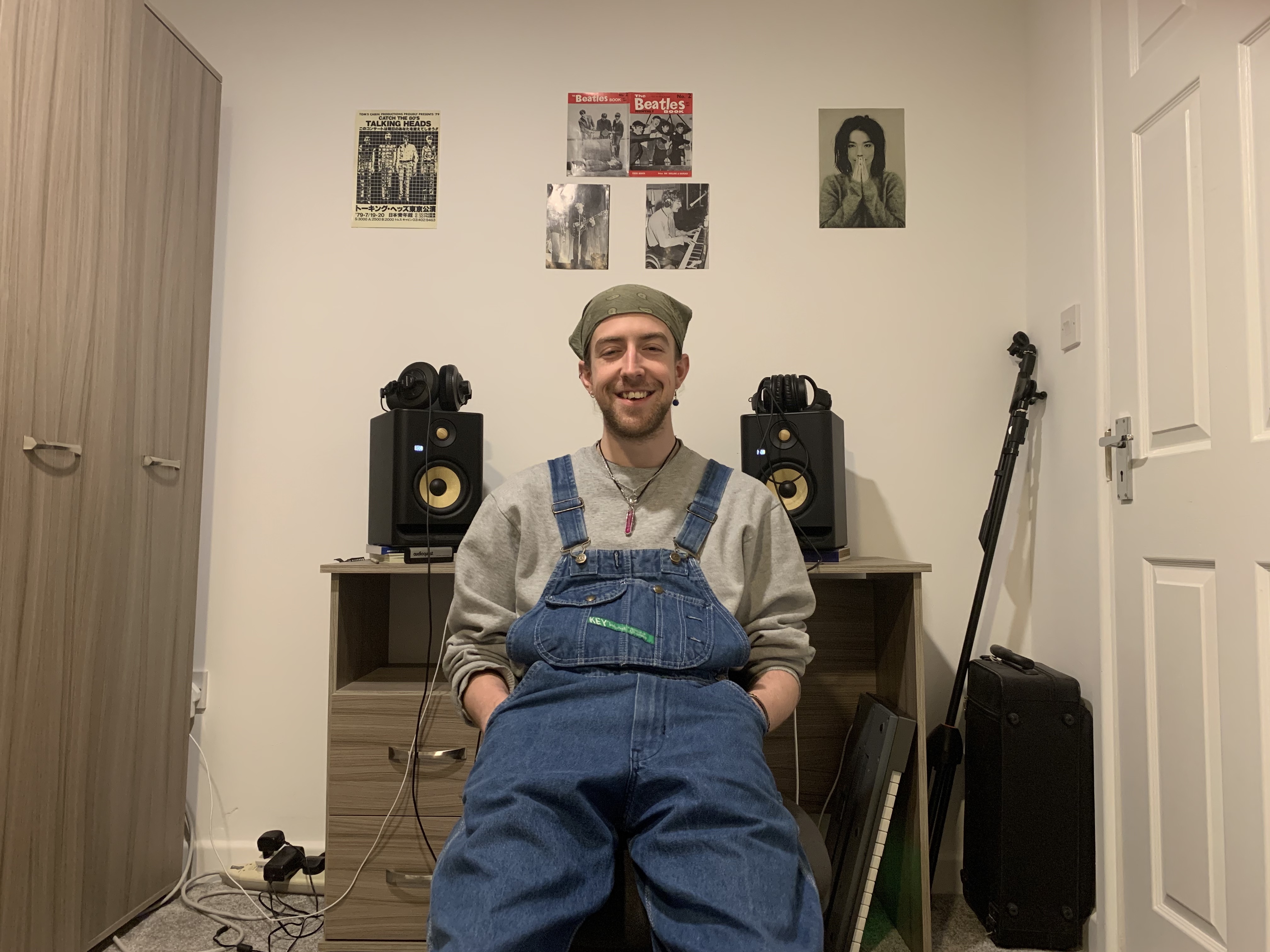 Hello Joe, how are you?
Hey Derek! Yeah I'm well thank you, super busy but I'm enjoying myself.
Congratulations on the release of "November" how does it feel?
It's a mixture of things to be honest! Obviously it's exciting seeing it all coming together, but all the normal nerves and insecurities are present too. Mostly it just feels bizarre – the track's been finished for ages but I'm still billing it as a new thing, and I'm so snowed under with uni work that my mind is often elsewhere!
You are a singer/songwriter/producer from Norwich and Birmingham, how did it begin for you?
So I started writing music when I was around 14 or 15… I played in a couple of bands back in Norwich, where I dipped my toes in the local music scene, and this helped me land some session work. It's only since the first lockdown that I've been producing and singing though! Loads of the tracks I've been working on have been sat in my head for years. Singing absolutely terrified me for most of my life – my identity was totally attached to being "good at music", so I never had the courage to risk not being an amazing singer. I didn't let anyone hear me until the a few months ago when I bought a microphone to force myself to learn.
"November" comes from a very deep place, how did it begin?
I suppose it started last term, when I was pouring lyrics onto my notes page every 15 minutes. I flicked through and picked out those that best captured this period of my life. Really, it's a very jumbled set of ideas, tied together by loose threads of self-discovery and the feeling of the first glimpse of light at the end of the tunnel. My perspective had changed from dwelling in my crises to viewing crises as opportunities for spiritual growth.
I flirt with the idea of making it a break-up song, indulging in the pain, but catch myself and change course ('I can't afford to let you pass me by/Oh, what a surprise'). I consider talking about drugs but it's very fleeting. This period of time marks the moment I started believing in myself and honestly accepting my insecurities, mostly because I needed to. Yeah, let yourself feel insecure man, it's a hell of a lot easier than trying to convince yourself you're not.
What artists did you listen to growing up?
There's always been a huge range! As a kid I listened to Michael Jackson obsessively, followed by Bob Marley and Stevie Wonder. Jazz and neo-soul were the twin peaks of my adolescence, people like Lauryn Hill, Robert Glasper, Herbie Hancock, Erykah Badu, then in the last few years my go-to has been psychedelia. Other important names – the Beatles, Mild High Club, Dylan, silly stuff like the 1975 and Japanese House, and loads of UK jazz like Oscar Jerome and Ezra Collective.
You recorded it at home what were the challenges and triumphs you faced in recording it?
The recording was all fairly straightforward (apart from finding a time of day when the house was quiet), but producing was much less so! I watched an immeasurable number of tutorials and spent ages tweaking the mix. Of course, the ironic thing is a few months after finishing this one, my production skills are already so much better.
2020 has been a time of reflection for a lot of people what did you learn most about yourself?
Umm… I think I learned just how much of my life has been spent paralysed by taking myself way too seriously – as in, scared shitless about what people think of me, entirely dependent upon external validation, and addicted to overthinking! I bet that makes me sound mega neurotic, but I've managed to be pretty functional despite all of this. I'm sure these are feelings that resonate with other people too. On the flipside, I think I've learned what it actually means to love myself. There's a ton of conditioning and hard-wired neural paths to overcome, but I'm working on it.
COVID impacted the creative industry in a big way, what kept you motivated?
I suppose spending most of my musical life in my bedroom meant that I was blissfully detached from most of these difficulties. I wouldn't have created any of this were it not for the lockdowns, which is a strange thing to say. I'm sure the government would love to watch the steady rot of the creative industries, but thankfully there seems to have been enough of a pushback to prevent this. The thought of live music returning is very exciting.
You live between Birmingham and Norwich, what are your favourite things about those places?
Tricky one! For Birmingham it's the anonymity. It's wonderful being able to walk around the city and not bump into ten people you've known since you were 5 years old! Norwich is the complete reverse but that's OK, you know what you're letting yourself in for and everyone's in the same boat! My favourite things about Norwich are my family and my cat.
What new artists are getting you excited at the moment?
The UK jazz scene is thriving right now! I'm really into corto.alto and all the Live from 435 stuff, so they're an obvious choice. A mate from home is also putting out some great music with The Night Society. They're an indie band with a glorious 80s influence, so it's right up my street.
You're currently recording your EP at home, are there any new skills that you have learned during this process?
The EP is actually finished! I recorded and produced it last term, and it's gonna be out very soon! I learned a ton of new skills, some really simple and some more technical.
What are your favourite tracks from it?
Depends on the day and mood you ask! Right now I'm probably most pleased with the closer, A New Path. I think there's some really interesting deconstruction on that one, and it definitely feels like the boldest track on the EP. The singing is drenched in autotune, and I also wrote some poetry for it. But I'm really happy with the whole project, and I'm happy to let the tracks go now.
What are you looking forward to next?
I've been working on a couple of music videos with some friends from uni, so editing them is something I'm really excited for. Otherwise, I'm excited to have time to write and produce again! I've got lots of new material lined up so I'm interested to see where it all goes.