Clockworks! How are you doing? 
Good thanks, looking forward to the album release. It's been all guns blazing for a while so looking to get the album out.
Congratulations on the release of "Exit Strategy" how does it feel?
It's fulfilling. We worked for a long time on this, and we've had to learn a lot to get to here so it's fulfilling to now be able to put a body of work out into the world.
What's your favourite track from it?
I think each song has its story, and for us each song has two stories: the story within the song and the story of making it. So, it's impossible to choose a favourite really. One of the mental analogies we always had for creating this album was building a house. You have different rooms that suit different needs, and then you try to make sure those separate rooms have a flow and a cohesion that allows a building to feel like a home. The different songs are different rooms in the house, some you might go to when you're sad, some when you're fired up and so on. Because the album is parsed in that way in our heads, I think it makes it impossible to choose a favourite. 
It was recorded at the holy Mecca, Abbey Road, what was it like recording there?
Abbey Road was incredible. There is a definite feeling about the place but it's not like a Cathedral: We didn't feel compelled to be deferential to it. At the same time it was inspiring to feel like what we were making was part of a long lineage of music made within the same walls. The staff and studios themselves were brilliant and we appreciated how dedicated everyone in the room was to making the best work possible. 
This has to be asked… what's your favourite Beatles song?
Right now, today, off the top of my head: Lucy in the Sky With Diamonds. Something about it makes me feel something I can't explain. But then there's about 100 other Beatles songs that do that. They were incredible. 
You are a band from London, how did The Clockworks come into being?
We currently live in London, but the band are from Galway in Ireland. Sean, Damian and I met at school and bonded over music. A few years later we met Tom, who's from Limerick, in Galway City and it all went from there. 
What did you listen to starting out?
It's hard to remember exactly, but I think a lot of bands like The Smiths, The Strokes, Arctic Monkeys, bands we grew up on really. We always had our individual tastes outside of that, but I think that was where the Venn diagram overlapped the most. 
You've also been gigging, tell us a funny story from the road.
This one is from a while ago but it does spring to mind. We were playing a show in Dublin and the stage was way too small for the band to fit on so we had the drums on stage and the rest of us had to stand in front of the stage, beside a fire place with a lit fire so it was roasting. For some reason the microphone situation was dodgy so we kept getting electrocuted quite badly. I got it into my head that it was my shoes that were making it happen so I took them off. It didn't help. So we spent half an hour playing in our socks in the middle of the crowd, dripping in sweat from the fire, getting blasted by the microphones every time we touched them.
What have you learned about yourselves in the last three years post COVID?
We've learned loads. One of the lessons that COVID taught us was to appreciate songs outside of the live show. We used to perform songs as we wrote them and judge the song based on how it was at a gig, but COVID meant that we had to write and finish a song as a song, rather than as a live performance.
Did you pick up any new skills?
Over the last 3 years we've learned how to load up a splitter van in freezing conditions with extreme efficiency.
What are you listening to at the moment?
I've been listening to a lot of Philip Glass, James Blake's new album, and Pink Pantheress. 
What are you looking forward to doing next?
We're going on a long UK and EU tour in spring next year ahead of festival season. That's going to be exciting.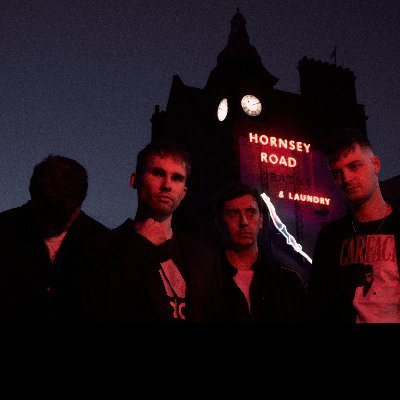 Special thanks to Danny Watson CDP/CDP Radio Promotions