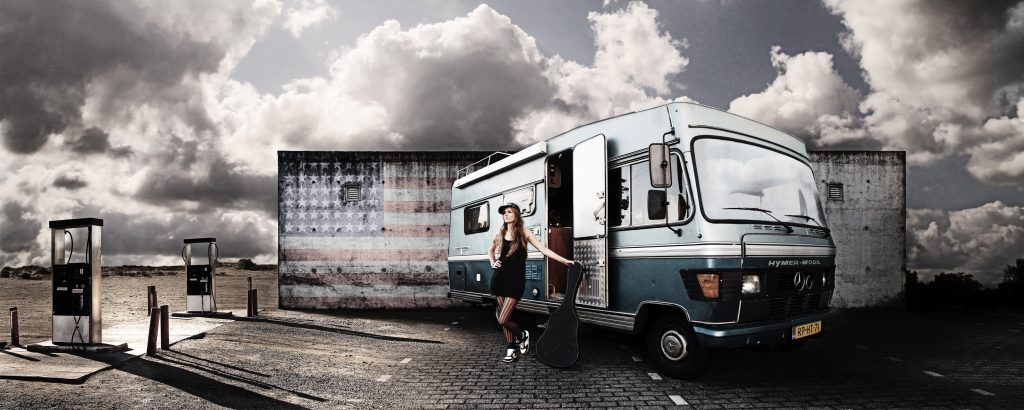 Hello Mattanja how are you?

I am doing well. Very busy at the moment moving house.

Congratulations on the release of "Desire" how does it feel?

It feels great to have come to the point of releasing it into the world. It has been a challenge to be honest.
 
What's your favourite track from it?

I think 'Siren Song'.

You were inspired by travelling across America to create it, what was the catalyst for this?

After 3 tours in the US with my previous band 'Bradley's Circus' I came to love the States, but never really had the time during those trips to explore. When life became too busy and successful, that's when I found myself craving to buy an RV and travel around for a year with little to no plan. Escape for a while.

You drove across the states in a 40-year-old RV/recording studio, what was that like?

It was everything I hoped for. It was so liberating to have no internet, it gave me back some space and perspective, it also changed my relationship to social media forever. I became a lot less focussed on the commerce but more on what I wanted from living this life. I did set a few goals though. Whilst traveling I wanted to record old American hits and called them the American Road Trip Recordings. I released them only on my YouTube channel and taught myself to video edit watching tutorials on YouTube. Those songs were all recorded in the RV. I did also record some demo's from this album, but re-recorded them in a music studio in the Netherlands.

It's certainly an unconventional way to record, what was the easiest and most challenging aspect of the process for you?

I was a really nice place to record, it felt very cosy and I was amazed by the quality of the recordings. Sometimes we did have to alter our way to literally charge up at a RV park somewhere to juice up all our equipment to be able to record and finish editing and producing. If I could go back and change one thing, I would have put a small solar panel on the roof. I did that after this trip and never needed to plug in anywhere. Even more freedom!

What became an essential part of your set up doing this?

Finding a good place to park for a while. We could go without charging up for about 3 days. But they times were when we found a lovely place and stayed for a month or so. Once we stayed on a parking lot behind a gallery that gave us power, it was such a cool little town in New Mexico. Free parking everywhere and the nicest people.

What was your favourite place to visit?

Oooo.. that's a though one. I have a few and I can't make a choice and leave one out! Red River, New Mexico. Silver City, New Mexico. Fairhope, Alabama. New Orleans, Louisiana. Yellowstone, Wyoming.

You busked, what was your favourite spot to play?

Silver City, New Mexico. We drove up to a Walmart and started setting up when we were asked to leave by the manager. Silver City is a really cute but quite town and most people were to be found at the Walmart. But we decided to drive back to Historic downtown and just set up on the pavement on the main street, we had are mind set on making music and didn't let the lack of people stop us. And there was really hardly anyone around. When we started playing, slowly people were gathering around us, to a point where it felt like a small street party. Everyone was so excited that these foreigners were playing on their street that everyone stayed and we dancing and getting drinks from the supermarket. We received great tips and everyone bought my albums. We ended getting invited to play in their bars, coffeeshops and gallery parties.

Who was the one person that you met that really inspired you?

Al Shackman. We were lost trying to find a hot spring somewhere in the Gila in New Mexico. We came across this diner in the middle of nowhere where they had WiFi. We decided to have lunch and look up some more directions. There were only about four people in the diner and we were enjoying a chat all together when Al Shackman walked in. After ordering a coffee, he came up to us and asked us if we came all the way from the Netherlands. "Yes, we sure did." "And are you musicians?," he asked. "Actually, we are indeed." "Me too! And I used to live in the Netherlands for a little while." "Oh really, where about?" "In Nijmegen." "Ok, cool. And with whom did you used to play? Maybe I know them." "Nina Simone", he said. That was just crazy! It really blew my mind to meet Nina Simone's old guitarist in a diner in the middle of nowhere. I am a big big fan of hers. I gave him my CD, told him about the American Road Trip Recordings and he went on his way. After 45 minutes he walked back into the diner saying he was so happy that we were still there. He said; "I was so consumed listening to your music, that I didn't realize I was going the wrong way until I hit Arizona!! I want to invite you to come and stay with me and my girlfriend on her ranch and do a recording with me." We ended up staying with them and changed their living room into a recording studio and played songs and exchanged stories. And off course he's on two of The American Road Trip Recordings. Check them out on my YouTube channel.

You're an artist from Holland how did it all begin for you?

When I was, I don't exactly know, I reckon about 7 years old or 8, I watch the movie 'The Color Purple' with my family. There is a scene where the singer sings Miss Celie's Blues in an amazing red sparkly dress with a peacock feathered headdress in a shack with a honky tonk piano that absolutely blew my mind and made my heart squeeze together. That was it. That's what I want to do!

What did you listen to growing up?

With an English father and a Dutch mother that never played any Dutch folk songs, I grew up listening to great music. My father was a big Jimmy Hendrix fan. The Beatles, John Lee Hooker, Bonnie Raitt, Dire Straits, TTD, Cesaria Evora, Dulce Pontes, K.D. Lang, Ray Charles etc.. And I very much loved Elvis, Meatloaf and Michael Jackson.

Your sound is a mix of blues, country and soul. What is your writing process?

Sometimes an idea comes to me when I am driving, so I record a good lyric or melody on my dictafoon. Or playing around on the guitar or piano, melody, lyrics, chords come simultaneously. And sometimes I silently write some lyrics and later on I will look for a nice sound to put it together.

What have you learned about yourself in the last three years post-COVID?

That I am resilient.

Did you pick up any new skills?

Yes. I always had a dream of fixing up a house at some point. Sadly I never was able to get the bank to give a mortgage. And when COVID came along and all shows got cancelled I got the idea to buy a little chalet on a holiday park. This was doable without getting a mortgage and I started fixing up a small chalet, mostly by myself and started doing holiday rental. I have just bought my third chalet. It is hard work, but very rewarding and I can put a lot of creativity into it. I find it a sport to think of all the details so people can just relax and have a great time.

What are you listening to at the moment?

Chris Stapleton.

What are you looking forward to doing next?

Once I have settled in my new home I would like to set up a small tour for next year to play the set I created for my album release show. I edited footage of the trip for the songs and they play whilst performing. It is like a road movie/documentary/showcase and I would love to do a few more shows like this in the right setting and take people with me on this journey. Live music, movies, and stories. I also will be fixing up my third chalet and making it into another little dream house.