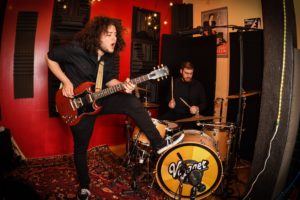 You are an outfit from New York how did it all start for you?
James and I have been working on music together in one form or another for almost ten years. In addition to King Falcon, we actually work on another project called "The Inoculated Canaries" which is a four piece rock band I started when I was 13. We needed a drummer and James was the only one to audition so naturally he got the gig. I've been stuck with him ever since. The Canaries sound is a bit more vintage than the Falcon sound. People often compare The Canaries to bands like Thin Lizzie, Pearl Jam, and The Foo Fighters.
We decided to start King Falcon because I wanted to get involved in the alt rock genre. In college, I found myself listening to a lot of artists like Tame Impala, Mac Demarco, and Jack White, and there's no doubt that some of those sounds made their way into the King Falcon mix.
Congratulations on the release of "Shake! Shake! Shake!"
How does it feel?
Rad!
The video looked like fun to do, what was your favourite aspect of it?
What's funny is that James and I actually didn't get to see the dance until we had finished all filming. Everybody else in the room saw the dance approximately 500 times while we shot, but we were really on the other side of that wall and had no idea what was going on!
You recorded the single in LA, what were your favourite moments?
First of all, I love the city of Los Angeles. As a New Yorker it's hard for me to admit that I actually enjoy any other city, but LA really won our hearts. It's really unfortunate to see what's going on there right now with the wildfires.
Getting back to Shake Shake Shake – I actually booked plane tickets last minute and forced James to come with me. Only once he got on the plane did I inform him that I had actually not yet written a song and we only had 3 full days in LA to write and record the entirety of whatever it was that we were going to record
At the end of those 3 days, we got "Shake".
What was your favourite thing to do while there?
We got extra large beef burritos from Del Taco and decided to take the two hour hike up to the Hollywood sign. It was a beautiful hike, but I wouldn't recommend doing it after eating Del Taco.
What are you both listening to at the moment?
I know James has been really big on Long Beach Dub Allstars recently (this comes as a result of listening to the Sublime catalog in its entirety about 50 times).
As for myself, I've been coming back to Steely Dan. Dad rock? Maybe. Still sounds good to me though.
New York has been affected heavily by lockdown, how have you kept yourselves motivated?
I recently became an endorsed artist for ESP guitars so I have actually been putting together a series of video lessons for guitar players which will go live soon! (I have to finish editing them)
How does a typical writing session start for you?
I'll usually start with some kind of melodic idea on just acoustic guitar. Then we'll add the drums. Then we usually make a demo of that and live with it for a while, tweaking phrases or words for a couple of weeks. Just really trying to make sure everything is as good as it can be. Once we're satisfied with where the melody is at, we'll head to the studio to record final tracks and then play around with different production ideas.
You have played live gigs pre lockdown, what's your favourite thing about playing live?
Technically, King Falcon has never played a live show. Our very first gig was scheduled for April 1st, but that was canceled due to COVID. However, James and I have spent many years playing live shows with The Inoculated Canaries. And really, the best thing about playing live is something that I think a lot of people miss right now. The energy, the togetherness, the feeling of getting drunk with your closest friends and crowd surfing at a rock concert. They're just a good time man!
What's a funny story from the road?
One time we played an outdoor gig, and right as we started a protest erupted in the street. This was maybe back in 2015 or so. At first we thought we were gonna get shut down because the protestors got pretty rowdy. But actually, a lot of them decided to take a break from protesting for a while and just hang out and watch the show. There must've been about 200 people in the crowd bopping their heads while also holding their protesting signs. Say what you will, but nothing brings people together like music.
What are you looking forward to the most post lockdown?
Touring, Gigs, Shows, Interacting with fans, and most importantly not having to wait on a long line to go to Target.