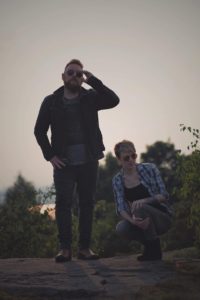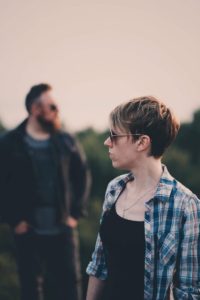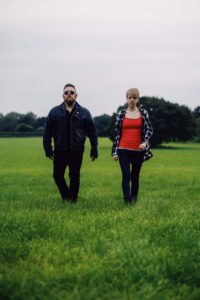 Photos: Lauren Quayle
The Far North formed in mid 2019 as Lee Wylding (Vocals/Guitar) and Andie Packer (Drums).
The band's ethos is "To go back to a traditional way of crafting songs, where every lyric is wrought out, every drum beat and guitar line is played from the heart.  In turn making the songs meaningful and of value.  We wanted to make an album which can be played in full at once,  rather than just cherry picking the best songs and releasing 10 singles.  This approach isn't something at the forefront of popular music in 2020."
To realise this vision The Far North hired revered UK producer Nigel Stonier, who is famed for his work with such luminaries as Lindisfarne, Joan Baez, Robert Plant and Martha Wainwright.  Recorded at Manchester's Airtight Studios, their debut album "Songs For Gentle Souls" will be released through Red Lantern Records on November 20th 2020.  They were additionally supported on this journey by The Analog Music Fund.
Steeped in influences from the 1960's and 70's, The Far North are actively contributing to the burgeoning UK Americana scene and have already enjoyed airplay from radio stations in the UK and globally, including BBC 6 Music (Chris Hawkins), Regional BBC, and Liverpool Live 247 (Billy Butler).  Their debut gig was at Old Trafford Stadium in March 2020.
www.thefarnorth.co.uk
www.redlanternrecords.co.uk
www.analogmusicfund.com
Lee and Andie, how are you ?
Lee – Hi Del, we're very well thanks, just gearing up to release another single so all's pretty busy to be honest! We're delighted with how our debut single has done especially getting played on BBC 6 Music by Chris Hawkins and a few of the regional BBC's too, it's been a great way to launch our music into the world. 
You are a duo from Runcorn/Manchester how did it all begin for you?
A year ago basically, after The Fireflys disbanded i received a call from Nigel Stonier ( famed uk producer responsible for producing Joan Baez, Lindisfarne, Clare Teal & Robert Plant) asking what we were up to,
so i told him we were at a loose end so he suggested we have a chat and before we knew it he was producing what was to become our debut album (Songs For gentle Souls).  I had the album name,  and the band  name "The Far North" in my back pocket as a plan B a few years ago, but now it's 
been promoted to my plan A! We had just signed to Chester based record label Red Lantern Records, so thankfully we were able to start afresh with The Far North from the fallout of The Fireflys.

Your sound is described as UK/Americana, what were your influences growing up?
Growing up i really liked Oasis, Manic Street Preachers & The Smiths, but as i got older i started getting into Neil Young, City and Colour and Springsteen, I'd say in terms of my music influences they're my holy trinity. All the aforementioned artists get me right in the heart, they not only influence my music but they influence who i actually am. 
Congratulations on the release of "This House Is Ours". What's the story behind the song? 
Thanks! Basically I wanted to write an upbeat sea shanty type of song so i sat down one day and it just fell out of the sky like the majority of my songs do, it took as long to write it as long as the song actually is, it just came out, so on reflection i think its about spending time with loved ones and making the most out of your lot, it's a hope song i'd say. 
Before lockdown you played the legendary Old Trafford Stadium, what was that like?
Incredible! We beat City too so it was amazing! Yes to play for the lovely people of Manchester in my favourite venue was such an emotional experience for me, we know the wonderful guys at MUTV pretty well and I can proudly say (Ex Manchester United defender and treble winner) David May is a good friend of mine so it's always lovely to catch up with them at the theatre of dreams. 
You recorded your album in Manchester, a city known for spawning some amazing bands, who are your favourites from the classic era?
Where to start really, Oasis are one of my first loves, I was 15 when Definitely Maybe came out and it blew my mind, it literally inspired me to become a guitarist, singer and Songwriter. The Smiths and the Stone Roses too, true one offs with incredible back catalogues. I've been lucky enough to meet the members of all 3 of those bands on my musical adventures so to me  they'll always mean the most  in terms of not only being quite local to us but my early inspirations.
What were the challenges and triumphs that you've found in putting the album together?
We've been incredibly lucky really in terms of the pool of knowledge and support we had for recording the album. Firstly Red Lantern Records give us the freedom creatively to make the album we wanted to make, we had support from The Analog Music Fund right from the conception of the album and also the hiring of Nigel Stonier, add that to the studio itself (Air Tight Studios in Manchester)  and we knew we onto something incredible. Working with a producer is always going to be eye opening, and i had reservations about basically letting someone else take charge of the sessions, but within a few hours of working with Nigel, i was totally at ease and i knew he'd always suggest what was best for the album. We recorded for a full month and not once did i have to second guess what Nigel was thinking, as when the album began to take shape it was clear that he was taking it in the exact direction i wanted to, so not only is he a total professional, but we were both on the same page and singing from the same songbook. The chemistry in the studio was great too, and i'm aware it's often rare to create that lightning in a bottle but i really think we had it recording the album.
What bands are you into at the moment?
I keep an ear out constantly trying to find 4 chords, a verse and a chorus but as the years go by they're getting harder to find. I currently like Johnny Flynn, City and Colour and the head and the heart.
Living up North what are your three favourite things about the north of England?
Definitely Old Trafford, Frailers Guitar shop here in our native Runcorn and the vast wealth of vegan cafe's and eateries. You cant turn a corner in Manchester or Liverpool without finding one, it's revolutionary!
What is in your live set up?
Just me with my guitar and harmonica and Andie with her Cajon and percussion. we're keeping it super simple for the time being. I've done the whole band thing so we're pairing it down and keeping it a straight forward as we can
What are you looking forward to most?
Just getting out there and gigging really,  that and the release of our debut album. it's a troubling time at the moment so i think it's important for us, and everyone else just to stay positive, it seems that hate is pretty  high up on a lot of agenda's right now so i think it needs counteracting. Burt Bacharach said it best and i think it still holds a lot of weight, so if you're reading this, reach out to those you love, make little memories and try to love your neighbour because we're all in this together.
https://open.spotify.com/track/4olAcHsFzYAko4zYLtGD1V?si=JE0FB8vORZ2xOCFIvDbKBw