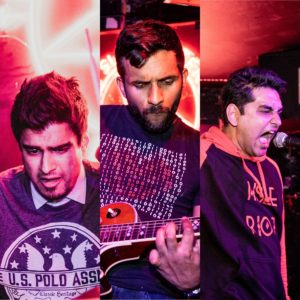 Tell us about Jack And Sally. Who's in the line up?
Pravir – We are a pop rock band from London that formed in 2018. 
Ben – We are a three piece. I am the vocalist and I also play bass. Josh plays guitars and Pravir is the drummer.
Congratulations on the release of "Love And A Riot". How does it feel?
Josh – First song out since our EP last year, so pretty excited! We feel we've improved a lot since then, so we're stoked to see how people like it.
Ben – Feels pretty good to be honest. I think our sound has improved considerably, like Josh said. This is also the first song we recorded with Andy Hawkins (The Damned, The Vaccines, Midget), so we're really excited to see what people think of it.
Pravir – This is our first release with Andy and he took an active interest in how the song would turn out and gave us a lot of production inputs and has also played on the song. Feedback from our fans and friends has been great as they believe this is our best release till date!
What did you listen to growing up?
Josh – A lot of metal and pop-punk. Started off with Linkin Park, then the usual suspects – MCR, Green Day, Good Charlotte – and then into more metal/core stuff (Metallica, BFMV, etc).
Ben – I think it took awhile for me to get over Pop music.. But then again, I never really got over it. I discovered Rock 'n' Roll through Linkin Park's first album – 'Meteora'. Then came Evanescence, Green Day and eventually heavier bands like System of a Down and Metallica.
Pravir – I used to listen to a lot of Grunge, Metal and Alternative Rock. Shoutout to Krishna and Smarabh who introduced me to Opeth and Alterbridge, respectively! 
You've played on some big stages in the last two years, what's your favourite thing and least favourite thing about playing live?
Josh – Favourite is probably playing to an enthusiastic crowd, nothing beats seeing people rock out to our music. Least favourite? Dragging gear to the venue….
Ben – Watching the crowd sing back to us, on songs we wrote in our bedrooms, is the most underrated achievement anyone could ever have. It's a beautiful feeling. I think the least favourite thing is to pack up gear after a gig!
Pravir – favourite things are probably the adrenaline rush that I get while playing and seeing people move to my grooves! Least favourite thing is when we have issues with sound during the gig.
You're a guitarist, who are your guitar heroes?
Josh – Kirk Hammett greatly influenced my style when I was learning. Synyster Gates from A7X writes amazing stuff as well.
Ben – I'll add to this as well. For me, it would be Billie Joe Armstrong from Green Day. I've loved his style forever and he inspired me to pick up and learn to play guitars. Slash – for sure.
Pravir – not a guitarist but I can play a few chords to write songs but here are a few of my guitar heroes – Kim Thayil from Soundgarden, Stevie Ray Vaughn and John Mayer.
What's in your live set up?
Josh – This has changed a few times now, but I currently use a Line 6 Helix direct into front of house. I use a Mesa Rectifier model + tubescreamer for our dirty sounds, and a PRS Archon model for the clean tones.
Ben – Like Josh said. I've also moved to a Line 6 Helix recently – its so easy to setup and take off during a gig. I have two Ibanez basses.
Pravir – Currently use drum shells as available at venues but I play a Yamaha gigmaker snare, Zildjian ZBT cymbals and some Mapex hardware as well.
What current bands are getting you excited?
Josh – In Her Own Words is ace.
Ben – Seasonal, they're from London. I love their music. I also love Mainsail.
Pravir – baebadoobee, Highly Suspect and Dua Lipa.
With Covid-19 affecting the music industry at the moment how are you keeping yourselves motivated?
Josh – Glad we're currently able to practice at least! We're still writing new material and working on improving our current set. 
Pravir – writing songs, getting tighter and working on demos for our releases.
What's a typical writing session like with the band?
Pravir – One of us usually writes a song in a skeleton form (I sometimes make simple demos too) and bring that to the rehearsal session. We then play through the song and throw ideas in the mix and see how it sounds. Some sparks and arguments ensue and we usually end up with a decent song.
Jack and Sally are characters from The Nightmare Before Christmas, what are your favourite classic animated films?
Josh – The Corpse Bride, Coraline. Seems like I like the dark stuff eh..
Ben – The Lion King, Spirit: Stallion of the Cimarron and The Prince of Egypt. 
Pravir – The Lion King, Fullmetal Alchemist the Movie: Conqueror of Shamballa (anime but still!)
What are you looking forward to most post lockdown?
Josh – Gigs mate, both playing them and being able to attend one! No idea when that'll be though, so fingers crossed..
Ben – I'd say gigs for sure, but we have a few releases lined up this year so I'm super excited for them!
Pravir – gigs definitely!
"Love And A Riot" is available to stream on all platforms.