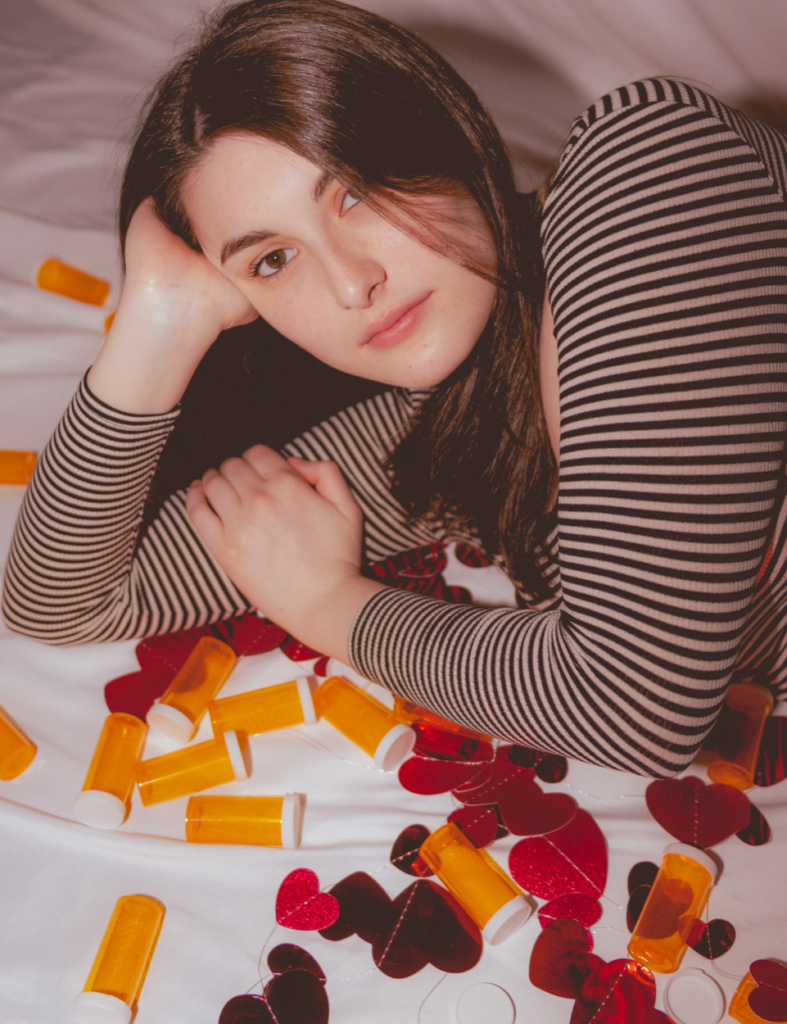 Hi Becky! How are you? 
I'm good! It's been a couple of busy weeks, but I've been having a fun time with my single release, birthday show and the warm weather really kicking in!
Congratulations on the release of "Love Like Medicine." How does it feel? 
Thank you! It feels great to be able to finally share the song and video with everyone. I wrote this song a little over a year ago and am just so happy with how it came out.
It's funk/jazz. What's the story behind the song? 
I wrote the chorus of the song earlier in 2022 and at the time it was meant to be more of a traditional positive love song. A couple months later I picked it up again and began to write the verses. I took a little bit of a left turn when it came to the story and wrote some slightly darker verses than I had originally set out to do. In the end though, I loved how the song came out. I thought lyrically it was a great description of how it feels to have anxiety and how sometimes only a certain thing or person can make you feel better.
There is some incredible talent on it. Who's in the band? 
For this tune we have Hunter Pullen on Baritone saxophone, Noah Mattison on trumpet, Marty Scott on trombone, Anthony Dom on guitar, Julia Klot on piano, Jon Awad on drums and Anthony Sabino on bass. They are all so talented and I am so grateful they were all able to be on this track and music video!
You are an artist from New Jersey, the Garden State. How did it all begin for you?
I started voice lessons when I was 9 years old at a local music school in town. From there I started performing constantly in recitals and concerts with my music school and I just fell in love with performance. I started and joined a couple of pop/rock bands in my teens where I really began songwriting and performing my original music publicly for the first time. 
What did you listen to growing up? 
I listened to a mix of 2000's pop punk and 70's/80's rock. Some of my biggest vocal influences are Hayley Williams from Paramore and Pat Benatar.
You've just recently completed your studies in jazz. What was it like on the course? 
Yes, I did! I really enjoyed the major and felt like I learned so much over the four years. Specifically, I was a jazz voice major and feel like it made a better musician. Some of my favorite courses that I took were transcription, ear training, arranging and so many more.
What was the biggest lesson you learned during your time? 
I think I've really learned to take your time. When it comes to music, it's not a race. It's all about making art that you love and think others will too. It is hard to remember that sometimes with every finding success at different times in life.
COVID impacted the creative industry in a big way. What kept you motivated? 
I just felt like I knew the music industry would bounce back. In times of hardship, I think art and music are what people turn to for enjoyment and that kept me motivated during quarantine and the rest of COVID
The last three years have been a time to reflect. What did you learn about yourself?
In the last few years, I think I have found my niche with my music. I used to be in between more electronic and commercial pop but with going to jazz school I found a love of jazz and funk. I think my music now falls more into the more pop funk category.
Did you pick up any new skills? 
I learned how to juggle last year and I am weirdly very proud of it.
You are from New Jersey, the state that gave the world Bruce Springsteen, Bon Jovi and Zach Braff. What are your three favourite things about NJ? 
1. The bagels 2. The music scene 3. The Jersey Shore.
What are you listening to at the moment? 
I'm really obsessed with Noah Kahan's latest album. I've been on a real folk kick lately and am digging every song he's put out recently.
What are you looking forward to doing next? 
I'm just looking forward to playing as many shows as I can in this upcoming year and working on/recording some new music!