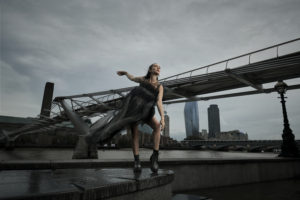 Hello Geiste how are you? 
Hi, I'm great thanks !
You are a singer songwriter from the South of France, how did it all begin for you?
With a lot of writing… I was writing a lot of stories and poems growing up. Only a lot later I started putting them into songs. I started with little cover shows back in my hometown. I moved to London to work in the music industry and that's when things really started.  I started writing music and getting into music production. 
What did you listen to growing up?
Mostly what my parents listened to and movies soundtracks. A mix of old school rock and classical music from my parents. We only had one computer at home so I couldn't really look for new music – I usually stole them from movies I was watching – I guess that is where my cinematic influences come from. 
You describe yourself as an alt pop priestess, what does that mean to you?
Priestess? Haha I don't know about that. Alt pop definitely tho. I guess it would be the mix of catchy melodies and dark cinematic ambience, almost spiritual. But that's nice, I like it. 
Congratulations on the release of Alibi, how does it feel?
Thank you! It feels good. I wrote this song quite a while ago so it feels nice when they are finally coming out and I can share them. It was quite a personal song that I wrote back in my hometown with very honest lyrics about how I was feeling at the time coming back to London. Songs from this new chapter are really honest compared to the first one. It will be quite a heavy chapter… emotionally… for me. Songs from UTOPIA helped me empower myself – this chapter is about the lows, the reality and all the emotions. 
The video is stunning. How did the concept come about?
Thanks! I met Jean-Aimé and Jerome back home this summer. They were on holiday, had all their equipment and wanted to shoot things.  We had a drink and started shooting the day after. We only shot for 3 evenings with no concept really because we did not have the time to think it through. They wanted to give this dark mystical atmosphere to it. So I ran a lot in the woods and sang under strobe lights in their garden. 
What were your favourite elements of it? 
The fact that the video is made with all the last minute shots we did – the ones we never thought we would use. 
You've got an EP as well, what's the story behind it? 
It is quite a long story – I explain everything here: https://www.youtube.com/playlist?list=PLFH5SeOQt5O0L_DKVJIgAEJobOJuvOFkP
UTOPIA is about escaping reality, creating a world where we would feel safe and self-empowerment. UTOPIA is a place that does not exist. An island above the clouds. A place I discover while walking alone at night. There, many things happen, and I meet this goddess creature that helps destroy the weakest part of myself. People that accept me for who I am. And quite a lot of ghosts. It is a pretty cool place. We could meet there one day.

Being from France what are your three favourite things about your country? 
The people, landscapes, my cat lives there. 
What current artists are getting you excited?
Woodkid, Son Lux, Lorde, FKA Twigs, Vōx, Grimes
When creativity hits a break wall what do you like to do to break the monotony?
I usually go for a walk in nature – it always helps. Have a coffee with a friend – it became really important to me to have those moments now. I realised I forgot to prioritize life and people for a while. I could just spend weeks without talking with friends – even before lockdown. Now I like taking my time to be creative and it helps a lot to reduce my anxiety and panic attacks. 
What are you looking forward to doing next?
Moving back to France tomorrow and finishing writing the third chapter 🙂