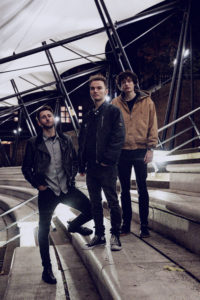 Hello Dalmas thankyou for agreeing to talk to us how are you?
Hey Del, we are great thanks all things considered, How are you? Is lockdown treating you well?
I am well thankyou for asking! 
Congratulations on the release of "Jhm" how does it feel?
Thankyou so much, releasing 'Jhm' feels like such a great moment for us as a band. It's our biggest track yet in every way, it's an all out rock n roll song. The response we have received from the song has been amazing and we are so thankful to everybody for their support. Our fans truly are a community of great people! 
The band began when we all met in our first year at university in Manchester. We came together from our combined love of rock music, we used to just book at practice rooms and just jam away until we literally run out of energy. A year or so went by and then we finally had a chat about making a band, in essence the band was formed out of necessity of playing with each. 
What were your influences when putting the band together?
Musically we have a whole host of bands and artists that have influenced us through out our time as a band. Our three biggest influences would have to be Foo Fighters, Biffy Clyro and Muse. It's all big stadium anthems that really influenced the sound and style of the band, we love the idea of people singing our chorus's back at us and bands such as those three really make a gig an event which we love.
You are studying at the Royal Northern College of Music, what's it like?
Yes, we are currently in our final year at the RNCM. It's been an interesting journey as we have learnt a lot from the college. By the same token institutions such as music schools can sometimes limit creativity in ways as you get so bogged down in what is 'right and wrong' in music. I think it's good to try and strike a balance with getting involved with the college and also remember there is a music scene outside of the college. Hopefully that makes sense. Overall as musicians and a band it has been really valuable. 
George, you've entered Young Drummer Of The Year in the past, who are your top three drummers?
Yes that's correct I was in the top 10 for Young Drummer Of The Year back in 2015 (I think it was then haha). I love so many drummers but what makes a drummer stand out to me is when you can hear a record and say "I know who that drummer is". My top 3 drummers for that reason would have to be Dave Grohl, Roger Taylor and Steve Ferrone.
What artists are getting you excited at the moment?
There are lots of artists that we love at the moment. Really love the Luka State, Arlo Parks and our friends in a band called Quiet Houses. Also loving bigger bands as well, really looking forward to the new Foo Fighters album, Bruce Springsteen just released an album which is killer. There are so many greats acts out there at the moment!
Being fans of the Chuckle Brothers, what other 90s pop culture icons are you into?
Hahaha, the chuckle brothers are the only ones really. When me and Jacob where in student halls in our first year instead of having an angel on the top of our Christmas tree we had Barry Chuckle's head so that's where that came from. Hahahaha!
Your sound is a mix of rock, and syncopated rhythms. How does a typical jam session for Dalmas begin?
A typical Dalmas jam begins with us all in a room ignoring each other and trying not to argue about ideas haha. No only joking. It usually starts with literally anything, it could be a cool drum groove George is working on or a guitar riff that Jacob has. Once we have a basic skeleton of a song we go from there, as time goes on we seem to write all together in room more and more. It just seems to be the way that works best for us. It's a very organic creative process, we are not really one of those bands where one person writes all the songs.
You have been consistently supported by BBC Introducing as well as being played on the 6 Music Breakfast Show how does it feel?
We are really thankful for the support BBC introducing have given us, Jericho Keys, Shell Zenner, Ryan Paul are all great people and the whole idea of a programme like BBC Introducing is such a great platforms for musicians.
Covid has impacted the creative industry as a whole in a big way, what has kept you motivated?
Covid ha impacted so many industries and I think that's what keeps us motivated. We really don't want to be that band that complains on social media and expects people to feel sorry for us. There are people suffering much more than we are and our job is to make people forget they're worries for the 3 or 4 minuets they are listening to our music. At the end of the day we are all in this together and as long as we all keep safe and healthy then the music will come back.
What are you looking forward to doing next?
We have so much exciting stuff coming in the future. We are releasing our first EP around March/April time. The music video for our new single 'Jhm' being released. We have also just been in the studio for two weeks in January so we have lots of  new music coming. Finally the come back of live music we are really looking to, that will be something very special.