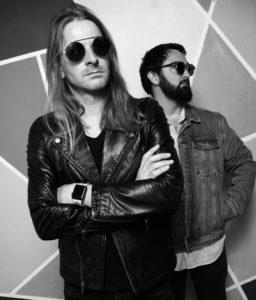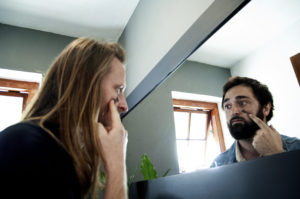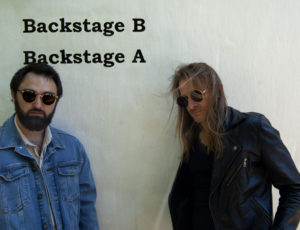 J: Johnny
D: Drikus
Future Radio, thanks for agreeing to talk to us. How are you?
D: Hi Del, thanks for having us. We are doing great- glad we can have this talk today. How are you?
I am well! Thankyou for asking!
Congratulations on the release of your new single "Stand Up And Fight". How does it feel?
J: Yeah, we are really happy with its momentum thus far. It has already been featured on 18 blogs & magazines and playlisted on 15 radio stations, and it has only been two days since the release.
What's the story behind it?
J: I wrote the bridge lyrics long before I wrote the actual song. I wrote it while I was still a full-time teacher, as a sort of credo for how I want to live my life. Then I decided to leave my job and pursue music full-time so while I was writing songs for our debut album, "Freedom", those words came to mind and the rest of the song evolved from there. The song centres around the idea of standing up for oneself, encourages the pursuit of purpose in the here-and-now and challenges the idea of conformity. 
D:  In our previous music video, 'DOI', you see the character leaving his 9 to 5 to follow his passion for music. The 'Stand up & fight' video continues from there and the viewer sees what our protagonist, Johnny, does with his new found time. 
You're a band from South Africa. How did it all begin for you?
J: I studied music and I've been a professional musician for about 13 years now, teaching music and playing as a session guitarist for various South African acts. But since 2018 I've become discontented with always playing other people's music. I wanted to play the music in me, I wanted to be authentic, I wanted to create, and so the idea of Future Radio was born. 
D: Johnny was my guitar teacher when I was in school. In my final year of University, he called me up to ask if I would be keen to design for his new project-Future Radio. The rest is, as they say, history. 
What did you listen to growing up?
J: I literally listen and appreciate all music genres. My dad played a lot of jazz and classical music in our home, so that's my initial memories of music. But then I discovered my parents' vinyl collection and I remember listening to artists like Elvis, Jimi Hendrix, Simon and Garfunkel and Louis Armstrong for hours on end. I have a very wide music taste and a deep appreciation for most music genres. I listen to everything from jazz right through to classical music. I love music in all its forms, shapes and sizes.  
D: Everything with an interesting melody. My family loves music. I grew up with Roxette, CCR, Queen, Elvis ,Boney M, Frank Sinatra, classical music and Jimi Hendrix. 
Your debut album "Freedom" is a concept album, how did it come about?
J: I clearly remember thinking to myself, when conceptualizing Future Radio, that it can't be just another rock band. Since then the idea has evolved quite dramatically. Future Radio is not just a band, it's a concept, a synergy of words, visuals and music. We are actively looking for unique ways to tell stories. The first season, 'Freedom', deals with the concept of emancipation from the unexceptional and encourages the passionate pursuit of purpose.
Aurally each song on our debut concept album tells its own story, but also forms part of the overall narrative of the album. 
D: Each song is released as "episodes" complete with visuals and a narrative and together these episodes form part of Season 1. We try to use each of these elements to tell multiple stories, which is unique on its own, but ultimately interconnected. If people go check out our YouTube channel, all this will make a little more sense. But essentially all the music video's will eventually form a short film.
Drikus you were a design student and designed the band logo, what are your influences design wise?
D: The classic South African magazine, Huisgenoot, was a strong influence. Their very early use of typography has a vintage feel. I think this is funny to mention but the starting point for the band's logo was a typeface called 'Futura'. 
COVID has hit the creative industry in a big way, what's kept you motivated?
J: Yeah, it's crazy. A lot of my music friends are at dire straits. We launched Future Radio in June of last year, mid first wave. It has its ups and downs. We could really focus on introducing and building the brand. Our main focus has been on creating content and through this establishing a fan base. We are happy with the way all that has been going. Because we couldn't do a live album launch, we recorded a live concert and did an online launch, which was really successful. The album launch concert is available on our YouTube channel, if people want to have a live Future Radio experience. But that being said, we really want to go on tour as soon as possible.
Your album uses epic word imagery in the lyrics and separated by acts, how did the concept for this album come about?
J: Thank you so much! As I've mentioned, I wrote the album after leaving my job to pursue music full-time. I really hated the corporate environment and the album tells this story of emancipation from that into this new journey, in which I'm following my dream. All the lyrics and the acts on the album tell this story. The first part of the album is dark, negative and full of frustration and reaches a breaking point round about track 8. Then the mood changes. The second part of the album is more light, positive and motivational. 
D: You can see a clear shift in the videos, the mood starts somber, dark and trapped and evolves into a more colourful visual and lighter mood. 
What artists are getting you excited at the moment?
J: There are so many, where do I begin? Okay, let's stick to rock. Three albums released in 2020 that I really enjoyed were, Nothing but Thieves' – Moral Panic, Biffy Clyro's – A Celebration of Endings and Machine Gun Kelly's – Tickets To My Downfall. 
D: I am hooked on the new releases from Nothing but Thieves and Rammstein. 
The video for "Stand Up And Fight" is stunning, who did you work with on it?
J: I edited the performance footage and passed it on to Drikus. He designed all the animation, the visual effects, and he also did the colouring. 
D: We're glad you like it! The video is a combination of performance footage and animation. We shot the performance footage at GreenSound studios, where we also recorded the album. From there on it was all an inside job, haha.  
What are you looking forward to doing next?
D: We look forward to rolling out the last 5 episodes of Season 1. Thereafter we will release three cover songs while in the studio recording the second album. 
J: I wrote all the songs for the album in December and literally finished the pre-production today. We start recording in February. We are super excited about the songs and can't wait for everyone to hear them. This time around Drikus will also be playing guitar on the album, which is a vibe. 
D: Hopefully, we'll also be able to tour very soon.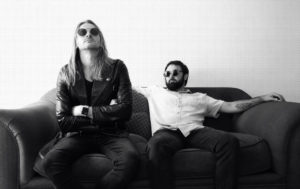 Future Radio On Instagram Future Radio On Facebook Future Radio On Apple Music Future Radio On Spotify