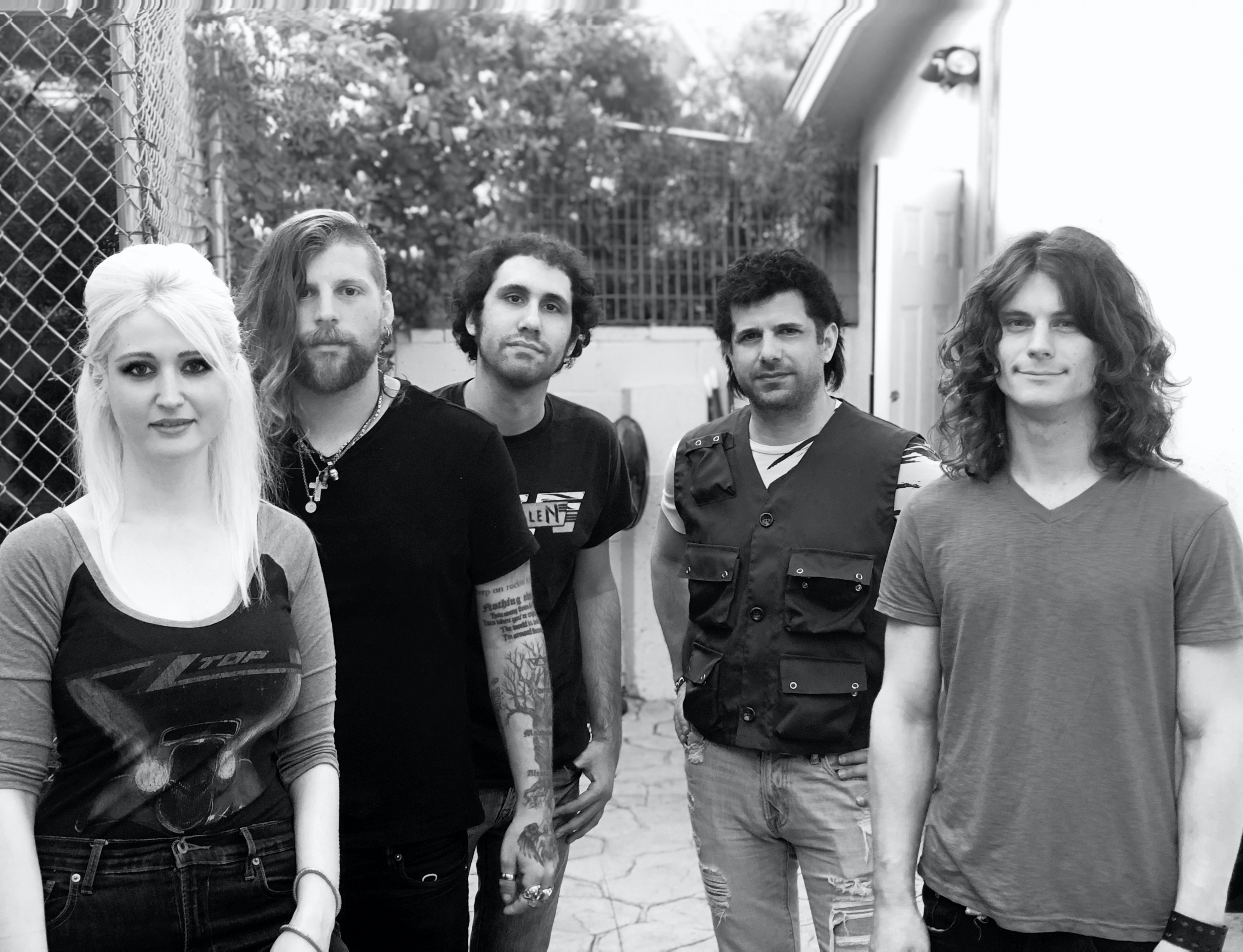 You are from L.A. How did Fire Tiger start?

We all shared a house together in Hollywood – We started out as an 80's movie soundtrack tribute band, Danger Zone LA. We started working on an original song, Fancy War Dance, and our guitarist at the time Jordan Stricklen heard it and said, "Dude, why are we doing covers?" So we decided to focus on originals. Our first album Energy began as a demo, and we just kept going until it was a finished album.

What were your influences when it started?

All sorts of influences, some you might not expect. For me, I'm very influenced by classic Disney musicals, and top 40 songs of every decade. I love many artists, but I'm more influenced by their greatest songs.

Your sound has a very retro feel (I love it!), especially the track "So Many Fishes" how did that song come together?

Thanks! Well, we just do what we love with melodies and chord structure, and it comes out that way. For So Many Fishes, I was impersonating Michael McDonald to James while singing the song, and told him it was actually a new Michael McDonald song, which he believed. When I confessed that it was actually my own, we decided to work on it as a lead single off our new album. We were really excited to have a song that falls in the Yacht Rock category, with a disco beat and saxophone.

You released an album "All The Time" in 2020, what was the writing process for it?

I usually start a song humming a melody, with the main chorus lyric. I come up with several songs a week, and sometimes James hears one he feels sounds like a hit, and we go from there. Both lyrics and melody we write 50/50, sometimes it's more James, sometimes it's more me. While both albums before All the Time were written exclusively by me and James, on this album we collaborated on Way to My Heart and Side of You with Barry Goldberg, and our guitarist Jordan wrote Getaway Song.

What were the challenges you faced when recording it?
Engineering an album on your own is definitely challenging, especially when we're not professional engineers. We had to watch a lot of Youtube tutorials, and trust in ourselves. The biggest challenge though is finding the time to sit down, and focus on recording and mixing the album. Making an album takes 100% full concentration, without distractions, which in the word today with constant micro-distractions, I'm surprised we were able to finish 3 full albums.

What are your favourite tracks from it?
All of them. Well of course we love all our songs, but if I were to choose a couple from All the Time, I could go with So Many Fishes and Magical Brew.
Your sound is influenced by the 70s and 80s, what's your favourite pop culture reference from this era?
Well I love not only the music, but the hair, especially mullets, fashion, movies, basically all pop culture from that era. I'm looking forward to watching Cobra Kai season 4.

You are from LA, a city famous for its music scene, what local bands would you recommend?
First one that came to mind is Yachtley Crew – They are a tribute band performing Yacht Rock (soft rock of the late 70's / early 80's).

What are your three favourite things about LA?

It's an artist town filled with fun, eccentric people. We're at home here. Also, the weather is very nice, and there's always something to do.

2020 was a time to reflect what did you learn about yourself?

I'll be honest, I didn't really have time to stop and learn anything new about myself.. We were just so focused on finishing our album, which luckily, the pandemic helped us to do.

COVID has had a major impact on the creative industry worldwide what kept you motivated?
Our songs needing to get out there kept me motivated. When we get appreciative comments and letters from fans, I feel like we have a real purpose in music.
What are you listening to at the moment?Today, I listened to Satellite Radio – Big 80's on 8, Classic Rewind (Classic Rock of the Cassette Era), Amadeus and The Mission movie scores, and some Native American music…
What are you looking forward to next?
We are finishing a music video for Undeniable – Out soon!