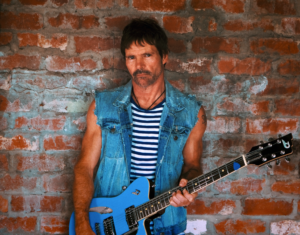 photo credit: Tom Thomas 
Hello Leigh how are you?
Hello Del. I am very well thank you. I am  keeping very busy and enjoying life! I see you are keeping busy too, and I have been loving the interviews you have done so far.
Congratulations on the pending release of "Something About You" how does it feel?
Thank you!  It's always a great feeling to see a project reach its fruition, to set it free out into the world. From a creative perspective, there really isn't much left to do, and I am usually a few steps ahead and more focussed on current and future projects, and to improve or try different things with those. But from a more pragmatic perspective, the next phase begins, being post release marketing and promotion, and reviewing the processes. That means getting the song heard by as many ears as possible, and gauging the feedback.
You are a singer/songwriter from Melbourne Australia how did it all begin for you?
I was very young when I first realised I had a deep affinity with music. No one in my family played an instrument. I came from a farming family, so music was not high on the priority list. But my Mother had a pretty good record collection, and as a four year old, I learned how to use the turntable, and would climb on chairs and stack on my favourites. I was completely mesmerized, and obsessed. All I wanted to do was make those sounds, and I set about doing it with all sorts of objects that I found or converted, until at seven years of age, my Grandmother bought me my first guitar. I sang constantly, and taught myself to play guitar and drums. But with no teachers and no internet, it was a pretty slow process!
Pre covid you were very active on the live circuit what's your favourite thing about performing live?
Prior to Covid, I had done a reasonable amount of studio time over the years with various bands, but live playing was where it was at for me. I am getting more comfortable recording now, slowly, but I am totally at home on stage in front of a live audience. There are so many great things about live work. You are seeing in real time, the audience reacting to what you are doing, the energy, people having fun, and you're driving it along. From a musical perspective, it makes you sharp, there are no second takes or even second chances. Everything about your playing improves, it has to, if you want to survive. Even though I have played thousands of gigs, every single time it is on you to make it happen, regardless of how good any of the other past gigs were. You simply cannot rest on your laurels, so I guess I like that about live work, it keeps you honest!
Tell us your favourite story from performing on stage.
I have so many memories, some great, some not so! I remember the unusual ones mostly, the biggest crowds, the worst bar fights, the longest gigs! A band that I fronted once played a gig from dusk til dawn! The locations other than your usual venues…fields, rooftops, boats,trucks and an island. But probably most memorable was playing support to an artist named Shane Howard, who had a band called The Goanna Band here in Australia. They had a huge hit called 'Solid Rock', which is a legendary and iconic song here, and after my support slot, he invited me on stage to play lead guitar and sing back ups with him on 'Solid Rock', which for me was a really special moment.
You're heavily influenced by Brit pop blues and rock, what did you listen to growing up?
My first real obsession from a very young age was The Beatles, and that continued throughout my formative years. My other 'most listened to' artists would be Led Zeppelin, Rolling Stones, The Police, The Cure, SRV, Jimi Hendrix, T-Rex, Pink Floyd, Deep Purple, Rush and Nirvana.
You're from Melbourne what are your three favourite things about living there?
Melbourne is just such a livable city. It's easy to get around and find your way around. It has or at least had, a very healthy and diverse music and art scene, which I really hope returns to its former glory. And it has great restaurants!
Covid has affected the creative industry as a whole worldwide what's kept you motivated? 
In 2019 I had made the decision to focus on writing and producing my own material. I had been involved in the Melbourne indie scene years earlier, but really just as a guitarist and bit writer. So when Covid hit and live work vanished, it really forced my hand to go full force into it, for better or worse. But I have probably worked harder this past year than any other, and my motivation rejuvenated completely. All I ever really expected from music was to just play and make a living, which I did for many years, and felt very fortunate as not many people do. But I was beginning to feel very unfulfilled with it, and it was the creative energy I had been repressing for so long that turned it around. And Covid definitely perpetuated that. 
What artists are getting you excited at the moment?
The whole scene is really exciting. I think what I went through with 2020 is a very common experience around the world, and now there is this explosion of creativity. There are many artists achieving great success in terms of product and reach, and that is really great to see and encouraging for everyone. To be more specific, I think Byron Smith is certainly in for a big year. His music is so well crafted and fits across a wide range of sub-genres, and features great lyric writing. Byron is definitely a class act.The Jobs are another to watch. Their first EP is very strong and shows a band that is super comfortable in it's style, and I think they are only just beginning to hit their straps.   I also really like what I have heard from Feed Your Wolves Other artists that are showing real signs of huge growth in the coming year I believe are OrangeG,Marveline andThe John Michie Collective who all have their own formats but all seem true to their style and either know where they are going musically, or have the ethic to explore and find out.  I do like to support and encourage young artists and a few super talents of note are Sophie DorstenIndia Dupriez and Diddie Hair Of course there are so many others to get excited about too. 
You're a guitarist what's your go to guitar for writing? 
I have both electric and acoustic at my fingertips (no pun intended!) at all times, and they are both very determining factors in my song writing. Most often, songs come to me as melodies and chord progs in my head.  In that case I usually go to the acoustic to capture and formulate the song. But I like to noodle around on the electric a lot, to keep my lead playing up to scratch, and sometimes a riff will come about which gives origin to a song.
What's one thing you've learned about yourself in the last year? 
I always wanted to produce my own music, but always found an excuse, an obstacle, or someone to blame to prevent it from happening. I guess I have learned that the only thing that can really hold you back, is yourself.
What's next for you?
My plan is to just keep doing what I am doing, and hopefully soon take my material out to live venues. Live streams are great and I do plenty of those, but getting out to live venues again is definitely on the cards.  I also have a couple of new songs in production, and I am very excited to get my next release titled 'Rain' out soon, as it features a special guest artist, soon to be revealed!! I think also that an album is quite a possibility in coming months, as I keep writing and gaining some consistency.
"Something About You", Leigh's new single will be out 5th February 2021
Leigh Thomas Official Website Leigh Thomas On Twitter.Leigh Thomas On InstagramLeigh Thomas On Youtube