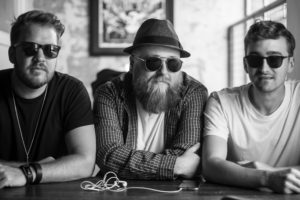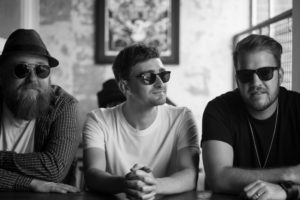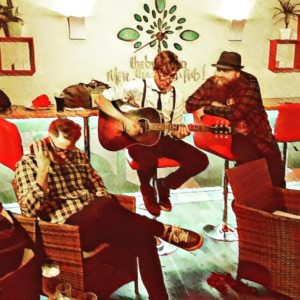 Club Brothers thankyou for agreeing to talk to us. How are you? 
All: Very well thanks.
Who's who in the band?
Adam: Rich is the main songwriter, he comes up with the tunes and me and Leigh help with harmonies and arrangement .
Leigh is the overly talented one. on top of being the smooth vocal of the group (he's got an insane range so can pretty much do any part we need from him, he's like a love child of luthor van dross and Mariah carey)
Rich: He also plays any instrument you want so he often jumps from his electric, to his bass, to fill out wherever there's a gap in the track
Adam: and he's a ridiculously nice guy as well
Leigh: Aw guys
Rich: Makes you sick doesn't it?
Leigh: haha
Adam: Talent And a nice personality!
Richard: i mean we've got neither of those so it's just not fair
Adam: i'll have you know i'm well talented, i grew my own beard and everything
Leigh: It is a nice beard
Rich: See…so nice!
Adam: and i am the organised one, i deal with the bookings, the socials, making sure we get to gigs on time.
Rich: You also sing a bit too
Adam: Oh yeah that's quite fun 
Rich: But yeah you're kinda like an unpaid booking agent
Adam: With an immaculate beard
Leigh: oh absolutely
You are a vocal trio how did it all begin for you?
Leigh: Well it started as a happy accident really. Rich is a solo artist and has a few albums/eps under his belt.
Adam: and he'd written a song called 'Undone' which is a really nice ballad and he wanted a music video to it but with lush harmonies added
Rich: yeah and at this point id known Leigh and Adam and worked with them at a live music venue in exeter called 'Mama Stones' so knew they had the goods vocally so we found this amazing church to get that cool acoustic and filmed the video
Adam: And we loved the experience, it was proper fun
Rich: So i thought it'd be cool to do it more often
Leigh: we agreed and club brothers was born
What were you listening to growing up?
Rich: I was really into Queen and Genesis, me and my dad would have them on whenever we had a long drive. It was the best.
Leigh: your dad is the best
Rich: He's pretty cool
Leigh: it was my folks vinyl collection that had me listening to Stevie Wonder, James brown, Michael Jackson etc that era got me in a big and way
Adam: Mine was a very different experience, my dad had an eclectic mix from Bonnie Tyler to the Corrs to the Lighthouse Family to Frank Sinatra. 
Rich: That is Such a random mix!
Adam: it was an odd mix but it gave me a love of different genres and when i got older and discovered the jazz and big band greats like mel torme, Ella etc and then gospel and soul, and then hip hop. If it grooved and moved me then i was a fan
Rich: So you like everything?
Adam: Pretty much as long as there's harmony i'm happy.
Congratulations on the release of Stay, how did it come about?
Rich: ah Thanks man
Adam: Well interestingly enough stay also started as one of rich Solo tunes, but he hadn't recorded it and we had just been given the opportunity to support americana act 'Wildwood Kin' on a few dates of their tour.
Leigh: there was a problem though
Rich: We only had four tunes that we'd written at that point for club brothers
Leigh: So we padded out the set by adding harmonies to some of rich solo material, and 'Stay' was one of those
Adam: but then we began to notice that the audiences would really react well to 'stay'
Rich: And Adam would teach the audience the tune in the chorus and get them to sing along
Leigh: that's it
Rich: what?
Leigh: that's Adams usp, He's great as a frontman, he always communicates to an audience very well
Adam: so rich the ideas factory, Leigh the voice, and me the stage chat, i like it
Rich: it's only taken us til question 4 to answer the first question 
Leigh: Ha anyway back to the actual question, yeah the audience were vibing 'Stay' so Adam suggested we made it the next single
Rich: we reached out to a producer we know called 'Chris Tilke' who produces artists like' Clara Bond', 'Jonah hitchens' and 'Dead Ground' and he helped us get the vibe we wanted for a recorded version.
Your sound is full of beautiful harmonies, are there any particular songs that you find yourselves singing along to that you harmonise to naturally?
Rich: i love singing along to more than words by xtreme. there's a missing harmony that i love to add
Leigh: I'm a massive leon bridges fan so pretty much any track form his last album I've learnt and singalong to
Adam: i harmonise to almost everything i hear
Rich:  he means that too! not just songs literally everything, car alarms, police sirens
Leigh: the wind 
Adam: if it produces a note i'll find that harmony
Pre covid you played gigs, what's your typical ritual before going on stage?
Adam: a few vocal warm ups but usually we like to sneak out and enjoy the other artists playing
Rich: also lots of guitar tuning
Leigh: So much guitar tuning
Rich: All the guitar tuning
Adam: They are tuning obsessed
Rich: Adam doesn't play so cannot understand the torture of two out of tune guitars
Adam: My ears definitely understand 
Leigh: Hahaha
What's been your favourite moment from a live performance? 
Adam: We did a gig on the Wildwood kin tour at the Louisiana in Bristol that was pretty lush
Leigh: Oh yeah the unplugged moment!
Rich: So basically we got to the part of the set where we tell the story of the band and play the song 'Undone'
Adam: But rich decided off the cufff that we were gonna unplug come off the stage in to the middle of the audience and sing it right there
Leigh: it's a small space so the whole room fell into silence
Adam: you could hear a pin drop and so we sang to them in a really intimate way
Rich: It was a special moment for us
Leigh: and hopefully for them too.
COVID 19 has impacted the creative world in a big way, how do you keep yourselves motivated?
Rich: Well we're all lucky enough to have home studio set ups
Adam: a computer and a mic 
Rich: Yeah pretty much
Rich: so i've been using the time to write 
Adam: Ideas factory, he literally never runs out
Leigh: I've been doing some remote recording for a few projects
Adam: and i just completed Netflix
Rich:  i wish that wasn't true…but it's 100% true
What artists are getting you excited at the moment?
Leigh: i love Leon Bridges, but also i love Jamie Lidell, Rosie lowe too. There's so much good stuff out there at the moment
Rich: i really like 'lauv' at the mo and at the mo i'm going back to discover older acts back catalogs, so i'm doing a deep dive on fleetwood mac and absolutely loving it. 
Adam: i love a bit of 'melissa Bel', some 'yebba' ,a bit of 'vulfpeck' and i'm crazy about 'Lawrence' they are funky as and i love their groove
You've released an EP what was the writing process for it?
Rich: well i had some ideas
Leigh: that he'd then show us in demo form
Adam: And we'd take that bare bones version and fill it with harmonies and arrangement ideas
Rich: Once were all happy with it we then get the producer involved
Adam: The producer of the EP was an amazing guy called 'Willie Weeks' who's doing a lot in the k-pop world at the moment
Rich: Willie added his ideas and we managed to do the whole ep in three sessions so were really happy with that
What are you looking forward to doing next?
Adam: GIGGING! in front of a real audience again
Leigh: that would be so nice!
Rich: it's been so long now that we're absolutely ready!