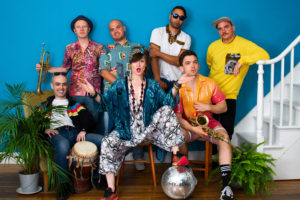 How did Cable Street Collective begin, who's in the line up?
Three of us (Fi, Ash and Tristan, on vox and guitars) went to Nottingham Uni together, and used to play the occasional open mic night. But it wasn't until we were living in London after Uni that we started making music together more seriously. We started playing the festival circuit, Bestival, Boomtown and so on, and gigging at places like Passing Clouds (RIP) and Hootenanny in Brixton. 
Aaron and Sam joined on bass and percs / loops in 2016, and we put out a second EP which got picked up by BBC 6Music, and various other places – and it just kept growing from there. Matt & Dom on the horns were regular "special guests," and in the end we just thought "let's get trumpet & sax in all the time", cos we were playing with them more often than not. 
Congratulations on your new single "Speaking In Tongues", a collaboration with Gregg Kofi Brown of Osibisa. How does it feel? 
Thank you! We're happy to get it out there, and very pleased with how it's been received so far.
How did the collaboration come about?
Gregg is Aaron's dad, so a lot of people assume he's on the track because Aaron's in the band, but actually it's almost the other way round. We knew Gregg first – he and Tristan used to play in the same Mozambican band. When CSC was looking for a new bassist in 2016, Tristan went to an open mic night where Gregg was playing with Aaron, who's an amazing bassist. Tristan asked if he wanted to join that same evening. 
This particular song grew out of a riff we were messing about with in rehearsal. Fi wasn't there for some reason, so we just had a drum part, two guitar lines and the bass. Aaron was playing an iPhone recording from the session and his dad heard it and asked "can you send me that, I've got an idea". He came up with the chorus line about "Speaking in Tongues," and a lyric about misunderstandings in a relationship. We loved the idea, and so wrote the rest of the song round that – but we changed the lyric so it was about broader questions of the breakdown of trust in society, and the mendaciousness of our curr in ent crop of politicians. It was natural that we'd ask Gregg down to the studio to guest on the track, and it was such a fun session. 
You have spent the summer of 2020 recording new material how are you finding the process so far?
Well, we were used to writing together in a room, so it took a bit of getting used to. But during the first lockdown we developed a way of throwing ideas back and forth on Logic, and occasionally crooning to each other over Zoom calls, which seems to work. It's a good way to get ideas going anyway. And then we finished off Speaking in Tongues and a couple of others when we could get back together in the same room in June. 
You initially found success on the festival circuit, what was your favourite to play?
We played Glastonbury for the first time last year, which was obviously pretty special. But Secret Garden Party will always have a place in our hearts – we played there four times I think, and it was always amazing. Also Lake of Stars Festival in Malawi was a trip, in all senses of the word. Tristan grew up in Malawi, and hadn't been back there for years so that made it even more special.

Oh and one we played in 2019 for the first time which we'd love to do again was Beautiful Days, organised by The Levellers down in Somerset. Fully independent, zero corporate sponsorship, and such a good vibe. Sorry, that's a terrible answer, you asked for one and we gave you four there. 
COVID 19 has impacted the creative industry at large in a big way what have you been doing to keep yourselves motivated?
Yeh, it's definitely tough not being able to gig at all. We've just been trying to concentrate on the things we can do, like writing, and putting in all the planning to release new music – the idea is to drop our debut album next year, so there's a lot to do. 
What artists are getting you excited at the moment? 
Fi hasn't stopped listening to BCUC since we shared a bill with them at Shambala last summer, and Tristan has had SAULT on non-stop. Ash has been listening to Rose City Band's album Summerlong on repeat – the psychedelic side project of the guy from Wooden Shjips.

Dom is working on putting out a record with his band The Dom Clark Trio, which has been getting a lot of listens too – check out the single The Exception, it's a hammer of a track! And our friends Tankus the Henge have just dropped a single, God Oil Money, which also went straight onto pretty much all of our playlists. 
What's a typical Cable Street Collective jam session like?
We're quite structured about it, actually. We'll usually turn up with ideas – guitar or bass lines, a snippet of vocal or a percussion riff – that we've already played to the others before and decided are worth working on. And we'll have had a chat about how we think it might work as a song, so we're jamming with a vague goal in mind. Despite that, we still find a lot of the magic comes from spontaneity. There's an excitement you get from being in the room together when someone plays or sings an amazing line for the first time that's hard to beat. 
If you could put together your own festival what would your five acts be? 
Only five? Wow, that's hard. I think we'd definitely need one of Diblo Dibala's bands on the bill for an injection of pure soukous up top. So either Loketo, or ideally, we'd persuade him to reunite with Kanda Bongo Man. We'd segue seamlessly into the strange Swedish psychedelia of Goat, and then ask Osibisa to come on and play a legends set – perhaps the Woyaya album from start to finish. 
I'm going to cheat by saying we'd get Gorillaz to headline, with all their latest guests – Fatamatou Diwara, Robert Smith, Popcaan, Lil Simz and all – 'cos that way you get about 20 amazing artists in one. And fnally we'd have Jon Hopkins playing a wonky set in a forest somewhere until six in the morning to finish everyone off. 
What are you looking forward to doing next?
Writing more, recording more and releasing our next single, hopefully in early Feb.
Facebook // cablestreetcollective Soundcloud // cablestreetcollective Twitter // @cscollective
Instagram // @cablestreetcollective cablestreetcollective.org