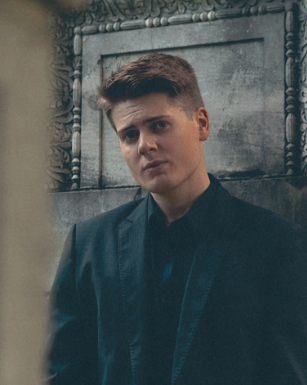 Hello Joshua, how are you?
I'm good, very excited about the potential for my new song, and doing all the press stuff around it.
Congratulations on the release of "Rolling Thunder" how does it feel?
It feels great, every time I release a song I get this intense euphoria for the week. While I'm working on it I never really get to sit back and just watch as a consumer until it is released. It's still kinda weird being able to pull up Spotify and see my face pop up.
What's the story behind the song?
The song is essentially a piece of commentary on the "depressive nostalgia" that plagues my generation. I think everyone misses the "good ole days" and their childhood. Some people (including myself) have probably spent too much time looking in the past, and as a result have missed the present. But Rolling Thunder is about the sweet spot, where you look back on the fond memories when life gets hard. However you can still enjoy the present and find those old feelings in your current life. Often you'll find those joys in the simplest of things.
It's about fond memories that never really go away at its core, is there a sound or smell that triggers happy memories from your childhood?

Absolutely, for me it's a lot of Nature sounds and smells, as nature is probably the one thing that never changes around us. Each spring it's the same scent from the damp trees in the forests as you walk through, it's the same coos of the mourning doves that live on the roof, each summer by the ocean, that fresh sea breeze, and of course… The deep drums of rolling thunder.
You're an artist from Ontario how did it all begin for you?
There's a few integral parts to how I ended up here. It really starts with my parents, before I was even born they wanted to get their child involved in music, luckily for them it came pretty naturally for me. I practically was singing since I could put a couple words together, I then began Piano lessons at age 5. Fast forward to age 10 I started guitar lessons, age 12 I got involved with a band program at my local music academy, that's when everything started coming together, singing and playing instruments together, performing in front of crowds on stage. Then I started writing songs and eventually one day took the leap of faith and went to the first recording studio that popped up on google.
What did you listen to growing up?
I really grew up with a mixed bag, at a very young age I pretty much just listened to what my dad played, which was a mix of old country, folk, and classic rock. From age 6 or so onward I began discovering music for myself. This started with mostly what was on the radio, a mix of 2000's pop hits. I pretty much clung to those early 2000's tunes for the longest time, while discovering more individual artists I liked, and beginning to follow what they released. For me it quickly become an unorthodox mix of Ed Sheeran and Imagine Dragons.
You're constantly writing music, how does a writing session begin for you?
As far as writing music goes, I'm about as strange as it comes. I can never really sit down and say "I'm gonna write a song" and do it, no. For context I'm quite the night owl, so it's often during the early morning hours when the world is quiet that I get a feeling I have something to write. Sometimes this can involve going outside and just sitting down, strumming on my guitar, and I almost begin to write down words on autopilot. Like, I never seem to have to think that hard, the lyrics just seem to write themselves. Then sometimes I might just write a list of song titles or a rough "album" tracklist. Then within a month or so I can fill it out by creating songs based on just a thought or message in the title.
What's the easiest and most challenging part of the process?
The whole process of writing comes very easy to me, rarely am I at a loss of words while writing, the real challenge is controlling when I write a song, as previously mentioned, these songs often come to be during weird hours of the night, so sometimes I just wanna go to sleep, but I can't. I have to write this song, or I won't be able to sleep. On the flip side of the coin, it's very challenging for me to just write something on the spot, I know some people go to the studio with a beat and write the song during the session, I can't do that. My words just come to me when they do, and I cannot control when.
Post COVID what have you learned about yourself in the last three years?

It's really been since Covid that I realized that this is what I want to do, all the time. I was 15 when the first lockdowns came, it so happened that I had just written my first song that January of 2020. I guess all the time home alone, and all the negative news, unlocked this world of creation for me. I've learned a lot about myself in that regard, and sometimes I wonder if it's because of those couple years in isolation I am where I am today…
Did you pick up any new skills?
Yes I certainly did, I started dabbling with producing during that time, I think I have about 10 very rough songs I produced over that time, I also became great with animal care, as I was looking after an orphaned squirrel during that time. I also learned to box!
 What are you listening to at the moment?

I have a very bizarre playlist at the moment, I've been listening to a lot of Roger Whittaker and M83. Both I listen to to unwind, however to say they're opposites in sound would be an understatement.
Being from Ontario what are your three favourite things about it?
To be honest, Canada as a whole is pretty boring, but I do love Ontario. To start, it's the size of many countries, so the landscape and regions are so diverse. From the bustling cities to small maritime towns, from the Great Lakes to the arctic sea. This province has a bit of everything. I also really love Ontario's city life. People love to hate Toronto, but it's honestly overall a nice city, the skyline is beautiful, the attractions are great, and in comparison to many cities in the states, Toronto is very safe. So I'd say I very much enjoy my time in the capitol.
Last but not least, it's the people here. I've lived in Ontario all my life, so it's all I know, all my friends, everyone I grew up with is here. And without the people you care about, what place really feels like home?
What's next for you?
I'd like to think the story of Joshua Sheppard goes far and wide. So my job is to make that happen. I'm going to keep making music, I'm going to keep performing, and hopefully meet the right people along the way who can help me reach for the stars and chase my dreams. While I hope everyone enjoys Rolling Thunder, you can look for more music from me before the year is out, with another big single in December. I also really want to put out an album… so we'll see when that happens.
Special thanks to Danielle @ Liberty Music PR