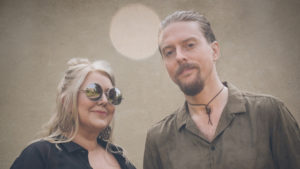 Bennett and Julie thanks for agreeing to talk to us. How are you?
Hi Del, thank you for reaching out to us. We're good thanks, although our boiler breaking down while trying to record some live sessions at home wasn't ideal. Haha… all part of the 'lockdown 2' experience! 
You are a couple from Sheffield, how did JUBE begin for you?
We met in July 2001 at Red Tape Studios in Sheffield, which is a music industry training centre with recording studios etc. Right from when we first met it was our intention to create some music together and hopefully release that music one day. We had both been writing songs independently and playing in other bands prior to getting together. 
Congratulations on the release of "As One Door Closes" how did it come about?
Thank you Del. The writing and recording process took twelve years. We started recording some tracks in 2005 and eventually mixed and mastered the album in 2017. The process seemed to involve the planets aligning! We never had a deadline… luckily! We hooked up with our amazing label Freshly Squeezed earlier this year and finally released our album in August… fifteen years after the first recording session! Sometimes it's good not to rush things. Our label describe us as "slow cooked organic food for the age of the microwave meal".
What are your favourite tracks from the album?
Julie: 'Breathe' is one of my favourites. It was one of the first songs I ever wrote. I tried recording different versions of it over the years before finally settling on the version on the album, which I am finally happy with.
Bennett: "Wear Yourself Thin' is great fun to play. Julie wrote this about me, when I was basically taking on way too much work. You can hear this in the crazy distorted wah-wah Clavinet keys solo!
You've drawn attention from Blues And Soul Magazine and Jazz FM. How does it feel?
We're incredibly grateful for the support and recognition. To be honest we don't feel like we're worthy, so it's very humbling indeed. 
You're from Sheffield a city rich in music history who are your favourite local bands from there?
Joe Cocker is an absolute Sheffield legend and favourite of ours, with such a distinctive and soulful voice! His cover of 'Little Help From My Friends'… Wow! Some friends of ours that are releasing some really cool music right now our 'Polyhymns' and 'Oh Papa'!
COVID 19 has hit the creative industry in a hard way, how have you kept yourselves motivated?
We've transformed our living room into a recording area… There are cables everywhere! It's been good to have more time together to be creative. We signed to our label this summer, which has been a real boost for us and helped us get through.
How does a typical JUBE jam session begin?
A good cup of Yorkshire tea and a good chat! We will usually have a couple of ideas we want to play around with. Most of the time it's "just the two of us, building castles in the sky" (sorry, had to get the Bill Withers joke in there)! When we are together as a band we like to just jam with no clear idea of what to do and just see what happens. Our song 'People' kind of happened that way. It's also good to work on the feel for a song which has already been written. 
Who are the other members of your band?
The rhythm section on the album are Darren Campbell on bass guitar and Richard Storer on drums. Both guys are great friends and phenomenal musicians!  We've known them both for a very long time and we're very lucky to have their enormous talents on the album! 
You worked with Tom Henthorn on the album, with whom you have a long history with. What's been a favourite part of the process with him?
It's been so good to spend time with Tom in the studio. He's a great friend and he's so easy to work with. It's been lovely for him to be so involved. As a producer he makes us feel really comfortable. He even arranged and played the guiro parts on 'Drag'!
Visuals play an important part in your work, tell us about the album cover for "As One Door Closes".
The cover artwork is a door opening up with a bright light on the other side. The general theme of the album is one of hope. In dark times there can always be hope on the horizon. This of course particularly apt at the moment. The bright light behind the door on the cover artwork represents hope. As the snare rolls right at the start of the album there is the sound of a door opening. At the end of 'Behave', which is the end of the album (Bare Faced Lies was intended as a 'bonus' track) you can hear the sound of a door slamming closed. The old saying 'as one door closes, another opens'!
You're a Sheffield band what are your 3 favourite things about living in Sheffield?
1. There is a lovely music community in Sheffield and before COVID put a (temporary) stop to most of it, there were / are many great bars, pubs, restaurants and venues that put on live music.
2. The people on a whole are particularly friendly. It's quite common here to call someone "love". Even burly blokes call it each other. 
 3. We live a ten minute drive from the Peak District which is in our opinion (and probably many others), one of the most beautiful areas of countryside in England. We're very lucky to live so close to it.
What are you looking forward to next?
I guess everyone feels the same, but the end of COVID. It's been so long since we played a proper gig. We really feel like we need to get back out there and play and to just be able to socialise properly and hug people again! We're also looking forward to working on some more recordings with the aim of releasing an EP, which hopefully won't take as long to finish as our album did!