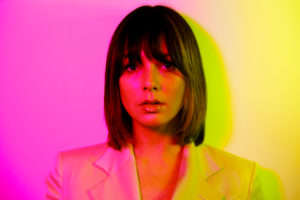 I'm very well thank you! In positive spirits.
You are a singer/songwriter how did it all begin for you?
I began singing as a young girl, in school plays- my first role was as Blousey Brown from Bugsy Malone in year 6. I then started writing little songs and poems using the keyboard my mother saved up for. After that we moved when I was 10 and music was not part of my life until I was about 15. I made friends in my final year of secondary school and wrote with kids from my class who were mcs and rappers, then in college I was the front for an indie band. That lasted a good few years until I left and wanted to explore the world a bit on my own. I returned after doing some travelling and started again as a backing singer and then began writing again. Eventually you get to know people and through word of mouth I began  pitching songs until I got my first publishing deal with Sarah Liversedge at Bucks Music. My first big break.
Congratulations on the release of "Dreamers" how does it feel?
It feels great to have such an amazing response to it- I know how I feel about it but you can never predict what your audience will feel. I'm just so happy that it's being shared on peoples playlists! Feels like a small miracle for me.
You've worked with Jake Gosling on "Dreamers" what was your favourite part of the process?
Yes I did and also a good friend Ragz Originale co wrote the song with us. It was very fluid and flowed very easily. We make a good team and they understood exactly what I wanted from the start. I think my favourite part is when we all heard the piano and then Ragz jumped on and added some harmonies and we all connected in our own vital ways to the song.
You have an album coming out in 2021, how's it going?
It's going very well, I'm releasing a song every 2 months along with love versions of my songs and just can't wait to get back out on the live circuit again.
What are your favourite tracks from it?
I love all of them for different reasons they each have their own story and meanings behind them. However the one that makes me smile the most is Our Love.
You've been played on the radio and having noise being made about you, how does it feel?
It's so strange because it's always such a surprise. I'm on an indie label so everything is all done on our own backs, I'll upload songs myself to BBC Introducing and talk to the DJ's at BBC South Melita Dennett who's supported me from day 1 and I'll email Jason Kramer at KCRW and Charlie Ashcroft  at Amazing Radio to let them know what's going on and what releases I have coming up next. It's a real labour of love so when I do get shown support it means so much that amongst the thousands they find the time to listen. It makes me feel like I'm not going crazy if I'm honest.
COVID-19 has affected the creative industry in a big way, how have you been coping with it?
Well, it certainly has stopped me from getting to sing live and getting to know real fans. I really enjoy talking to people who have a passion for music and it's great to hear what people think of my art. I feel very humbled by it all and couldn't do it without that encouragement.
What artists are getting you excited at the moment?
Oh I really love Griff at the moment shes got that perfect blend of pop and soul that I love. I also can't get enough of Lianne La Havas all over again, it's a bonus because she's always been one of my favourite artists from a few years back and her music just seems to get better and better.
You have collaborated with Mr Eazi and Major Lazer, who would be your dream collaborators if you could pick?
You know what I would love to work with CamelPhat, I love everything they do.
What are you looking forward to most next?
I'm looking forward to releasing more music leading up to my album "Heirloom" out later next year 2021. I can't wait to share the visuals I've got coming and of course to perform them live.