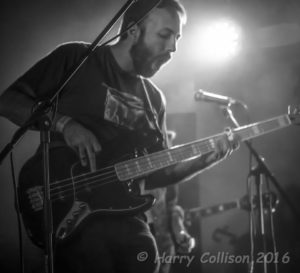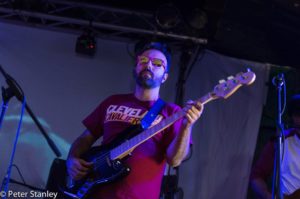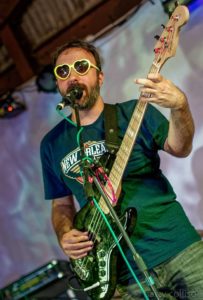 Hi Ivan how are you?
Very good and busy as usual!
Congratulations on your single release how does it feel?
It's just another brick in the wall… but it's always a great feeling. I went for a double "single release" this year ("The tallest man"/"I don't care about religion") as I felt it would be nicer and wider, having had to postpone my next full album to 2020, probably. Both songs are great and represent my most straightforward approach to rock music – still with my personal touch, I think! And they are fun to play live…
You are a bass player, what influenced you to start playing?
Bass is a way of life! No, really… I always loved the electric bass, assuming probably bands from my childhood like Pink Floyd, the Beatles or the Police had incredibly smart bass players. Playing the bass is great, it gives you incredible power under your fingertips and allows you to switch from the spotlight to the quietest corner of the stage in a matter of seconds, you are so in control of the overall sound. Plus, it looks so cool, so slim and serious! Even talking about it right now makes me want to grab it and play some random lowness!
What are your main influences?
I grew up listening to Pink Floyd, the Rolling Stones, Hendrix, Otis Redding… then I discovered Frank Zappa and the whole world of 60's and 70's "different" music. Indie rock and punk rock came later to my ears and finalized quite a good mix of stuff in my "books for inspiration". I also really try to keep my ears on classical music too (symphonies above all) as the quality you get on those scores is incomparable. In general, as long as the music is good, it affects me. If it gives thoughts, energy, vibes… it's good. My production with the Happy Graveyard Orchestra may sound Zappa-oriented, but there is a lot of punk attitude and moments of exquisite pop/classical tenderness. When it comes to my solo stuff I feel how I want to get closer to the classical world (although the doors for such status are barbed wired!) but at the same time, I just love to sing and write songs playable for guitar/vocals.
You are also a novelist, do any of your characters influence your music?
I'll be honest, I never thought about it! I usually tell stories in my songs ("The tallest man" is one, for example) and I am rarely autobiographic with my lyrics. I can't really think of any of my characters merging into my songs. I wrote a song for my Happy Graveyard Orchestra titled "Dracula" but yeah… I wish that character was mine! In all seriousness, it would be difficult (unless going for extended lyrics like Springsteen or Dylan do) to fit a book character in a song. A song has limitations, it's poetry after all and with poetry you can give pictures, not really detailed descriptions. A song can describe a moment or a sequence of a few moments. A book… is a different story.
Being from Italy, how do you find the UK music scene in comparison?
UK (with USA) is where "new" music developed in the past 60 years so it's obviously more radicated and it belongs to people. Italy has a clear problem of artistic freedom due to "lack of funds", in my opinion. Here in the UK it's effectively easier to get a daytime job and do your form of art extensively in your spare time, during the weekend or whenever. In Italy (where the whole job scenario is worse) often musicians have to sell themselves via function bands and this obviously kills the scene for original music. For some good reasons original music in the UK seems to get people's attention while in Italy original artists struggle to get a spot in the local bar… Italy for some reason tends to consider playing music sometimes only young people do (unless, again, it is done for mere money). Here in UK I can see how music goes on after university years, and people tend to mix easily, regardless of their background or studies. This helps creativity.
It's coming up to the end of the year, what are the three things you have learned about yourself?
What did I learn about myself this year? That I am lucky (1) because I am getting old (2) but I still feel amazingly young (3)!
What are you currently listening to?
OK, right now my speakers are spreading "Pretty in pink" but the Psychedelic Furs! But in general I'm always-always-always interested in listening to new stuff I never tried before. I'm moved by curiosity and the chance to be amazed.
What equipment do you use?
My main bass is a Squier Modified 77 Jazz Bass, in my opinion a superb bass for its reasonable price. I use monel strings that are considered flatwound but are effectively a mix of round and flat, giving a great feeling and versatility. I also have a Mexican 5 string Fender Jazz tuned EADGC, so effectively the day I bought it I removed the low B, did the setup and moved all the strings down one slot to add a high-C. It's a great result for me as it gives a lot of room for solos and guitarisms but you don't have a gigantic 6-string neck to deal with. And, after all, the low B is overrated! When I used a guitar I got a nice Squier Classic Vibe Telecaster, again a great instrument that doesn't cost a fortune. I love it as it can be so acid yet sweet when… I want.
What are your plans for the next year?
It takes me a month to plan a year! I really want to go out there with the second full album for the Happy Graveyard Orchestra and also release my second solo album (mix storytelling songs and experimental pieces). I will be definitely involved in a side project (the Banana Planets!) with my friend Matt Ibbs and, if all goes the right way, two short movies will have my name in the soundtrack credits. In 2019 I had the opportunity to work with the Bath University Orchestra with a composition of mine ("Where have you been Peter Pan"/"Come home, Peter Pan") and being back on such commitments would be amazing. Touring and live appearances are unpredictable but London and UK are still fertile, somehow. Oh, and I will help other musicians and friends adding my bass or my orchestrations when needed!