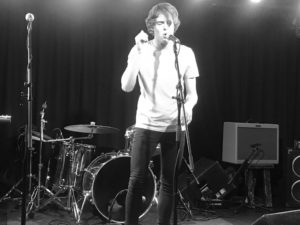 Oliver thanks for agreeing to talk to us!
Thank you for asking me, I'm very excited!
How are you?
I'm really great thank you; currently settling on some New Year's resolutions to get my teeth into.
Your sound has a mixture of 80s synth pop and 21st century dance elements. Who are your main influences?
I have always listened to a lot of female artists. I was a huge Kylie fan when I was pre-teens; I really loved her 'Fever' record and when she did a mash-up of 'Can't Get You Out Of My Head' and 'Blue Monday' at The Brit Awards, it was a standout performance from my youth. I guess growing up in a small town like Taunton a lot of the artists I listened to were very mainstream, whereas since moving to London I have discovered so, so many artists that people necessarily wouldn't have heard of. I was obsessed with Gwen Stefani too; her attitude in No Doubt and her explorations into her solo career always fascinated and excited me, and of course Gaga and her evolution into what she is now really showed me you don't have to play in one field; the game is really open if you want it to be.
You performed new songs at the "Music For Life" event for the first time earlier this year. What was that experience like?
It was really fantastic actually – I think the most nerve-racking thing was performing in front of a lot of people from my past and present but I rarely perform until I've got a plan of what I want to perform and when is the right time, so it was great to actually bring the songs to life and show people what I do, and the reaction was fantastic, it gave me a lot of confidence. I actually ended up getting asked to leave the venue because I got so wasted after my performance which was down to a mix of nerves and adrenalin, but it was definitely a memorable night!
What is your writing process?
I use writing as a diary; when I need to get something off of my chest or when something has happened that I want to remember and recall in my own way. I usually start with a title and work my way down, thinking of how the melodies link in with certain words and build a world around it. It takes me such a long time to finish a song, sometimes because I come out of that world and I can't really finish it without entering it again but there are definitely ways to open wounds and it's just something I have to do to relay the honesty in that piece. It can be hard but I then feel like I have created an honest piece that I can stand by fully.
What is currently in your set up for recording?
It's very minimal at the moment; I have a Macbook Pro for getting ideas down with all my plugins, virtual synthesisers and samples, an iMac for finishing a project when it gets too large and also for video editing, my Røde microphone and a midi keyboard. I have all the essentials but it forces me to think outside of the box to get a specific sound. I would love to collect instruments from around the world, that's part of the dream for sure.
Your single artwork has always featured striking imagery what inspired that?
So for the three singles I released in 2018 I really wanted to test myself so we used a film camera on each of the shoots so it made me really think about what positioning, what props I would use and what mood it would create as we only had one shot and couldn't see the images after. For example 'Strong Minded Weak Willed' was set in a tunnel which reflected on going two ways just like making a decision, linking with the theme of the song. Visuals always play a huge part in creating a piece of music. I won't put out a song unless I can see it in my head.
If you could collaborate with anyone who would it be?
I have a song called 'Highlife' that I think Lykke Li would sound perfect on. She has such a gorgeous tone that resinates with me. I have the name of her third album tattooed on my right arm, actually. I was going through a really emotionally rough patch a few years back and I found such a home in that record. I would love to get her involved in something but I understand artists with integrity are usually selective about who they work with so I'm not too sentimental about it.
Your music has a strong 80s influence with a 21st Century twist, are there any 80s artists you look up to?
You know, that's a strange one. I never really listened to a lot of 80s music when I was growing up, apart from what my parents would listen to and what was still standing the test of time around me, but I'm sure I've picked it up from artists that have carried that baton into their work and that's what has probably shone through.. I don't really know.
You released "2018" recently, are there any stand out moments in the last 12 months for you?
Definitely. Playing that gig was a pivotal moment for me as it got me on stage doing my own things and that's what triggered me to actually release some stuff. What came out this year was a product of this year, apart from 'We Drop' which I had a rough demo of from the previous year. I'm sitting on a lot of music that I really, really love so I'm saving it for the right time.
What's the plan for 2019?
Performing. I'm working on some acoustic stuff and thinking about larger performances too. I'm also organising some music videos which I am super excited to do too. But you can definitely expect new music for sure. I don't want to make promises but there is a plan for two EPs next year, one containing one of my favourite songs I've ever produced.. without over hyping it too much.
Insta: @oliverdearan