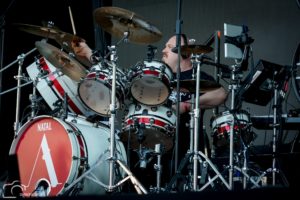 Photo Credit: Dirk Pagels Photography
Hi Steve thanks for agreeing to speak to us!
How are you?
I'm really well thanks Del – it's 9am and I'm sat on a flight heading to Austria for my final show of 2018 with Anastacia.
How did you get your start in playing drums?
My father is a massive fan of music and I grew up in a house full of music. Genesis, Led Zeppelin, Rainbow, Pink Floyd and Deep Purple blasting out of the family stereo was the norm.
In 1980 (when I was 9) Dad took me to see Genesis play in Great Yarmouth – it was an incredible experience witnessing the band that night (In particular, watching Phil Collins & Chester Thompson on drums) and I walked away that night saying "Dad, I want to be a drummer when I grow up!"
You have gone on extensive world tours with Anastacia, what's been your highlight of playing with her?
I've had many highlights with Anastacia that it's hard to focus on one particular event. It is by far my longest standing gig & I'm very grateful of her loyalty. As a band we've travelled far and wide with her – from the UK to all over Europe, Australia, Russia… this last summer countries included Kazakhstan, Uzbekistan & Belarus (which were all firsts for me).
If I had to choose a couple of highlights – playing Teatro Greco Taormina (Sicily) is a breathtaking outdoor theatre overlooking the Ionian Sea. Opening for Elton John in Italy at Arena di Verona + finally getting to tour Australia in 2015.
You also have an interest in keeping healthy with juices, and have a facebook page for this, what's your best health tip for being on tour?
My "affair" with juicing was beyond helpful (health-wise) & enlightening. I was so incredibly focussed on it that it eventually became a bit of an obsession – ultimately going back on the road and 100% focusing on my health wasn't (for me) easy. A mix of sharing a bus with so many touring personnel & daily distractions + post-gig elation can easily lead to one partaking in a late night glass of red (or 2) & naughty carb snacks!
What's your favourite juice blend?
There are so many tasty combinations – but a real classic is Carrot, Apple, Lemon & Ginger. In addition, another great recipe is a "Mean Green" – Kale, Celery, Cucumber, Apple, Lemon & Ginger (blended with Avocado).
What songs do you like to warm up to when jamming?
It's very rare I jam to a particular song as part of a warm up – but, at sound check we always run key songs from the current set list.
Being on tour for extended periods of time, what's an essential for you?
WiFi, regular contact with family back home, a bath/shower, personal space, noise-cancelling headphones, laughing… most importantly, reminding myself how fortunate I am to do this for a job.
What's in your live set up?
I use & proudly endorse : Natal drums, Zildjian cymbals, Vater drumsticks, Remo drumheads, Porter & Davies BC2, Protection Racket cases, Roland (sampling pad & triggers), Baskey (mat markers)
If you could play drums for anyone who would it be?
Thomas Dolby, Peter Gabriel/Genesis, Cocteau Twins, Parliament Funkadelic …
What music are you listening to at the moment?
Always a mix of styles, but most recently… Anderson Paak, Pink Floyd, PJ Morton, Soundgarden, August Greene, The Meters
Tell us about Three Drummers.
A short film about the improbable but true story of 3 Norfolk boys who grew up in 3 neighbouring villages and all went on to tour the world with their drum kits. It features UK drummers/friend's – Luke Bullen (Bryan Ferry), Nathan Curran "Tugg" (Basement Jaxx) & myself.
Eventually it will be uploaded to YouTube for people to view, but prior to that we're going to do some live events & screenings.
The first is taking place on 23rd January 2019 in our mutual birth home of Norwich at a venue called OPEN.
Tickets here:
https://opennorwich.org.uk/whats-on/gigs-events/3-drummers/
What's next in 2019?
Anastacia is taking a well deserved break from her touring schedule next year – so I'm looking at the prospect of working with new and exciting artists/projects + continuing to share the "3 Drummers" film with a wider audience.
Follow Steve on his socials – @barneydrums
(Instagram, Facebook, Twitter)