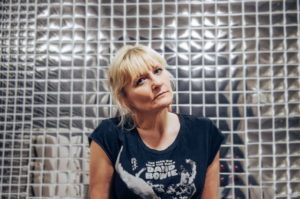 Photo credit: Ru Medj
Hi Anne, thanks for agreeing to talk to us!
How are you?
I'm good thank you, looking forward to a busy year ahead. 
You work in PR, how did you get your start?
I started in college by volunteering at college events, initially I was doing things like selling tickets and sticking posters up but I also learned about promotion and marketing. My first job was with a charity, working in the events office and I also started studying for my Master's degree in Public Relations at night. I asked the PR office if they ever needed any help for their media events could I come along and assist, I kept badgering them and I was invited to attend the All Ireland Media conference that they organised.  Then the charity held a fundraising event with a team from Manchester United playing a team made up of Irish players and I was invited to work with the PR team on at the event and I knew that day that this was the career for me. I also knew I loved the mix of event management and PR.
What's the easiest part of your day to day role and the hardest part?
I suppose the easiest part or maybe the most enjoyable part is keeping in touch with all my contacts, whether it's a phone call or sending someone a tweet or an email, I love keeping all the relationships that I have developed over the years alive. I really believe that valuing and nurturing those relationships is the key to bring a successful public relations professional. 
The hardest part is when something absolutely unexpected happens with one of my clients and they need whatever support is required. Invariably it always happens on a day when you're pretty busy already. I've had artists having to cancel multiple bookings, with just days notice because of other events that they cant control. In that scenario you have to think fast, get the word out to everyone who needs to know, including media, liaise with venues, draft social media statements, be ready for press enquiries and also try to do what you were supposed to do that day. So it's a matter of good time management, making sure that any critical deadlines are met, keeping a cool head and just getting on with it.  Those are the days that are fuelled by adrenaline and coffee. 
You manage Chic's drummer Ralph Rolle, and have a passion for music, what's your favourite Chic song?
Well I have two (though I love them all)  I adore Good Times, it's just a pure blast of high energy happiness and always puts a smile on my face when I hear it. (My personal favourite too – Del) My other favourite is Let's Dance, the David Bowie track that Nile Rodgers produced. My client Ralph does an amazing job of simultaneously hyping the crowd, playing drums and singing the song in the Chic show and he always gives a phenomenal performance of it.  I'm a huge Bowie fan anyway but to see someone you work with do an incredible job on this track, well it makes me appreciate my job and the incredible talent I get to work with. 
You have a passion for music, what do you like listening to in your downtime?
I adore music of all genres and I will listen to anything and give everything a chance. I'm a vinyl collector and I also DJ using vinyl and the albums that I go back to again and again are those by The Beatles, David Bowie, The Who, Chic, The Jam, Blur and some Irish bands including Something Happens and That Petrol Emotion. 
You have been organising gigs since your uni days, what's your funniest experience in putting together an event?
Well on that event with Manchester United, I was escorting the players to their private dining room in the hotel for dinner and some of us stepped in to the lift to descend to the ground floor. We stopped on the way down and another hotel guest got in, I was so busy focusing on being the best host ever that I didn't pay any attention to who it was. We got to the ground floor, everyone gets out and someone came over to me and said, I can't believe you just got out of a lift with Eric Cantona AND Brad Pitt. I hadn't even noticed him when he stepped in, he was also staying there as he was filming in Ireland. What were the chances? 
Seriously, most events go well and nothing really goes wrong as I do plan everything really carefully and pay attention to the smallest detail.  I was organising an event for a bank though, a staff motivational event and when I got to the venue the person I was liaising with told me that they had just realised that hadn't brought enough prizes for the raffle during the event.  There was a shopping centre nearby and I offered to go and pick up some additional things. The only thing was, I had travelled down by train and the hotel was a little bit outside of the town so I went to ring a taxi. Then this gentleman from the bank who had been in the background stepped forward and offered to drive me up to the shopping centre. So off we go, it turns out he was the driver of the bank's CEO, and he was bringing me in a huge, very beautiful car with blacked out windows.  We got to the shopping centre and there was a huge police presence so we thought there must have been some sort of incident but it turned out that the Taoiseach of Ireland was canvassing there, ahead of a General Election. He was in an identical car so the police thought our car was part of the official entourage so I had the police open the car door, people step forward to welcome me and usher me in. They brought me to the store, I got the prizes, went back to the car and then the traffic was stopped for me and I got a police escort back to the hotel. It was hilarious, not one person asked was I part of the official group but I must have looked the part! 
What was the best bit of advice you've ever been given regarding the industry you're in?
Always say please and always say thank you to everyone involved in a project or an event or whatever it is you're working on.  People remember good manners, so I will always thank everyone from the venue staff to the artist to a journalist for carrying a story.  That and NEVER miss a deadline. 
You live in Ireland, with a big music scene are there any local bands getting you excited? 
Absolutely, Ireland has always had more than its fair share of musical talent and its unreal the amount of really good music coming out of Ireland at the minute. Keep an eye out for Fontaine's D.C, Touts, Saint Sister, Loah and Inhaler. There's lot more but they are my personal favourites. 
You are involved with Ralph Rolle's "Soul Snacks", what's your favourite flavour cookie? 
Sweet Potato, it's absolutely hands down the best cookie I've ever had. My friends adore them too so I always have to ask Ralph to bring some with me when he travelling to Europe. 
What's next in 2019?
Ralph and I will continue to develop our masterclass programme, hopefully getting to bring his incredibly motivational class to countries we haven't visited with it before. We also think that this will be the year that Soul Snacks will make the move in to the European market. We've had them at some festivals in Ireland and the U.K. before when Ralph was the guest celebrity chef but we haven't had them for sale before so that will be very exciting. I've been approached by some very talented people so hopefully I'll start working with them and personally, I want to get back to doing some more broadcasting. I had a radio show here for a number of years and I had to stop as I was just too busy, so I'd like to get back on air.
Twitter/Insta: @annemccoy