Hi Gabi, thanks for chatting to us! How are you?
Pretty good thanks-regretting wearing a Parka in the blazing London sunshine.
How long have you been playing the cello?
30 years
Your musical range covers classical, pop and jazz. What do you like to listen to in your downtime?
Music that I'm unlikely to play-Earth Wind and Fire, The Temptations, George Clinton..Funk and Soul basically…and then on the other side I listen to what my friends create. At the moment its Olivia Chaney's new album Shelter on repeat and Mike Walker's album Ropes has just come out which is glorious. From my comedy friends side I'm obsessed with Julia Davis's podcast Dear Joan and Jericah
You were involved in the Judith Owen project "DisCOVERed" what's your favourite track on that album?
I'm really proud of Smoke on the Water, Lizzie Ball, the violinist on the track and I experimented with lots of different harmonics and weird noises which I think really fit on the track well. It was a joy to make that album although our dear producer/engineer  Dave Bianco died recently it's quite a bitter sweet experience to listen to. It's my 4th studio album with Judith and she is an artist I've always felt like I can grow with.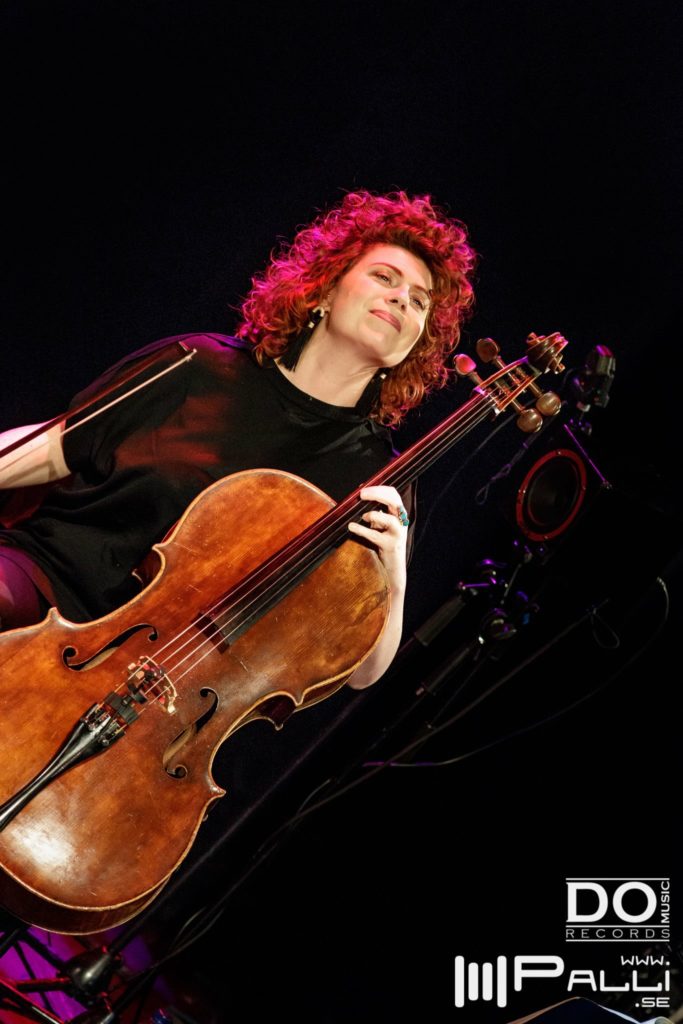 Your work has given you great moments like playing for Ariana Grande and playing in the orchestra for Hamilton, what's been your favourite  so far?
I'm lucky my freelance work is so varied and I feel like I can be happy in the spotlight or be in the pit or blending in a section. I learn from everyone I work with and from every experience. My deputy work on Hamilton has taught me lots about keeping cool under pressure as you never have the opportunity to practice, your first time playing it is an actual show! I also respect my colleagues so much from that world who play something on that level night after night, it's such a roast to play. My pop work with Ariana Grande, Skunk Ananasie is very high budget and production and it's nice to be part of a machine. You leave your own ego well and truly at home on gigs like that.
I don't know if I could choose a favourite as I get something from everything but if you're pushing me I loved playing Britten's Midsummer Night's Dream with English National Opera this year.
What piece of music made you fall in love with the cello?
Probably Du Pre playing Elgar's cello concerto..like most cellists born in the 80's.
You have played in venues all over the world, what's been your favourite?
For acoustics probably Symphony Hall in Birmingham or Wigmore Hall and for vibe I would say 606 club in Chelsea as I used to live down the road and you would always bump into loads of friends, I think I was even asked to lock up one night.
If you could collaborate with anyone who would it be?
My friend played me Little Dragon's stuff recently, they are doing some interesting things which I can relate to musically.
Tell us about your cellos. Do you have one for practice and one for on tour?
I have two main instruments-my acoustic which I've had since 1996. It's a fine old English  cello made in Oxford in 1820 by Charles Harris Senior. I take this around most of the time and amplify with a DPA. For larger shows I use my Custom built Mark Wood 5 string Cobra Cello. It was made for me last year when I started my endorsement with them. It's a great sound plus you can stand up and play!  Plus it has my back tatoos of Swallows emblazed on it.
What's the plan for the next year?
Hopefully some more album projects and some touring. There are some very very early ideas for a new Cello concerto plus I've just become founding member of a new orchestra called Harmonia Consort which is launching. As usual a huge mix of stuff but that's when I'm happiest!