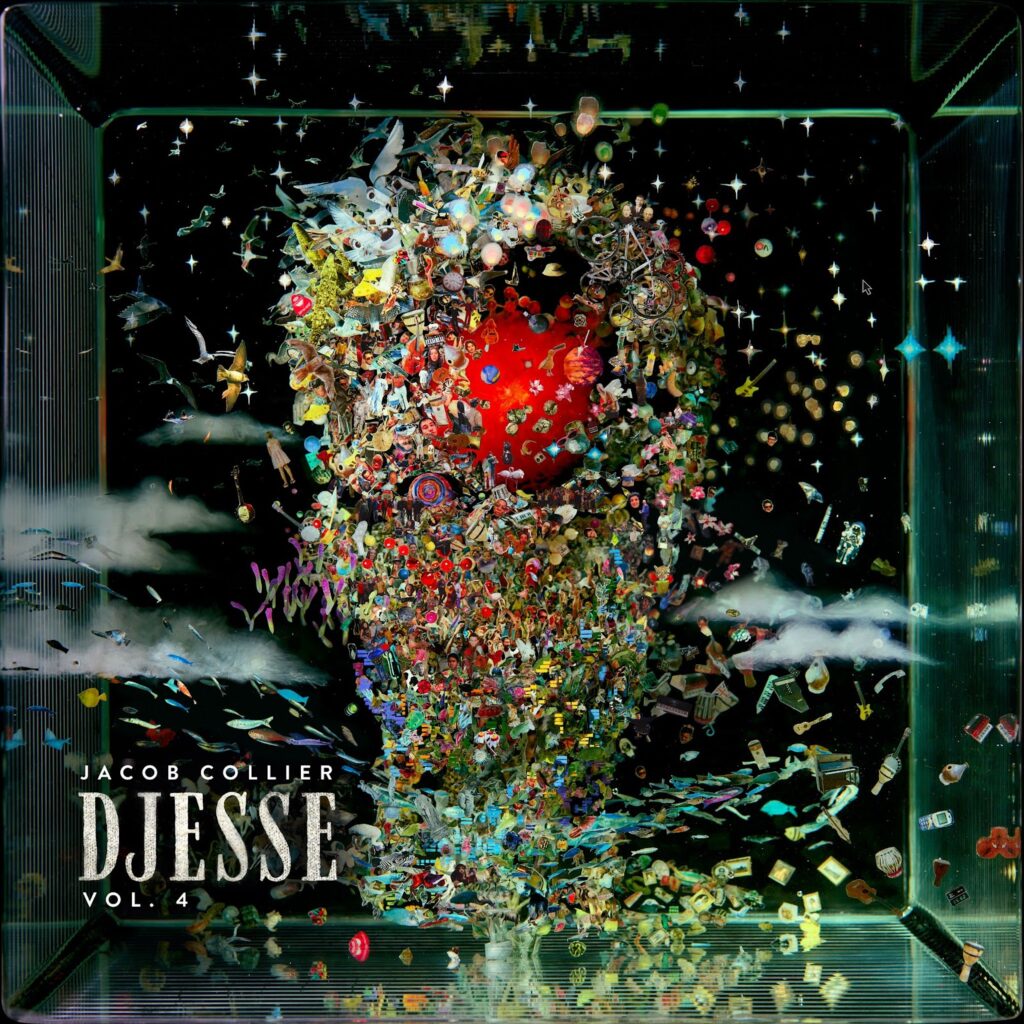 Jacob Collier Announces Final Instalment Of Groundbreaking Album Series That Has Earned Three Grammy Awards & Six Grammy Nominations Including Album Of The Year


Djesse Vol. 4 will be released on February 29th 2024 via Hajanga / Decca / Interscope
*The album's first official single Little Blue (feat. Brandi Carlile) is released today*

Listen to Little Blue HERE and watch the video HERE
September 21, 2023 — Five years have passed since Jacob Collier embarked on the epic musical journey of Djesse. What first began as an ambitious idea to make one massive album in 2018 soon erupted into a sprawling vision for a four-part series that encompass every genre under the sun, culminating in a grand finale that combines all the elements that came before – and so much more. Through three GRAMMY wins, six nominations including Album of the Year for 2020's Vol. 3, dozens of collaborations and hundreds of performances, Collier's talent and imagination have continued to exceed his own stratospheric heights and led his fans to expect the unexpected. Today he announces the highly anticipated final installment in this storied chapter of his career: Djesse Vol. 4, out February 29, 2024 on Hajanga / Decca / Interscope. 
Listen to "Little Blue" (feat. Brandi Carlile), the album's first official single, and watch the music video here: https://jacobcollier.lnk.to/LittleBluePR
Says Brandi Carlile, "'Little Blue' is such a gorgeous song and Jacob is a generational talent. I spend an embarrassing amount of time following him and studying his mind bendingly beautiful music. Getting to climb inside of it and be a part of his creation is a wonderful twist of fate."  
Crafted in the famed studio beside his London bedroom, as well as various corners of the globe, Djesse has explored Jacob Collier's wildest dreams, and Vol. 4 brings the series to a most dramatic and thrilling conclusion. While his music is proudly unclassifiable, Collier enters a distinct sonic universe with each volume, which he likens to the different phases of a day. With Vol. 4, the saga ends at the incandescent light of dawn, alchemising a full spectrum of emotion into a massive, joyous moment of awakening and human potential. 
From sweeping orchestral arrangements to intimate folk songwriting, and fusions of R&B, rap and pop, the multitudes of Djesse Vol. 4 are all centered around an ecstatic and global celebration of the human voice. In the midst of working on Djesse, Collier started turning each of his concert audiences into sprawling, improvised choirs. While conducting the crowd at rock clubs and Lincoln Center, even festival fields like Bonnaroo and Glastonbury, droves of fans have all been united in rousing harmony, furthering his guiding belief that everyone in this world is a musician. Having recorded each of his 80+ audience choirs, roughly 150,000 different voices play a role in the story and creation ofDjesse Vol. 4, and are featured as the foundation of songs like "Little Blue" and more of the tracklist that will be revealed soon. 
Djesse has so far included 37 songs, welcoming a staggering list of nearly 25 featured artists, plus gospel choirs, orchestras and more into Collier's singular world. The list of special guests includes an extraordinarily diverse range of talents, from Ty Dolla $ign, T-Pain, Jessie Reyez and Daniel Caesar to Kimbra, Chris Thile, Rapsody, Tori Kelly, JoJo, Lianne La Havas, Oumou Sangare, Laura Mvula, Steve Vai, gnawa master Hamid Kasri and Take 6. Collier's recent single "WELLLL" – a crunching slice of rock, pop and punk co-written with Remi Wolf – will also be featured on the new album, as will his GRAMMY-nominated 2022 release, "Never Gonna Be Alone" (feat. Lizzy McAlpine & John Mayer). 
Jacob Collier:
"Five years ago, in the wake of a musical journey that had begun in solitude, I set out on an epic adventure with a big dream – a collaborative quadruple album, and by way of that – to learn music, and life, from the greatest teachers of all – my heroes.
In many ways, Djesse Vol. 4 is an album that's taken me 30 years to make. It is, to me, a celebration of humankind – the way that I see it and hear it, built with musicians from every corner of the world. To be culminating this collaborative experiment with a 100,000 voice audience-choir, a sound that permeates the heart of this album, feels like I've found the heart of it. My voice is only ever as full as the voices around me. Everyone is welcome, and part of the tapestry. And most of all, creating this album has reminded me that life is full of magic, if only we can remember to look for it in each other."
Alongside the album announcement, the Djesse Vol. 4 cover art has also been unveiled. Created by Brooklyn artist Dustin Yellin, known for his work in tableaux and glass veneer sculpture, the piece captures the essence of Djesse: thousands of tiny images and drawings that interpret the theme of the previous album covers, illustrating the idea that one is made of many, and many come together as one.  Says Yellin: "Collaborating with Jacob has been an electrifying journey into the boundless realms of his musical landscape. His kaleidoscopic harmonies, sonic complexities, and intricate layers provided the perfect backdrop for my visual hallucinations. I am honoured and excited to share our fusion of visual and auditory magic with the world."
Throughout the evolution of Djesse, Jacob Collier's career has grown to reach tremendous heights as a solo artist headlining the world's greatest stages, as well as an in-demand collaborator. Djesse has earned Collier three GRAMMY Awards and six nominations.  Overall Collier is a 5-time winner and 11-time nominee, making him thefirst British act in history to win four Grammys for each of his first four albums. Recent live performance highlights include his biggest headlining show to date, last week at theHollywood Bowl with the Los Angeles Philharmonic, and two nights at the Kennedy Center with the National Symphony Orchestra.  In the last twelve months alone his audience choir videos have garnered hundreds of millions of views, he was the first-ever male to be featured as a Vogue Darling, he appeared on the July cover of Rolling Stone UK, and co-wrote and performed on seven tracks of Stormzy's This Is What I Mean. He has also collaborated extensively with Coldplay and Chris Martin, performing with them on Saturday Night Live in February, as a featured guest at their Wembley Stadium shows last summer, and on their album Music of the Spheres. He has also contributed to major hits including SZA's "Good Days" and songs by Lizzy McAlpineand Kehlani, and launched a signature line of music-making Crocs. Collier has recorded two NPR Tiny Desks, has spoken at the world-renowned TED conference, and has performed on TV shows around the world including the BBC's Later with Jools Holland, The Late Show with Stephen Colbert, Jimmy Kimmel Live!, The Tonight Show with Jimmy Fallon and more. 
Pre-order / Pre-save Djesse Vol. 4:
https://jacobcollier.lnk.to/DjesseVol4PR