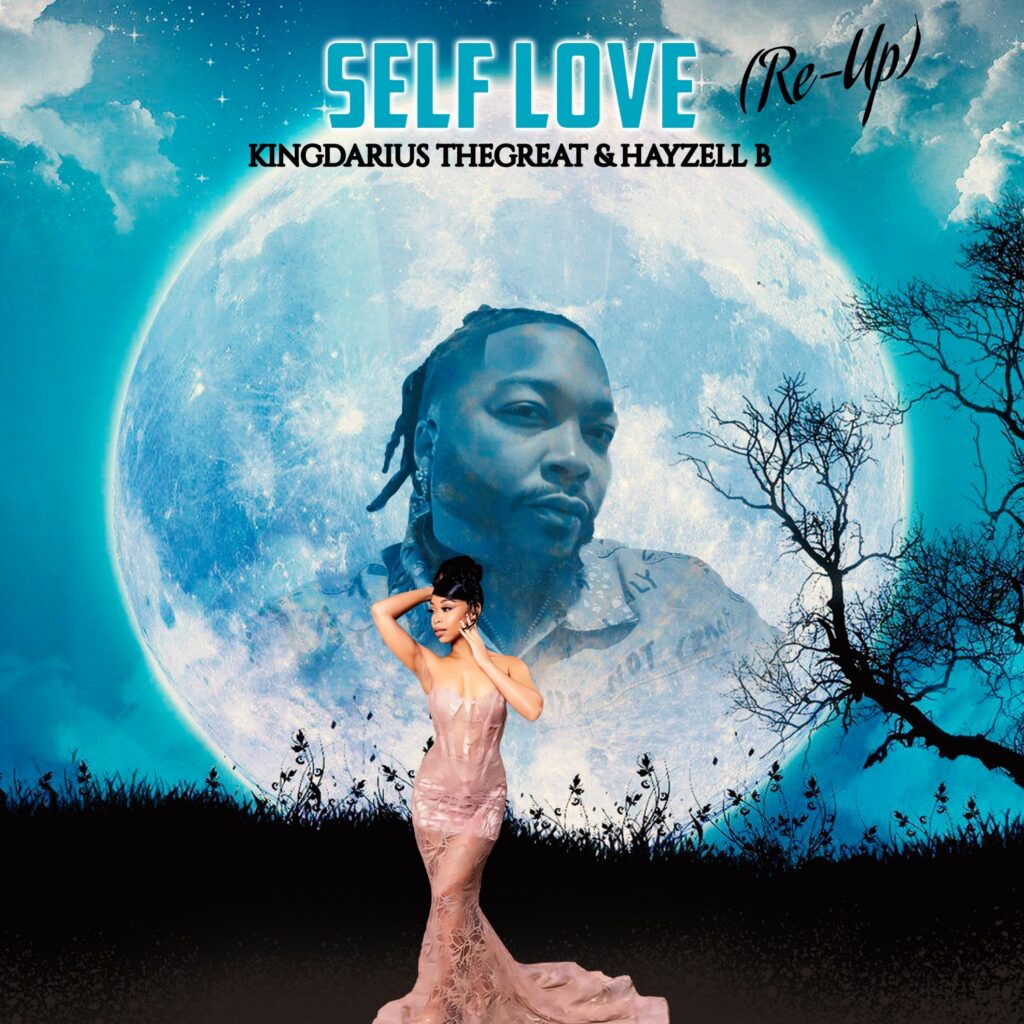 Congratulations on the release of "Self Love (Re-Up)" how does it feel?
It feels absolutely amazing.  It feels like the equivalent of being suffocated then being allowed to breathe again. The installation of R&B singer/actress Hayzell B, is nothing short of a wonderful gift from the universe, as she totally exceeded expectations with her powerful delivery and memorable voice.  With a song like this that has so much meaning to myself and ultimately those who hear it, I am very grateful for the outcome of this product and the impact it will have on listeners 
It's a reimagining of a track you have released before what is the story behind it?
Well, to be quite frank, I believe God, The Universe, Whatever higher power you believe in, knew how this record needed to be assembled, and the parties that needed to be involved.  Those are the individuals you hear and see today in Hayzell B as well as myself, and I truthfully couldn't be any happier.  In this business, things change and evolve all the time, and just like a championship winning team, we appreciate the practice squad players, the G League players, as well as those on the bench, but this is about the players that actually has what it takes to perform big in clutch moments and win.  The music industry has always had reference singers and what have you, but the goal is to get the record to the best artist that fits the sound, direction, and image, for the greatest opportunity to succeed, and that's what we have with Self Love (Re-Up) by KingDarius TheGreat & Hayzell B. 
What made you revisit this track?
It was never un-visited…… If that's a word. Lol.  It was a test run in its earlier stages, and as the writer, sometimes you want a glimpse of what the audience feels about the product.  So just like a taste testing facility, we tested the product with the consumer, took some notes, got the right players involved, and now ready to reach the highest altitude possible with a product my team and I are very confident in.
You're an artist from Marietta Georgia, how did it all begin for you?
I took a strong liking to music when I realized how much of an expression outlet it was for me.  As someone who was more introverted, but with lots on my mind, I realized music and writing allowed me to step into a different side of myself.  This epiphany actually took place in Illinois.  By the time I got to Marietta GA, I knew exactly what I wanted to be, I just needed the correct path to get there.
What did you listen to growing up?
Growing up I listened to so many different artists and genres of music, which is where my versatility comes from.  Some of the artists that stand out from that time would be individuals like…  Kels, Twista, Do or Die, Jay Z, Eminem, Missy Elliott, to Sam Cooke, The Temptations, Rick James, and Prince. 
You were in the group C-Side, how did that come to be?
When my family and I relocated from Illinois to Marietta Georgia, I met one of the members at the bus stop going to my new highschool.  Short story short, he asked could I rap, I said yes, we hit the studio, my value was displayed immediately, then I became a member of the group.
What are your favourite moments from those times?
One highlighted moment was being able to bring awareness to an entire side of town (The Northside), that wasn't getting much attention musically at all.  Once we created the anthem Marietta Hoe, it definitely brought us local town success, in return, shining a light on the area for other artists and producers to become sought after, such as K Camp, Mike Will Made It, Sy Ari Da Kid, and others respectively.  Another great moment was writing and being apart of the absolutely FIRST viral song in the history of music with the record Myspace Freak produced by Hit James formerly known as DJ BrickZ.  After the song went viral literally overnight, we were able to grasp the attention of legendary producer Jazze Pha, who reproduced and featured on the mainstream release of Myspace Freak.  Not to be outdone, one more awesome experience during that time was being able to write our next single, which reached national Top 40 Billboard Charting success with the song Boyfriend/Girlfriend featuring Keyshia Cole.
You've collaborated with some of hip hop's royalty, what were the lessons that you learned?
I think the biggest thing I learned when collaborating or writing for artists such as Lil Wayne, Flo-Rida, T-Pain, G-Unit, Shawty Lo, Keyshia Cole, Busta Rhymes and others, is to become one with their sound, and deliver a product that caters to their artistry.  I was a fan of most of the artists I was blessed to work with, so it came relatively easy to deliver a product they approve of. 
Is there anyone you'd like to collaborate with today?
I'd like to collaborate with any artist that has a large fan base.  The bigger fan base they have, the better, because it will put the eyes and ears of their listeners on to myself as an artist. 
COVID impacted the creative industry as a whole, what kept you motivated?
Being a writer and arranger, all COVID did was allow me more time to work on my God given craft.  It was a wonderful time to self reflect and try new methods of creativity.
The last few years have been a time to reflect what did you learn about yourself?
I learned that I am one persistent individual.  Regardless of anyone's opinion of me and what I should or shouldn't be doing with my life, I don't allow it to effect me.  I answer to God, not man, and I knew what my calling was once I signed the contract to come to this planet.  If that doesn't align with what you think I should be doing, you're free to look the other way. 
Did you pick up any new skills?
Yep. I sure did.  My cut off game has gotten a lot stronger.  If you're a liability, you only got one time to show that to me before that button is pushed and the floor under your feet caves in. 
Being from Georgia what are your top 3 favourite things about your state?
This is my Second home, with Illinois being the first, but in Georgia I love the networking within the market, the right to carry a firearm/defend yourself, and the naturally born beautiful women, and the chicken wings.  I know that's 4 but hey, it's Georgia!
What are you listening to at the moment?
Right now I'm listening to 
Self Love (Re-Up)
By KingDarius TheGreat & Hayzell B 
What are you looking forward to next?
I'm looking forward to continuing to drop new music by myself and with others.  I have a ton of new material on the way as both an artist and a writer, and I'm totally looking forward to the masses hearing this wonderful body of work.