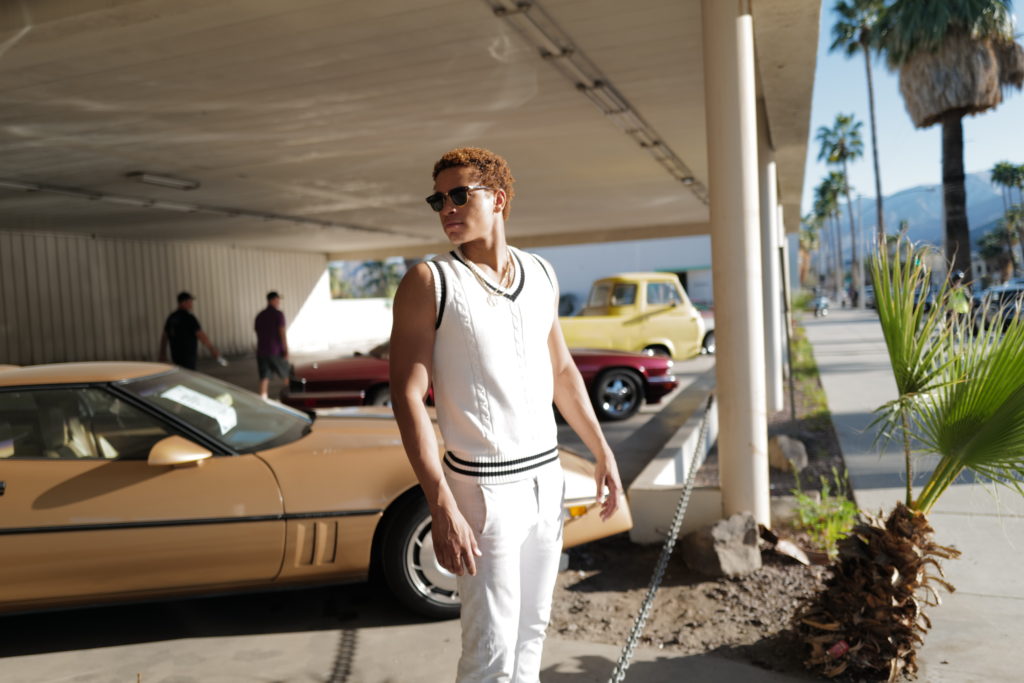 Hello Austin how are you?
I'm doing great! Currently on tour, doing what I love so pretty happy right now!
Congratulations on the release of "Loving On You" how does it feel?
Thank you so much! It feels so amazing, I made this song back in 2020 so it feels so gratifying to finally bring the song into fruition!
What's the story behind the song?
Let me set the scene: it's the middle of the pandemic. I'm no longer performing, feeling isolated, and feeling like the world is falling apart. I'm working on songs, but for a while, there's a creative block. Then this song comes to me like lightning. It's so upbeat, happy, and hopeful that it feels almost escapist in the middle of 2020. It's exactly the mood my soul wants to indulge in. I dive into the song headfirst and for me, it's an escape from all the madness that's happening just outside my door. I take the song to my manager and team and they love it, but we all decide that we should wait for the world to open up again to release it because it's so important for me to perform it live. I feel like live performance is one of my biggest strengths and something I love so much, so we wait and wait until the right time, which is now!
It's part of an EP release, what was it like working on that?
It's an absolute dream! It's the first body of work I am releasing, so I'm really excited to share that with the world. I'm also so motivated to do this right because you can only debut once, and I really want this EP to define who I am as an artist, my personality, my vibe, so to speak. There's been a lot of talk about how I mix genres, how I "fit into boxes" so-to-speak, and I want this EP to clear up who I am.
What's your favorite track from the EP?
I don't think I can say that yet, because I haven't recorded all the songs yet, but I will say that there is a song that mixes pop-punk and trap music that I am absolutely in love with. I feel like that mix- pop/punk and hip hop- is what will come to define me in the future. Like Machine Gun Kelly but better. Don't quote me on that, haha.
What were the challenges and best moments for you in recording it?
Getting rid of my own preconceived notions about myself and what types of music I "should" or "should not" be making. After a lifetime of feeling like because I'm black that all I'm supposed to do is R&B and Hip Hop music, I had to realize that I can make whatever kind of music I want. Don't get me wrong, R&B is a huge influence and I love it, I grew up with it, but it's more just one of the many influences that I choose to pull from. Realizing that was the best moment of recording my EP.
You are an artist originally from Manhattan and now living in LA, how did it all begin for you?
I've always known I wanted to be a musical artist, even when I was little. It took me a while to fully commit to it. I was born on the Upper West Side in Manhattan and that's been a huge impact on my life. Anyone from that background understands the pressure of what it means to have a lot of expectations on you. I also grew up in Maryland, and it's a place that I love with all my heart. I'm a true east-coast boy at heart, but there's always been a growing part of me that has known that I would make the journey across the country to LA for music. There really is no other place in the country with as much musical opportunity. I knew that LA would be where I launch my music career.
What did you listen to growing up?
Lots of Prince, Mariah Carey, Dave Mathews Band, and Michael Jackson. I also loved listening to early 2000's pop/punk like Boys Like Girls, Avril Lavigne, My Chemical Romance and R&B artists like Beyonce and Chris Brown.
You are classically trained in piano and voice, what was the biggest lesson you learned about your instruments?
That classical music really is the standard: if you can do that you can do anything. Also that hard work and perfecting your craft are more important than talent.
Your tone shows a lot of discipline, how do you like to warm up?
I have a Spotify playlist I made of warm-up exercises that I can go over, which is very helpful because I can just access them remotely on my phone whenever I need them, like in my car or backstage.
COVID impacted the creative industry in a big way, what kept you motivated?
Thinking about a possible 2nd roaring twenties, and when I can perform again!
The last two years have been a time to reflect. what did you learn about yourself?
I learned that I'm much stronger than I ever gave myself credit for, and that I am so much more than the boxes society tries to place me in,
Did you pick up any new skills?
I got much better at producing my own music and recording my own vocals. I also wrote a novel. But I'll speak more about that later…
Having lived in New York, what do you miss most from there?
The energy, the realness, the feeling that anything can happen. That frank, IDGAF attitude that I haven't been able to find anywhere else.
What are your three favorite things about L.A.?

The mountains, the ocean, and the Mai Tais.
What are you listening to at the moment?
Right now I am listening to "5 Minutes To Midnight" by Boys Like Girls. Like literally right now.
What are you looking forward to next?
My EP Release Party! Look out for this November…!