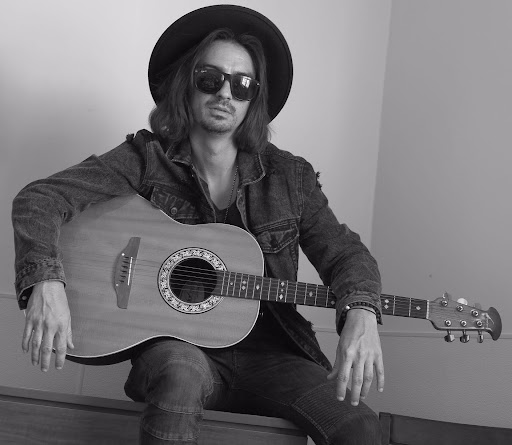 Hello Patrick how are you?
Doing good, thanks.
Congratulations on the release of "Soulless Machine", how does it feel?
It feels great to finally release this project to the world.
What's the story behind the song?
I feel like we are living in dystopian times and I wanted to express those feelings in my song and video. I first storyboarded my ideas and then began filming. After video editing, I then wrote the song to the visuals. It was like working on a soundtrack and I really enjoyed it. I was inspired by many cult films on this project such as Pink Floyd's "The Wall", John Carpenter's "They Live", "1984", and a silent German expressionist film from 1927 called "Metropolis".
You worked with Pete Parada on it how did that collaboration come about?
I remember reading in the headlines that Pete was dropped from the upcoming Offspring tour after refusing the Covid vaccine for medical reasons. At the time, I had already begun filming parts of my video and used the news to further fuel my feelings behind the project. It all seemed so surreal to me and immediately I began dreaming of having Pete Parada play drums on my song. As the project progressed, I continued to keep Pete in the back of my mind. Ultimately, I reached out to him and after a few day's he replied and he told me he liked the song and I am just so grateful to have him playing drums on my song!
What was your favourite moment from those sessions?
The first time hearing my song with his drum arrangement was mind blowing and a dream come true for me!
The video is really cool how did you come up with the concept?
As stated earlier, I was inspired by classic films and I wanted to show a world of enslavement and surveillance under the skin. The transformation from human to machine was important for me to show because I feel we are merging into a transhumanist society.
You are an artist from Miami how did it all begin for you?
I began writing and recording music in high school after being inspired by watching my uncle play guitar. Writing songs always came natural to me and soon after I became obsessed with recording. In those days, I'd record into a cassette tape in my boom box! The rest is history!
What did you listen to starting out?
A lot of classic rock. As a guitarist, I was always trying to learn how to play songs by Led Zeppelin, Pink Floyd, The Beatles, Jimmy Hendrix, Janis Joplin, The Rolling Stones, David Bowie, and The Doors. Then I discovered The Cure, Nirvana, The Smiths, Echo & The Bunnymen, Peter Murphy, New Order, Billy Idol, NIN, Guns and Roses, Motley Crue, Tupac, Ice Cube, and many more. Heavily inspired by 60's to 90's music of ALL genres.
You have released six albums what have you learned since your first release?
To reach out and try to get other musician's and professionals involved.
COVID had a major impact on the creative industry what kept you motivated?
My desire to express my views on the shape and the direction that the world was and is taking and I wanted to share that through my music and my video.
The last two years have been a time to reflect what did you learn about yourself?
To act on the basis of your conscience and conviction and be willing to deal with it no matter what the consequences are.
Did you pick up any new skills?
I learned how to stock trade and read charts.
Being Miami based what are your three favourite things about that city?
The food, the beach, the weather.
What are you listening to at the moment?
BB King "The Thrill is Gone"
What are you looking forward to doing next?
Writing a new album and creating more videos!