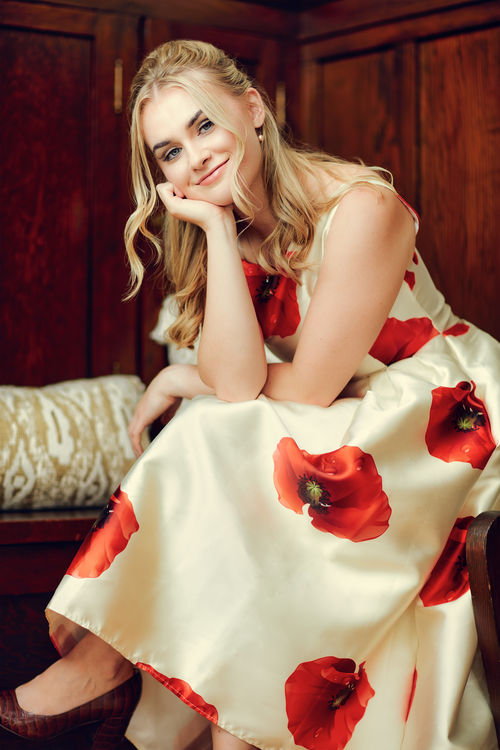 Hello Alex, how are you?
I'm great! Thank you for interviewing me today!
Congratulations on the release of "Lemon Tree" how does it feel?
Thank you! I am so proud of the record. I feel so lucky to have been able to play with such amazing musicians, and have had immense support from my family, friends, and acquaintances the whole way through. All of the hard work paid off.
What's your favourite track from it?
I think my favorite track would have to be "Don't Let Me Lose My Way" or "You're in My Arms to Stay". It's awfully hard to choose just one. "Don't Let Me Lose My Way" just turned into something incredible with those musicians. All of the texture is so satisfying, and they really did a beautiful job transforming my original into a complete song. I'm torn between that one and "You're in My Arms to Stay", because YIMATS was so completely organic – Darrell (piano) started playing something in the rehearsal, and Clark (bass) joined in just to see if it would work, then Mark (drums) did this cymbal painting thing that really sent the song into orbit. We kept that arrangement for the recording process, and the improvisation at the end was all live, all together. We were all so connected for the whole process.
You worked with some fabulous musicians on this what was your favourite moment during the recording process?
Again, it's so hard to choose! But the first thing that comes to mind is when we recorded "Don't Let Me Lose My Way", and the band just really loved the song. We got to the end of the recording process, and we were adding the extra overdubs, and Darrell was playing organ. He is a really sweet, calm man, who's very low key and professional most of the time. But when he came up into the control room after adding the organ, he was so excited that he walked over, drummed on my knees, and yelled "This is such a good song!" It was so validating for me that these incredible and well-established musicians actually enjoyed my music.
What did you learn from them?
I had a hard time envisioning what the songs would sound like with a full band. This was the first time that other people had a role in arranging my originals, and one of the first times that I'd had my originals played by a full band. I was kind of at a loss with directing them on what to do. Their musicianship and experience was huge in shaping what the songs did – Darrell would come up with some ostinato line on the piano, Clark would fill in, and Mark would follow suit. They taught me new ideas to add to my music and how to play off of one another to really create something unique. I cannot express my gratitude to have been able to play with such amazing musicians.
You covered "Still Crazy After All These Years" by Paul Simon" – (Beautiful), what inspired you to do this?
Isn't that such a beautiful song! Still Crazy was one of the songs that my dad performed with his best friend when they were doing music on cruise ships in their 20s-30s. There are some very hilarious pictures. I wanted to include some of the type of music that I grew up with, and I was on the hunt for the perfect song – maybe Stevie Wonder, maybe the Beatles, maybe Carole King. When I heard "Still Crazy" and my dad told me it had been one of his favorites to sing with his best friend, I felt that it would be a really lovely nod to him and everything I learned from him.
You are a singer/songwriter from Seattle Washington how did it all begin for you?
I grew up surrounded by music. My dad is a professional piano player and singer, performing in piano bars, dueling piano shows, at weddings, etc. We often had parties where my parents and their friends would come and play music, and I would always sing, from age 2 up. My dad also taught me how to play piano and sing starting when I was about 7 years old. My mom's mom was also a singer in the 1950s, but she lost her voice due to vocal nodules, so I was always encouraged to sing for her, and sing some of her old songs. I would come up with originals with my friends, and I was singing all the time, but I started really getting serious about music in high school, in my vocal jazz choir at Seattle Academy, the Onions. I learned about jazz, about practicing accuracy and improvisation, and about the vocal jazz community as a whole. So, I decided to pursue my degree in Jazz Studies from University of Northern Colorado. I felt inspired, like I could carve out a place for myself in that world, and I believe I'm just getting started.
What did you listen to growing up?
I listened to a very wide variety of music – at school I grew up with Avril Lavigne, Rihanna, Britney Spears, Hannah Montana, but at home, we listened to Frank Sinatra, the Beatles, Stevie Wonder, the Mamas & Papas, ABBA, and more.
You are so skilled in improvisation, how easy does it come to you?
Oh thank you! I would not say it came easily to begin with – I had just as many horrible scat solos starting off as the next person. And I definitely still fall on my face sometimes. I think the ease just comes with time, listening, transcribing, and working through changes on the piano. There's still so much work to be done!
Tell us about vocalese.
Vocalese is taking an existing jazz instrumental solo and writing lyrics to it, which I did with It's You I Dig (originally This I Dig of You) and It's No Time to Be Blue (originally Blue Bossa). I love the art of vocalese – I think it's something unique that jazz vocalists bring to the table, and something that has had a leader in each generation, starting with Eddie Jefferson, then Jon Hendricks, then Kurt Elling… A lot of people dabble in it, but those people really specialized in it. I always felt like I could be that for the new generation of vocalists. It also is a really unique way to get your thoughts out – it's like an original song on steroids. Something about having to match the syllables to the notes really helps me spit out things that I might not necessarily share if I didn't need to fill the space. I have plenty more that I'm excited to keep sharing.
COVID impacted the creative industry in a big way, what kept you motivated?
I graduated college right when COVID hit – my senior recital was 3/7/20, one of the last recitals that we had that year. I had intended to record an EP and move to Los Angeles to get my career started, but instead, moved back home with my parents and started working for the Teamsters helping people retire. It was a bizarre change of pace – but I also started streaming my music on Twitch, and Jeff Baker, my producer, started talking to me about us getting together for a project, my first album. My Twitch community really relies on my consistency, so I had forced practice time built into my week being live on Twitch, and the excitement about the album really helped me stay positive and motivated. I've been doing music for so long – I've been waiting to share my first statement in the world.
The last couple of years have been a time to reflect what did you learn about yourself?
A time to reflect is the understatement of the century! I started going to therapy and really learning about who I am and what I've been through that has made me who I am today. One of the most valuable things I've learned about is my depression – I think everyone struggles with it at some point in their lives, and if they don't, they may very likely be lying, or they just don't know that that's what depression is yet. I realized that my life is marked by highs and lows, and whenever I'm in a slump, even if it's been weeks or months, I have to remember that listening to music will help me get out of wherever I am. Inspiration is the thing that helps me get through anything, and music will always remind me where to go.
Did you pick up any new skills?
I wouldn't say I necessarily picked up any brand new skills, but I definitely had to be ready to sing whatever, wherever, and however many times I needed to make the recording just right. I had spent a bit of time in the studio before this, at home with my dad, and at school, so I was glad I had all of the experience I had before jumping in the studio on such a big, important project.
What are you listening to at the moment?
I am currently obsessed with Erase Me – Lizzy McAlpine (feat. Jacob Collier)(SOOOOOOOOO GOOOOOOOD! Del.) and Dialing Drunk – Ethan Gruska. I love the way that jazz infiltrates into other genres. It's so fun!
What are you looking forward to next?
I'm excited to have the coolest business portfolio out there! Music and jazz specifically are both about the magic of collaboration. I want people to be able to hear my music, like what I do, and want to work with me. I'm excited to have my style change and grow and work on other musicians' work as well as my own. Hopefully I'll be able to keep releasing music, and eventually put out a Christmas album.