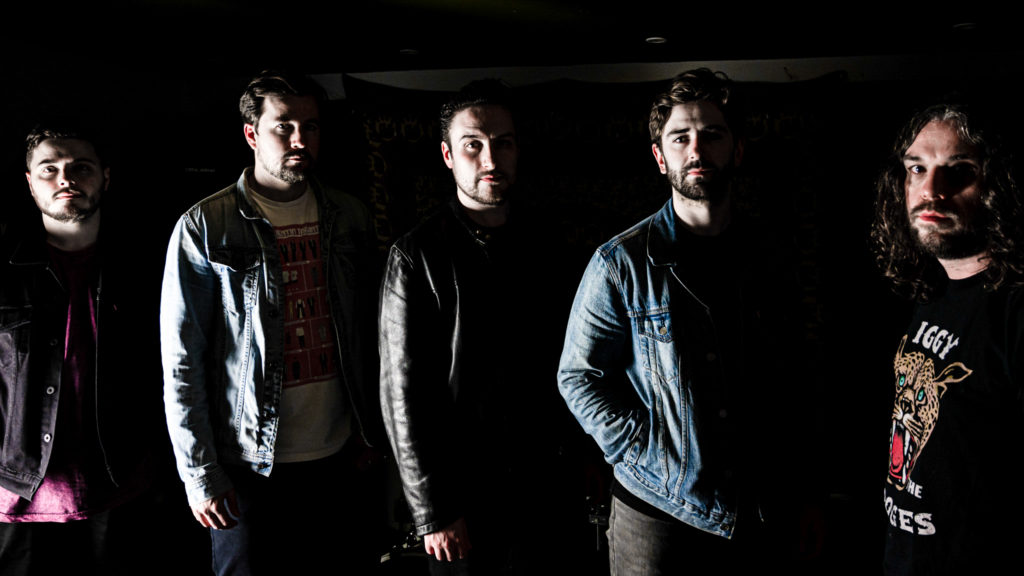 The Heavy North album just dropped! 
Let's do this. 
The Genie

 
It starts off with feedback to open it up, then drops into a blues jam, nothing less than what you'd expect from this band, it's very 70s influenced – but what you don't expect is the muted trumpet solo at around 2:38, it's absolutely gorgeous. What a way to open it!
Darkness In Your Eyes

 
This is going into dirty blues territory, the guitars are big and distorted, and roar through it, the riffing is so good, and really shows off the musicianship on this… You could just imagine them playing this live and really going to town on it! I love the way the drums are delivered – kick, snare on one two with the floor tom on the same beat to give it some gravity…. Nice work! Great guitar solo too. At about 2:14 the drums and bass accompany the vocals into bringing it down and showing off that bluesy vocal again… 
Wow. Solid 5/5 on this one. 
She Gets Me Higher

 
Change in tempo here, this is slowed down, and you can hear Ste Penn's organ playing a counter melody here to Kenny Stuart's vocals – HEY! Don't get too comfortable, because this caught me unawares too because at 3:17 there's an extended instrumental passage where the tempo kicks up again, we talking classic rock territory here, and it leaves you wanting more….. This is probably my favourite track on the album tying very closely with "Darkness In Your Eyes" for me….
Awake
The key's dropped down a tone for this one in comparison to "She Gets Me Higher", I like the crunchiness of the guitar sound on this. You'd expect this to be a song that you'd hear in a blues venue in America, and I reckon this would go down very well live! The organ sound is there providing some solid chords in the chorus, it's lifting up my spirits I can tell you…. Very strong track.
No Good

 
I reviewed this in July last year this is what I said about it back then.
Introducing the band… 
Kenny Stuart – Singer, Frontman, Guitarist
Jose Ibanez – Guitarist, Producer, Backing Vocals
Andrew Horrocks – Bass, Backing Vocals
Ste Penn – Keyboard & Organ
Mark Rice – Drums & Percussion 
This is a sumptuous bit of blues rock and soul from Liverpool quintet The Heavy North, guitars playing on the twos and fours of the beat, and… it's beautiful. The melody is sung in unison in the chorus, you'd think that with this kind of soul you'd need it to be a bit more, like three parts…. But no it doesn't need it. There must be something in the water in Liverpool because they have a habit of turning out annoyingly good songs. I make no apology with that assessment. But I will ask them this. Are they drinking from the Mersey????
Kenny sings this with a sadness, because the protagonist in this song has changed but someone hasn't, and is making him feel bad, not worth it… I don't perceive it as pain, but it's a wake up call. 
The electric piano doesn't go un noticed by the way guys…. There's a lovely guitar solo on this as well, the drums are a cross between late 60s Motown with the fills, and a bit of an indie edge to it though, something tells me Heavy North's drummer has a bit of a jazz leaning too…. Further investigation may need to happen. 
The Heavy North have an impressive CV, melding garage and blues rock, this quintet is from Liverpool. They released their debut singles "Don't You Wait For Me", and "Don't Give No Love" in November 2018, followed by live shows in Liverpool, Manchester, Leeds and Blackpool. 
Satisfy You

 
I reviewed this earlier this year. 
Straight out of the box, this track comes out swinging, with growling guitars full of attitude, Hammond organ glissando into the intro…
I like it! 
The drums power through leading the band into a blues laden track, Kenny Stuart bringing vocals that really bring it together. He leads the band through a track that you could just imagine everyone singing along to in the chorus. 
I love the way the arrangement swings, it's 4/4 time but gives it that rocky feel that  lots of stabs, the vamping… It gives me nice things to listen out for with each play….
There's an atmospheric little synth solo which takes the volume down a bit for your ears to recover, and it's back to the action! Nice guitar solo by the way!
Great work gents. 
Better Change

 
This time a bit more on the blues rocky side for me. Lots of stabs at 0:45 onwards, which really got me air drumming! Wow… Really fab performance from everyone on this, this could easily get a crowd fired up. This to me is Kenny's stand out performance on the album really taking his energy from the musicianship. With those stabs I can imagine him going James Brown on this conducting the band through the changes like JB used to do live. 
Dude if you don't do a mic stand drop and the splits at the end I'll be very disappointed…
Oh and they give the drummer some at 3:42. Clyde Stubblefield would be proud.
To The Wind I Go
The harmonica gets broken out here… This is straight down the road blues rock, all major 7ths are deployed here, and to great effect giving the song its best moments. MVP here is Mark Rice I love the way he's making those drums really stand out! The call and response here is going to be a beast live by the way. If you want your audience to go home with a great memory, then play this at the end of your live set!
Falling Down On You
This is so bluesy it hurts. I really love the harmonies on this, and there's lovely sax solo that starts at 3:08 that ushers in a tempo and beat change that makes you sit up and take notice! Wow! My second favourite track on an album that's hard to choose a favourite on…. The extended solos really leave you a sweaty mess, it's a guitar solo and sax duel, and they thrash it out…. It's gentle but it's like a battle for your musical soul….
As Long As You're Here With Me
Ahhh the album closer. In my book, the album closer has to make you want to go back and listen to the whole thing from the top, if it doesn't then they've failed in their mission.
Heavy North didn't. This track invokes gospel flavours, makes you think… "Well this is the kind of the song I want to dance at my wedding to." Old and young would take to the dance floor, and you'll just feel the love right there frozen in time.
There's a violin solo in there as well, and makes me think that they should record this with a string quartet to really fill this out… 
All in all, this is a beautiful album, so well made, the production value and songwriting standard is high, The Heavy North did NOT miss the mark with this one.
To be honest, I think people from Liverpool write annoyingly good songs, I know a fair few Liverpudlian musicians to say that, and The Heavy North probably drank from the holy (Filthy!) water that is the Mersey to get this good… It's kind of like the Bow Bells. Be born within the sound of it, you are cockney. Live near the Mersey? Form a band and see what comes out…