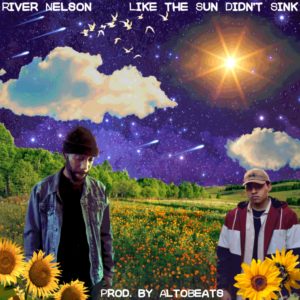 Hello River how are you?

What's up, Derek? I'm great. Thank you for asking. It's nice to meet and connect.
Congratulations on the release of "New View" how does it feel?
Thanks, man. It feels wonderful. It's like being a little kid who spends months building his own bicycle and the day comes when he finally gets to ride it. There's nothing like releasing new music. It's crazy fun!
What's the story behind it?
So, I'm always looking for better ways to live life and be the best person I'm able to be, and over the past year I've developed some new outlooks that have really helped with that. So, I wanted to write a song about having those new viewpoints and what it feels like. The song is definitely celebratory.
You are an artist from L.A. how did it all begin for you?
I would say I started out like a lot of musicians by just being a fan of the greats. I currently live in Los Angeles, but I was actually born in New York City and spent my childhood in Norwalk, Connecticut. I then moved back to New York a few years after high school and came up through the underground hip-hop scene there. I moved to L.A. just a few years ago.
What did you listen to growing up?
So many artists but the first ones that come to my mind are Rakim, Kool G Rap, Big Daddy Kane, and KRS-One. I always gravitated to people who could really spit. I was also a hip-hop junkie, which I still am, so I listened to anything I could get my hands on.
You are a rapper and producer, who were your influences starting out?
A Tribe Called Quest definitely. De La Soul as well. Plus, OutKast, Nas, and The Roots. But I also love other types of music outside of hip-hop, so I've been influenced by Sade, Bob Marley, Gil Scott-Heron, The Doors, and Radiohead. So many people.
You've toured with heavyweights like Common, Kelis and Talib Kweli, what was the feeling of being on stage like?
Common was a tough learning experience and it was early on in my career. I was flown outside of the U.S. to gig with him and do some other things for an album I just released. At first I found out my set had to be cut short due to the venue starting the show several hours later than they promoted. Then I was told I was only going to "freestyle" with Common on stage and that didn't happen. It wasn't his fault, though, and he had nothing to do with it. He was gracious and showed me nothing but love. So that's my Common story, which I laugh about now. As for Kweli, It was dope to rock on the same stage with him, which was in Harlem many moons ago.
You've also garnered airplay in the UK how does that feel?
Really dope, man. I would say people in the UK are the first folks who really got me and supported my music and things grew from there. I've gotten love and support from DJs all over the country, and the UK is such a trusted source of music around the globe, other countries pay attention.
COVID has impacted the creative industry as a whole in a big way what has kept you motivated?
I would say just being reminded of how fragile life is and how we can be here one day and gone the next. Being reminded of that made me want to immerse myself in what I love to do most, which is to write songs. Los Angeles producer AltoBeats produced the whole album and his beats also inspired me to write and compose. He's a gifted producer and we had a ball putting this project together.
2020 was a time to reflect what did you learn about yourself?
I was always a person who loved the hustle, bustle of city life, but during the pandemic I learned that I can thrive just as much, if not even more, in a quiet setting. I also bought some new music equipment in 2020 and taught myself how to use it and learned that I'm way more technically savvy than I give myself credit for.
Being from L.A., what are your three favourite things about the city?
I'm still relatively new to the city but the weather is the first thing. I thrive off sunshine and it's sunny most days here. The second thing is the variety of things you can do in L.A.. Because one minute you can be in the mountains — like where we shot the video for our latest single "New View" — and 20 minutes later be at the beach. Then 20 minutes after that you can be in a bustling part of the city. And the third thing is the beautiful nature and surroundings.
What are you listening to at the moment?
Hmmm, let's see. A lot of Kota the Friend, who's a rapper out of Brooklyn. J. Cole's latest album, a lot of Black Thought from The Roots, The rap clique Spillage Village, Benny The Butcher and Griselda, J.I.D., a lot of Kendrick Lamar, Freddie Gibbs, and Blu & Exile. I'm a huge fan of their work.
We're going to release the album "Like the Sun Didn't Sink" next month, on 29th October and we're getting ready to shoot the video for the next single. Then it's getting the word out about the album, and traveling to as many countries as we can to play shows. It's really an exciting time right now.
'Like The Sun Didn't Sink' is out on Friday 29th October.