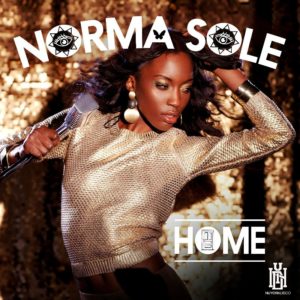 Congratulations on the release of "Home" – what a great tune…. How does it feel?
Feels wonderful to be able to share my talent and reintroduce the world to amazing soul music.
Describe it in three words?
Good mood music.
What's the story behind it?
Well, my management discovered it and sent it to me. It was originally recorded by an obscure late 60s/early 70s artist named Gloria Barnes and recently has been sampled by various artists and was used in a commercial.
You are a singer songwriter from New York City, how did it all start for you?
After college I moved to Miami Beach to follow my dreams. I worked with a few bands and that opened more opportunities, that led to working with NuYork Disco Records.
What did you listen to growing up?
Growing up I listened to my parents' record collection, which was full of Disco, Reggae, Classic Soul music and of course, the music on Hot 97 and WBLS.
What was the catalyst for you to start singing?
Both my parents always sang around the house, so I just grew up thinking everyone did.
Your parents loved soul music when you were growing up, was there any song that got the whole house singing?
We loved singing "Isn't She Lovely" by Stevie Wonder! It just always set the right mood at home.
You now live in South Beach Miami, is there anything you miss about NYC?
Family… I miss the family gatherings and cook outs on holidays and weekends after church. That really isn't due to traveling of course. I am sure these days a lot of us don't get to see family much.
What are your three favorite things about Miami?
The chill vibe, the food, and the weather.
COVID had a major impact on the creative industry what kept you motivated?
I try to keep in mind that I am lucky to be alive and well and to have the ability to create where and how I do. Just knowing that through music I may be inspiring others to live, keeps me motivated.
2020 was a time to reflect what did you learn about yourself?
Though I love to perform. I'm basically an introvert so I can cope with isolation.
What music are you listening to now?
H.E.R., Doja, Cat, Amber Mark, Nina Simone, Lil Nas X, Burna Boy to name a few.
What are you looking forward to next?
Performing and hopefully travel, I love to travel.