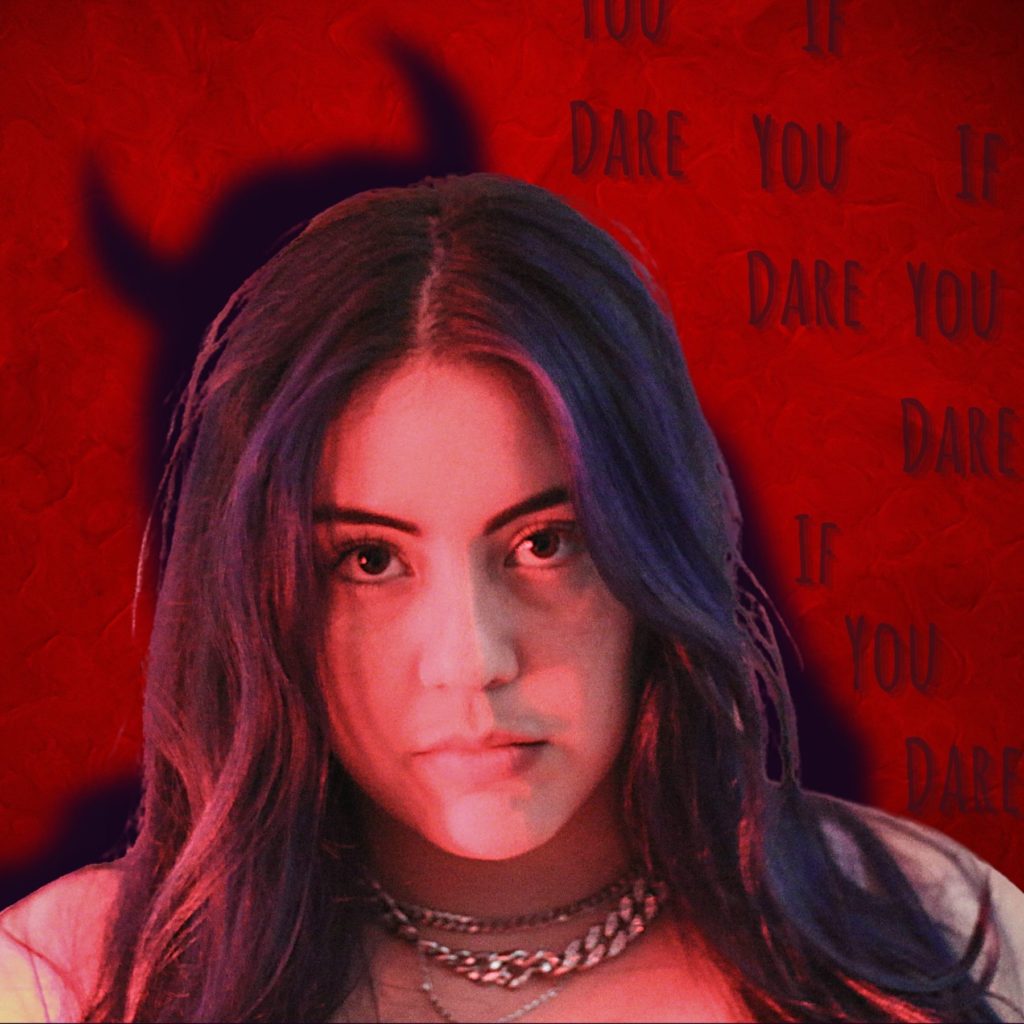 Hello YESLA, how are you? 
Hi! I'm doing great. Very excited to be here chatting with you today.
Congratulations on the release of "If You Dare". How does it feel?
Thank you! I'm feeling very excited that this record is finally out & happy about the response it's getting so far. I've been working on this one for a little bit now so it's a great feeling now that it is alive & kicking.
It's a gutsy slice of rock, what's the story behind it?
I wanted to create something that really showed the angst & frustration I was feeling at that moment. I began to feel crushed by the weight of people's opinions of me. I was in a session with my producer JHNY WZDM & was expressing all of this to him & that is where "If You Dare" was born. We wanted to make a record that was unapologetic, gritty, intentional, & spirited; something to represent breaking out of your shell.
You are a singer songwriter from L.A. how did it all start for you?
Honestly, I've been writing songs since I was about 16 but I didn't realize those were songs at the time. I thought I was writing poems that were expressing my feelings. I slowly started showing them to people and was informed that songwriting was an actual profession! A very pinnacle moment that made me realize I needed to pursue music was walking out on stage to sing background vocals for the band Foreigner & having 10,000 fans cheering for me. It was one of the best moments of my life & I continue to chase that feeling.
What did you listen to growing up?
I listened to a lot growing up. Thankfully for me, my parents constantly played the greats like: Stevie Wonder, Earth, Wind, & Fire, Fleetwood Mac, & The Eagles to name a few. As I got older I got into bands such as: Sublime, Paramore, Foo Fighters, Incubus, & Muse.
You studied at Berklee College of Music, what's your favorite memory of those days?
I would have to say one of my favorite memories from Berklee was jamming with people! Whether it was in class jamming out a song I wrote or just getting a group together & improving at parties. It was always such a blast to be on the same wavelength as other musicians.
What was the one thing that you learned there that surprised you?
The one thing I learned at Berklee that surprised me was how diverse the music community actually is. There were people that came from all over the world to Berklee to follow their musical dreams. Everyone from people fresh out of high school to people getting out of the war from their countries', & saving every penny they could to come to this school. It was incredibly inspiring & still is for me to this day.
You collaborate with your friend JHNY WZDM, how does a typical session usually begin for you?
A typical session always begins with a catch up. We download & update each other on our lives & how we are feeling at that moment, leaving us with so much room to discuss new song ideas. After that, we get to writing. Every session is different. Sometimes I come in & he already has an idea for me. Sometimes we start from scratch and ask ourselves, what message we want to convey.
COVID has affected the creative industry what has kept you motivated?
Covid has definitely affected the creative industry but in the mist of it all, even that wasn't able to bring the music industry to a halt. The entertainment industry is such a beast that nothing can slow it down so knowing that, motivates me to work hard or risk getting left behind.
2020 was a time to reflect what did you learn about yourself?
In my time of reflection, I will say I learned that I could do anything I put my mind to. Before Covid, I always found excuses as to why I wasn't releasing music or finishing projects. With the world coming to halt, I was able to really reflect about what I wanted and finally had time to build a structure within myself to successfully get things done. I realized I was standing in my own way & as soon as I cleared the path, everything started falling into place.
You're from Burbank, CA. What are your three favourite things about it?
I would say that my three favorite things about Burbank would be: the small town feel, being so close to the movie studios, & all the childhood memories I made there. Growing up there felt like I was a world away from the jungle that is LA but in reality, I was only about 15 minutes away from the bustle of the big city.
What are you listening to at the moment?
These days I'm listening to a lot of: The Black keys, Jungle, Hayden James, Nothing but Thieves, & honestly anything that is groovy!
What's next for you?
Expect to see a lot more from me this year! I have a couple more singles lined up & other cool projects in the works. I plan on making a return to live shows in the New Year to come so be on the lookout for announcements! You can stay in the loop on all things YESLA on my website: www.imyesla.com.