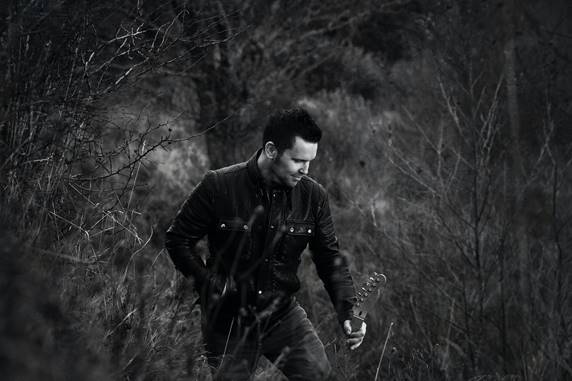 Hello Rory how are you?
I am as well as anyone can be after the last 18 months i think! thanks for asking.
Congratulations on the release of Donna Don't Take My Summer (What a title!) how does it feel?
Good, some of the previous music i was writing this year was a bit melancholy so i decided to go for a bit of retro 80s bubblegum pop to lighten the mood
Describe it in three words.
Indie disco pop
It's very funky, what's the story behind it?
I had been doing these facebook live gigs every saturday, and with serious cabin fever and insanity setting in I started introducing a section of my show called "the wheel of cheese" where I would ask the public to name me 9 or 10 cheesy classics (guilty pleasures) and I would stick them onto the wheel, spin it, and play whatever it stopped at, there was a lot of bee gees, donna summer, pointer sisters, kylie, KC and the sunchine band, rick springfield, I found myself enjoying it far too much and decided.. I need to write a song that would sit on that wheel !
It was recorded in Yorkshire, what are your favourite moments from the sessions?
Myself and Joss (The Studio owner and producer) went to music school in Dublin together and had lost touch for maybe 18 years, so to meet up again and take off from where we left off was amazing, the best part of the sessions was the pub afterwards.
What were the challenges that you faced doing it?
I was lucky to have Joss there, as i had imagined using a lot of synths, but each time I put down a part he would ask me to try something different as he felt it was moving into a comedy zone, too much pastiche, it was sounding 1 million miles away from my other music and this doesn't have to be the case. So I played the synth parts on acoustic guitar with a flanger, then played the fake brass stabs on electric guitar, it went into a nice indie type place where it stood up as its own entity, and not just a copy and paste of 1981 pop music.
Lyrically it references retro culture – West End Girls, waitresses in a cocktail bar – who's your favourite 80s pop culture icon?
Oohhh, thats a tough one, there are probably 20, but when I think of the heart of the 1980s somehow I think of Michael J. Fox in back to the future or maybe Sting in his crazy mad-max type 1983 gear! .
You are a singer songwriter from Ireland how did it begin for you?
I wrote my first few terrible songs aged 11 or 12, i slowly got the hang of it by 16 and started getting to the final of a few RTE youth song contests, I always love the buzz of stumbling on that little 10 seconds of something that you then play like a soothing mantra, and as the Beatles said "if you then don't remember it the next day, it was not very good."
What did you listen to growing up?
My parents were in a pop covers band when I was a toddler, so in this new single I really went back to that kind of music that they had lying around on vinyl in the sitting room… early 80s pop with a funky element. As a kid I adored the Police, Michael Jackson and Billy Joel. …then of course as I developed my own taste aged 11 I really got into Metallica, Megadeth, Greenday, Guns n' Roses (all the puberty bands! lol)… then mellowed a bit into Nirvana, Pearl Jam, Lemonheads, Oasis, Blur, Neil Young, The Verve … but all the while I was crazy about the Beatles.
You have been writing and releasing music since 2011, what's your favourite part of the process?
I have been releasing music under the name "Rory And The Island" since 2011 but I was previously in a band called "The Revs" and we had 2 top 5 albums in ireland between 2002 and 2005, my favourite part of the process is the spark that prompts the writing of the song… everything after that is really hard work and 90% of the time you lose the magic somewhere in the middle, which is heartbreaking.
Like a lot of acts during 2020 you started live streaming your shows on Facebook, with big numbers. What prompted you to do this?
Absolute lack of income!
You have the distinction of beating Lizzo in the charts and being featured in the New York Post what was that like?
Haha, tiny victories, but things like that give you such a little 5 minute high, its addictive.
You now live in Edinburgh, having moved there last year, what are your three favourite things about the city?
Because of the pandemic I cannot judge this place right at all yet, I moved to a ghost town. even still with the masks and the rules, I hate all this, I dont go out much at all. But I love the historic look of the city with the old castle and walls and gardens merged in with the brand new. I have been living 20 mins outside it in a town called Linlithgow which is really quaint.
Covid impacted the creative industry what kept you motivated?
Getting money into the house for my 2 kids
2020 was a time to reflect, what did you learn about yourself?
That I work best when I go off script / off set list, and just try to tap into whatever creative madness i have at the back of my mind. I seem to be good at cheering people up when I do this and then in turn that cheers me up, some of the things I considered mental health problems were just electrical paths in my brain that I had not been using enough, release the madness instead of holding it in.
What are you listening to at the moment?
I don't know if its a midlife crisis but I really enjoy BBC radio 1 which I actually never did, lol. I find modern radio music very interesting at the minute, really good production and high energy levels, huge artists like Billie Eilish, Post Malone and Arlo Parks actually seem quite abstract to me, which I love.
What are you looking forward to doing next?
I hope to release another single in November, then an album in Feb 2022, and i have new gigs coming in all the time so my world is slowly falling back onto place.