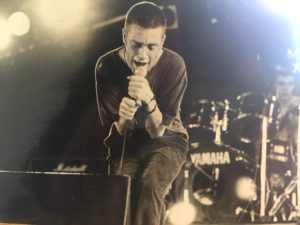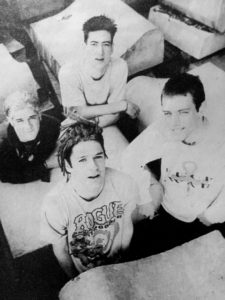 You started in Cork, how did the Emperors begin?
Hi Del, Thanks for the interview!
Yes we started in Cork as part of a very enthusiastic and energetic music scene in the early 90's. The band originally formed to play music and 

have some fun. At the time Cork was gaining attention from the British music press and we ended up getting signed to Sony Music.  
After a 25 year hiatus, you've made a return, what was the catalyst for this? 
Honestly we never would have imagined we'd be back talking about the band in 2021! But we are and somehow it makes perfect sense. I think a number of things came together to make it happen: the first Covid lockdown gave us all time to reconnect and reflect on our unfinished business as a band. We had recorded music that was never released, never put down on an album; releasing those songs and documenting our sound–that was our aim.
Congratulations on the release of your EP "Overflow" how did this come about? 
Releasing Overflow was in response to the interest in our album, "No Sound Ever Dies." We started to get requests from some of our newer fans about how they can get their hands on some of the earlier Emperor music. So we remastered the Overflow EP and put it out there. It's amazing to see that it still resonates with people more than 20 years later.
What was the most challenging and easiest part of putting it together?
Challenging.. We're all living in different places now, so it was a shame that we couldn't be all in one room with our instruments. That was definitely not ideal! But we managed to figure out a great alternative in recording remotely. 
Easiest … was realizing how we all had the same goal in mind we were working toward: to finally release our album, "No Sound Ever Dies!"
Covid has impacted the creative industry in a big way, what has kept you motivated?
A number of things have affected the creative music industry and musicians before Covid ever happened. One of the few ways musicians could make any bit of a living now was playing live and then that was taken away. Like everybody else it's been difficult, but if there's been one bright spot for us it's been reuniting. 
You released your debut album after being away for 25 years what were the writing sessions for that like? 
Luckily most of it was already written but any parts that needed to be finished were reworked very quickly. Everyone seemed to have a bunch of ideas ready. We would pass the files around and have weekly meetings, catch up and maybe even have a beer or two over video chat.
What artists are getting you excited at the moment?
Any artist that's surviving and being productive is an inspiration to be honest! It's exciting to hear bands like The Murder Capital and Fontaines DC at the moment to name two but there's many.
The name of the band comes from a poem by Wallace Stevens, but the question begs to be asked… Do you like ice cream and what is your favourite flavour?
Who doesn't like Ice Cream??? Mint Chocolate Chip or Pistachio
What are you looking forward to doing next?

After eating Ice Cream… We can't wait to get back together in person and play some live shows whenever that might happen. In the meantime, we're workshopping ideas for songs and looking to get new music out soon