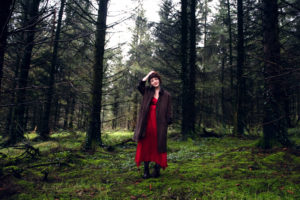 You are a singer/songwriter from Ireland how did it all begin for you?
Well, I'm not sure how much being from Ireland comes into it – I grew up on a healthy and diverse musical diet. My parents were into everything from Phantom of the Opera to Abba, and of course I had the GIRL POWER influence of the Spice Girls floating in the ether of my childhood too. I started singing and dancing as a kid, I was in every stage school and choir within a ten-mile radius, so I'd imagine my parents knew well before I did that I was bound for a career in the performing arts. 
You come from a creative family what's your earliest memory of performing?
I don't really remember it, but we have cassettes at home that show a six-year-old me dressed up as Bambam from the Flintstones singing a solo in a big stage school group number called "If I Saw A Dinosaur" – tiny little pigtails on my head and an orange animal-print smock. 
You are causing shockwaves with your music in Ireland how does it feel?
I don't know! I didn't know I was causing shockwaves! It feels good to hear it though, I worked really hard on my latest album and the least I can hope for it is that people are enjoying it and excited to hear what I do next. 
Congratulations on the release of your album "Sowing Acorns" – what are your favourite tracks from it?
Demon Darling is one of my favourites to sing as it's challenging and I feel it really shows my range vocally and lyrically – but then The Winding Way Down to Kells Bay and Mariana have a lot of heart and bring up some really beautiful memories of people I love and miss. Every song on the album has a life of its own so it's hard picking favourites!
"Birdsong" is such a strong song, what inspired you to write this?
A few things combined to bring Birdsong to life – but the first impetus came when I was studying my undergrad. I was tutored in sean-nós by Nóirín Ní Riain, and one day in class, she said the most amazing thing: they'll eat you up and come back for the bones. It was about judgemental people; people who are ready and willing to exploit you. I scribbled that down and it resurfaced in 2016 when I wanted to write something about feelings of inadequacy, and Birdsong happened. 
Covid has affected the creative community worldwide, what has kept you motivated during this time?
My driving force has been connecting people and creating a sense of community. 
What artists have you been listening to in the last year?
I'm always really interested in the music my peers are making, and there's so much brilliant music coming out of Ireland right now – I've been listening to Ailbhe Reddy, Niamh Regan, CMAT, Nathan O'Regan, Peter McVeigh and Denise Chaila – but then I've really thrown myself into the back catalogue of Janis Ian and Mazzy Star too! 
What have you learned about yourself in the last 12 months?
That I'm capable of much more than I give myself credit for. 
You did a massive 100 date tour across four countries. What's your favourite story from the road?
I don't want to talk dirt behind anyone's back, but I did have a pretty strange night in Germany where my accommodation was a futon on a floor coated – literally coated – in bottle caps. There was an old vintage gramophone record player blasting an Elvis Costello (I think?) record too. It was some kind of art installation… I didn't get much sleep that night.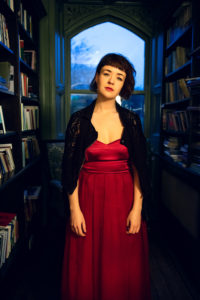 What's your favourite venue to have played during those days?
Some of my favourite venues are the small, cosy ones that fit about 30 people and feel more like a session in the kitchen. Levis' Bar in Ballydehob in West Cork is a really special one, the bar/house is over a hundred years old and has so much character – and then there's the Record Break, a little record store, cafe and venue in Ennis which seats about 16 people. 
You come from Limerick, what is your favourite thing about it?
The people. We have a dark, weird, wry sense of humour, and a strong sense of community. We'll support each other like feck – mind you, we're quick to take each other down a peg too. 
What are you looking forward to doing next?
Meeting people in person to sing together and collaborate and hug without fear.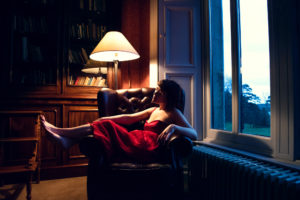 Photo Credit: Conor Kerr