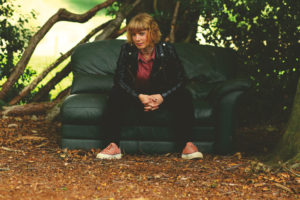 Hello Miss Kitty how are you?
Hello there Del, I'm very well thank you! Extremely excited to finally be releasing a solo album!
You are a singer songwriter, how did it all start for you?
It started with an acoustic guitar, a bottomless well of teenage angst and the realisation that music was the only thing that really interested me and made me feel good. When I wrote my first song I was gobsmacked that I had created something out of thin air, out of my brain, and the feeling of excitement that I got from it became addictive. Unfortunately music wasn't the only thing I became addicted to around that time, but that's a story for another time. 
What did you listen to growing up? 
I primarily listened to a lot of jazz and classical. My mum was the classical side, and my dad jazz. I listened to those two vast genres equally as a child, and when I was about seven I started to become interested in particular artists. I used to head straight to the music section of the charity shops looking specifically for anything by The Beach Boys, Chuck Berry and Little Richard.  I had a mega mix tape of '50s rock n roll that I knew inside out and used to put on and jump about to. Del Shannon Runaway was a top tune of my childhood. 
You spent the first few years of your life on a 52 schooner do you remember anything of that?
My first memories were aboard that schooner – she was called the Magdalen Beigh.  I remember endless blue ocean, seagulls, a starfish very slowly crawling up onto deck, across the deck and then back down the other side as I sat there watching. 
I remember the storms. Me peeping out of the hatch to see my dad at the ship's wheel in his yellow mac, desperately trying to navigate the ship through the absolutely enormous waves in the wind and rain.
I remember sleeping in a hammock, and I remember my dad playing the banjo, the trad jazz man that he is! 
Congratulations on "Fly Me Home" what is the story behind this?
Thank you so much! Fly Me Home is one of the more feel-good tracks taken from the album, and I wrote it in my head as I was on a long drive back home after a tour.  I had no way of listening to music as 'the old radio' really was broken, and so I wrote a song about what was around me to entertain myself. It's really about the excitement of finally being on the home stretch when you can't wait to see someone. 
You have your album release coming up, 12 brand new songs, what are your favourite songs from it?
Yes, yes! The album is called Kiss & Tell. Without a shadow of a doubt, my two favourite songs are 
1: When The Rain Comes Down, which is the closest thing I have to a power ballad, or at least that's how I picture it, and features a solo in unison between piano and electric guitar. 
2: End of the Line, which is about hitting rock bottom in a relationship and having to get the hell out immediately! Despite it's depressing subject matter it's really epic, and the middle eight is one of my all time favourite sections of music I've written. 
You recorded everything at home, why did you choose to do it this way? 
To be honest, it seemed like the only option! The circumstances were that I was completely broke, and was working hard to get back on top of things, so had to fit the recording in and around my ever changing work schedule, and also I didn't want to rush it. Being in a professional studio can be quite unnerving when you're paying £200 a day, and I didn't want to make bad decisions because of money. We also had a lot of fun building an amp room under the stairs and learning the best ways to go about it all! It took about a year to complete the recording process in and around 'life'.
You have done night busking in Newquay, what's the funniest experience that you've had of this?  
I'm so glad you asked this because I have a great story. When the clubs used to kick out at around 1am I used to be sitting on a bench waiting for the punters, to serenade them for their last pound coins. I used to get quite a crowd, and inevitably the residents started complaining as it would often get quite rowdy. Imagine a group of 20 lads out on a stag night with eyes like saucers with their arms round each other wailing along to Wonderwall at the top of their lungs. Anyway, one night a copper showed up and told me that I had to stop as I was disturbing the peace. I quipped something back at him like "keeping the peace more like" and he said that if I didn't stop he would confiscate my guitar. I don't think I held back in telling him what I thought about that, and some of the group that had gathered to watch me play started making their feelings about it pretty clear too. 
I started to pack up my guitar as I could see that the party was over, and then got sidetracked talking to a mate. I turned around and the policeman was making a move towards my guitar, so I grabbed it out of his hands just before he could get a proper grip on it and ran off towards the beach. He chased me all the way across the sand and onto the rocks, which I knew like the back of my hands because I walked there every day. I scarpered up some steps and hid in a shelter half way up the cliffs, watching as he searched for me with his torch for about ten minutes before giving up.
You listened to a lot of 90s music, what are your favourite pop culture moments from the 90s? 
So much good shit happened back then…
Bjork claiming she was a 'grateful grapefruit' receiving the Best International Female at the Brits, Chumbawumba tipping an ice bucket over John Prescott – also at the Brit awards – Kurt Cobain singing Smells Like Teen Spirit an octave too low to protest faking it on Top Of The Pops, Jarvis Cocker stagerushing Michael Jackson… those were the days. 
Were you a Blur or an Oasis girl?
Haha! The million dollar question! Honestly neither of those bands resonated with me at the time, I was a Garbage and a Skunk Anansie girl, but if I had to choose (which I remember having to do on several occasions or else) I would choose Blur.
You have toured the US and UK what do you miss about touring? 
I miss the mad moment before you are about to go on stage.  Sometimes nervous, sometimes excited, sometimes totally chilled. And then walking on and seeing the audience there who are excited to see you! It's such a rush to have people enjoy your music. It's a two-sided relationship and I love it.
You spent some time in Wales in a cabin writing with just candle light and a piano, what was your favourite moment of this experience? 
I did indeed! I was there for about 18 months, and spent five to eight hours most days writing and practicing. I had a classical piano teacher back then as I was really trying to advance myself musically. I guess my favourite moments were the ones when I saw progress in myself. I had a lot to catch up on as far as I was concerned, after a misspent youth, and so the moments I realised the hard work was paying off were the most special to me, and still are as I continue my quest to always improve musically. I wrote some great songs back then too if I do say so myself.
What are you looking forward to doing next? 
Well I have a few unrealistic video ideas that I'm mulling over (unrealistic in budget), so perhaps a video to a track off Kiss & Tell, and then of course there's album 2 to consider. I'm sifting and sorting old ideas as well as writing new ones here and there, so to dedicate some time to getting stuck into that is on the cards soon. Of course, there was a time when the only answer to this question would be TOUR!