Hello Meg how are you?

Hello! I'm well thanks, just getting over a cold… in June! British weather eh? It's great to be chatting with you again!

Congratulations on the release of your new album "Wrong Medicine". How does it feel?

Thanks so much, it's great to finally have this music out there, I've been working on this for two years now! It's a relief but It's nerve racking too! Watching this little creation grow and then letting it out in to the world for others to listen to (and hopefully enjoy!).
What's the key thing you've learned in the writing process?

This is a tricky one because I started writing this album mid 2017 which feels like so long ago! I knew that my lyrics had to remain relatable even though I was writing about such personal issues. I thought that 'Under The Streetlight' was a little too personal and this was going to be cut from the album until my lovely producer said it was one of his favourites! So I learned that leaving songs open to interpretation is important; I seem to remember reading a Bob Dylan interview where he said his songs mean whatever the listener wants them to mean.

What's your favourite song on the album?

Another tough one! It changes depending on my mood- 'Ana' was definitely the most fun to write and put together. I love the layers of vocals at the end and I love all of the interpretations I've heard so far! Having said that, I think 'We Fall' is my favourite at the moment. It has a Beatles-y feel so maybe it just reminds me of home! It's also the turning point in the album and the song has a real bittersweet feel. It's the first time you hear Hugh's vocal so I think this song adds another dimension to the album.

Being a Liverpudlian girl, what was it like recording at the Mecca of all recording studios, Abbey Road?
Oh it was a dream come true! I grew up in Wavertree (South Liverpool), so I can say that my music career has taken me from Penny Lane to Abbey Road so far! How cheesy is that?! I'm so grateful though. I could never have imagined that I'd end up recording this album in Abbey Road when I set out to write it. It was a very humbling experience to walk through the corridors and see photos of so many musicians who've recorded in the same building, who I look up to so much! I owe a lot to Liam for his amazing work on this project and for providing the opportunities to record there. I'll never forget the feeling of walking through the gates to record, just me and my guitar, and security just nodding 'hello'. In one word… boss!

You have gained a fan in Mr. Russell Crowe, with him tweeting you… Was that a total surprise for you?

Not a total surprise! I've been a huge fan of Russell Crowe for a long time and twitter is a great platform for reaching out to big names. I started connecting with him about his upcoming films and then built on that really. Meeting him in 2015 was truly unforgettable and since then, I've been a lot more comfortable tweeting my music to him. His tweet about 'Ana' in December was a bit of a shock though… it was pretty much unprompted and I wasn't tagged in it so I didn't actually know he'd posted that until the next day! Great bit of promotion and I'm hugely thankful to him for all of the support he's shown so far with my music. I'll let you know when he's heard the album…

You have played gigs in support of the project; what songs have you enjoyed playing live?

Yeah, I had an album launch party at the end of May to celebrate. I still love playing 'Sundown' live because it's easy to get people moving and clapping along. From the album though, 'Wrong Medicine' has been my favourite tune to play so far. I love belting out the chorus because the lyrics still resonate with me so the performance always feels quite raw. However, I played 'Ana' for the first time at the launch party and I think that's going to get better with each live performance because of how it builds. I'm still learning what to do with the crowd for that one though!

What artists and bands are you listening to at the moment?

I've just rekindled the flame for my love of 'Muse' after seeing them live again for the first time in six years! So I'm listening to their whole catalogue a lot. I've also been checking out Lewis Capaldi- there's such a hype around him I thought I'd see what he was all about and he's got a great voice! I love his social media presence and his persona as well. He really knows how to engage fans. I try to listen to new music all the time and I've been putting a playlist of 10 songs together every month, so people can hear what I'm listening to every four weeks. Check it out!

What's next for you?

I've got some gigs lined up over the next couple of weeks- Friday 21st is Make Music Day UK so I'll be playing at the Albert Dock and then Friday 28th I'm helping a friend with her single launch party playing some guitar there. I'm not entirely sure what the next big project is for me though; it's looking like a music video to go along with the promotion of 'Wrong Medicine'! Definitely a long (hopefully hot) summer of gigs though, for sure.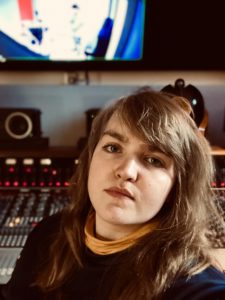 https://open.spotify.com/album/06xKhg2ZGJA7f87ie3b4Y6?si=IOF6tdCcR66PQv9K4xORgA