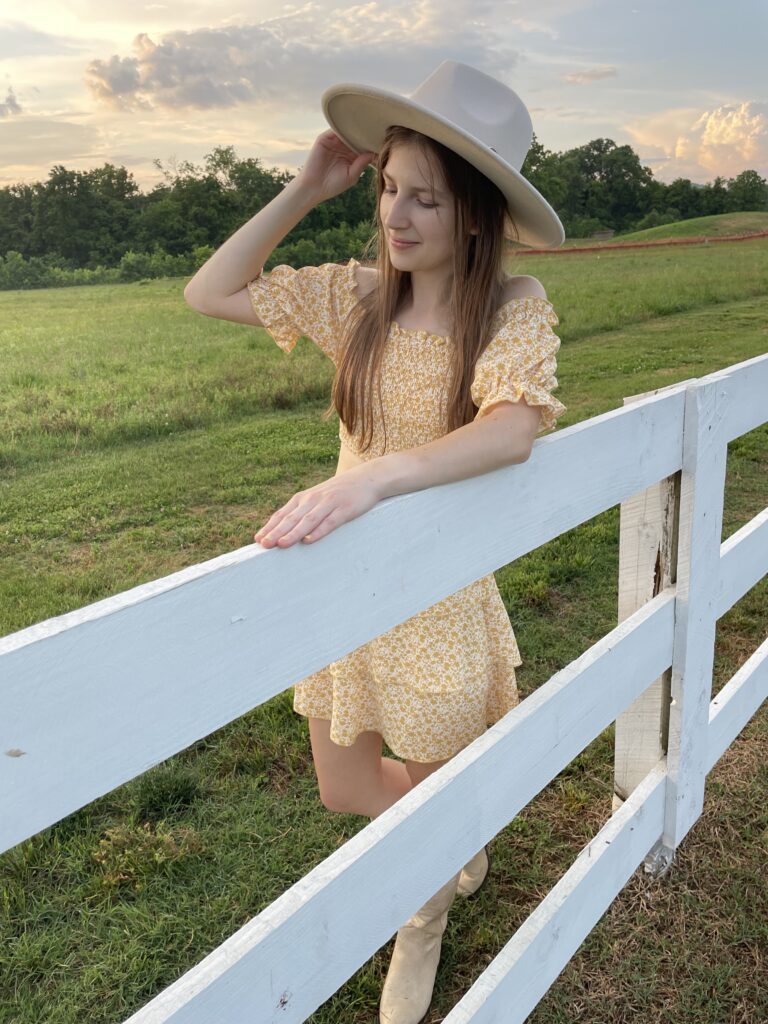 Hello Katie, how are you?
I'm good! Thanks for taking the time to interview me!
Congratulations on the release of "Hello Good Times." How does it feel?
Thank you so much! I wrote this song years ago, so it's great to finally have it out.
It does what it says on the tin, it's a feel-good song – what's the story behind it?
I wrote the song back in the summer of 2018. I had seen a sweatshirt at Old Navy that said "Hello Good Times" on it and thought that'd be a great title for a song. From there, I just thought of summer scenarios that would be considered a good time and rolled with it.
You're an artist from South Dakota. How did it all begin for you?
I grew up listening to '90s country, specifically Shania Twain, Deana Carter, and Faith Hill. I was always putting on concerts to their albums in my living room or bedroom. And then when I discovered Taylor Swift's music, I knew I wanted to learn how to play guitar and write my own songs. I knew that's what I wanted to do with my life.
What did you listen to growing up?
I listened to all things country. When I was really little, it was '90s country. And then I also listened to whatever was playing on the local country stations, such as Taylor Swift, Carrie Underwood, Miranda Lambert, Eric Church, etc.
You studied Music Business at Belmont in Nashville. What was the biggest thing that surprised you about the industry side of things?
I think that before moving to Nashville and going to Belmont I never realized just how many areas there are in the industry. There's not just labels and publishers. There are also managers, booking agents, etc., and each of those are like their own little worlds with even more areas within them.
You've become part of the legendary songwriting community in Nashville. What's been a big inspiration for you there?
There are so many amazing people that I have met within the songwriting community, and it's been great getting to write with different people, but also to hear other writers play their songs at writers' rounds. Nashville isn't just country music, it's all kinds, so it's cool to see everyone doing their own thing and being able to learn from and be inspired by others.
You've been on tour. What was that like for you?
It was great! I got to go back to South Dakota and play in my home state, which I love. I don't get out to the western side of the state very often, but it's so beautiful out there, and I was glad I got to explore that area again while I was out there playing shows.
Post pandemic: what have you learned about yourselves in the last three years?
I think the pandemic taught people, me included, that you don't have to be going 100mph all the time and that it's important to take breaks. I've tried to make sure that I don't overfill my schedule to where I don't have any time to rest, because resting is important for mental and physical health. I believe it also can help with creativity since you're not burning yourself out if you're making time to rest.
Did you pick up any new skills?
During the pandemic, I definitely made more time for working out than I had previously. However, I either sprained or broke something in my foot when attempting to go for a run one time and then never got back into a routine after having to take time for it to heal. That is something I'd like to find time for again though.
Being in Nashville, what are your three favourite things about it?
I love the community that I've found through going to writers' rounds in Nashville. It's where I've found most of my closest friends and collaborators, and I love how supportive everyone is of each other.
I love living in a place where so much history has taken place. All of the greats of country music have started out and built their careers here, and I think that's pretty cool.
The food is great in Nashville. There are so many great places to grab a bite to eat. My favorite is probably Burger Up.
What are you listening to at the moment?
Taylor Swift's newest re-record, Speak Now (Taylor's Version), came out the first Friday of July, and so that's been on repeat a lot lately.
What are you looking forward to next?
I have even more music that I'll be putting out this year, so I'm looking forward to getting to share more new music with people this year.