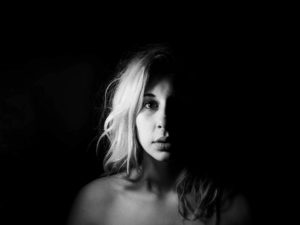 Photo credit: Thom Rumbelow
Hi Nina. How are you?
I am good.. A bit sleepy but good!
What made you get into photography?
I studied film at University and was intending to pursue a career within the film industry, however that changed when I started a film internship at a fitness lifestyle company called That Girl London. Whilst working for That Girl I was asked to take pictures of the models we were filming, I ended up spending the whole day taking pictures rather then filming and just completely fell in love with photography from there. I ended up working for them for two more years creating all their video and photo content. I really do owe Christina Howells from That Girl London in giving me a head start in photography.
You have a diverse range of photos in your portfolio, from fashion to gig photography. What's your favourite kind?
I really do love shooting people in black and white. I have a bit of a thing about nudity! I think the use of shadows, black/white photography and harsh lighting against bodies is just incredibly beautiful, it creates this effect that makes skin seem like silk! I explored this in a project called 'A Poor Man's Silk' which was published in TMRW Magazine. The 'Poor Man' refers to the fact that the only lighting I used was my bedside lamp and the 'Silk' is referring to the black/white skin effect I previously mentioned.
Who are your influences?
Growing up my Dad always collected old black and white paparazzi photos of celebrities ranging from Marlon Brando to early nineties Claudia Schiffer. So for a long time my bedroom at my dads house was completely covered in these vintage paparazzi photographs. That's always been a big reference for my work.
I absolutely adore the film director Wes Anderson for his use of spacing, symmetry and his almost family portrait-esque style of shooting, symmetry is also a common theme in my photography.
My favourite photographers are Inez and Vinoodh.
You have worked on various campaigns, what has been your favourite?
My favourite was working in Morocco with That Girl London. We were shooting for a collaboration project with another fitness company Methodology X that would be called That Methodology. The weather was so beautiful, the location was perfect, and I was with a really wonderful team… what more could you ask for?
Your portrait shots seem natural, something that is notoriously difficult to achieve, how do you get your subjects to relax?
I ask them to breathe.
A lot of photo subjects who have not got much experience in modelling, unconsciously hold their breath when posing. I ask my subjects to take big deep breaths when shooting, this usually distracts them from posing because they are focusing on breathing and this helps release any tension they are holding. I also think photos turn out better when the subject is constantly moving and changing position. I may ask the subject to repeatedly stroke their hair or look in different directions. It's those 'in between' shots that are the most beautiful.
Who would you like to photograph given the chance?
Definitely Ezra Miller. He has such incredibly beautiful bone structure and really a strong sense of who is when it comes to personal style and the way he holds himself. He would make a fantastic subject.
What cameras do you use?
A mixture really. I started on a Lumix GH4, then moved to Cannon 6D and am currently using a Nikon 7200 … I am on the hunt for something new though.
What's next for you in 2019?
2019 is going to be a hard year. I have decided to study again. I will taking on a 9 month study at home course in photography, hosted by the British Academy of Photography. I am looking to start next month. I am doing this in hopes that it will vastly improve my skills, give me a qualification and help me start my own business in 2020.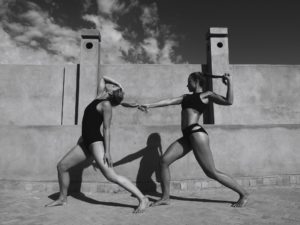 Photo credit: Nina Shaw
Website: www.ninashaw.co.uk
Instagram: @ninashawphotography