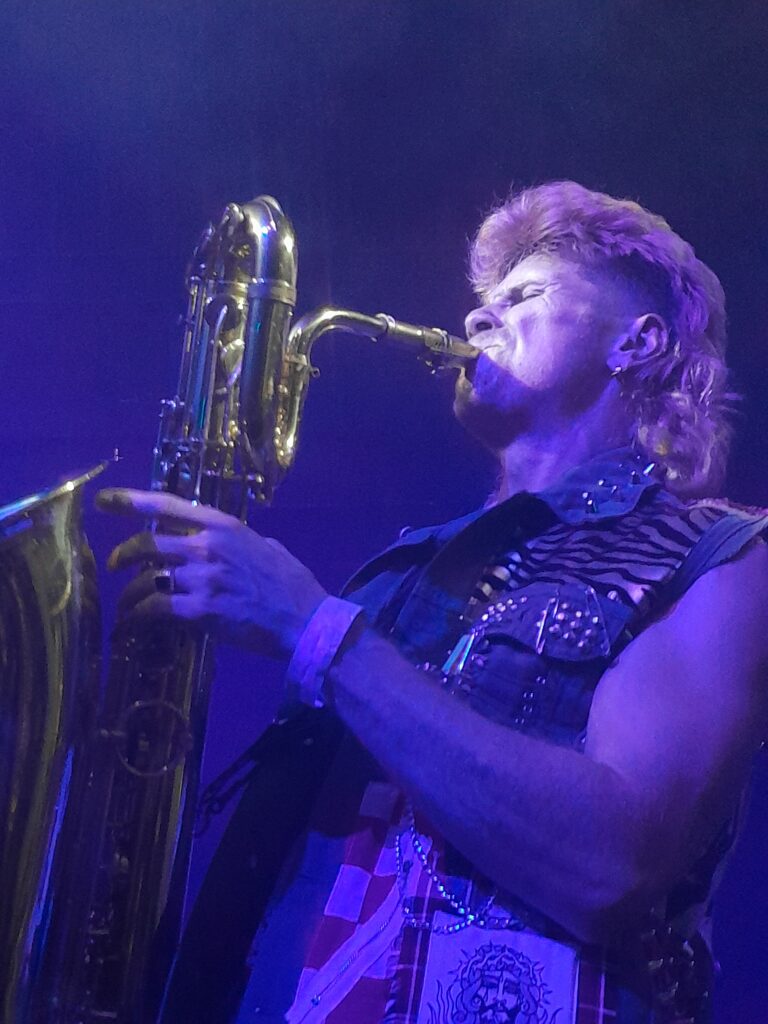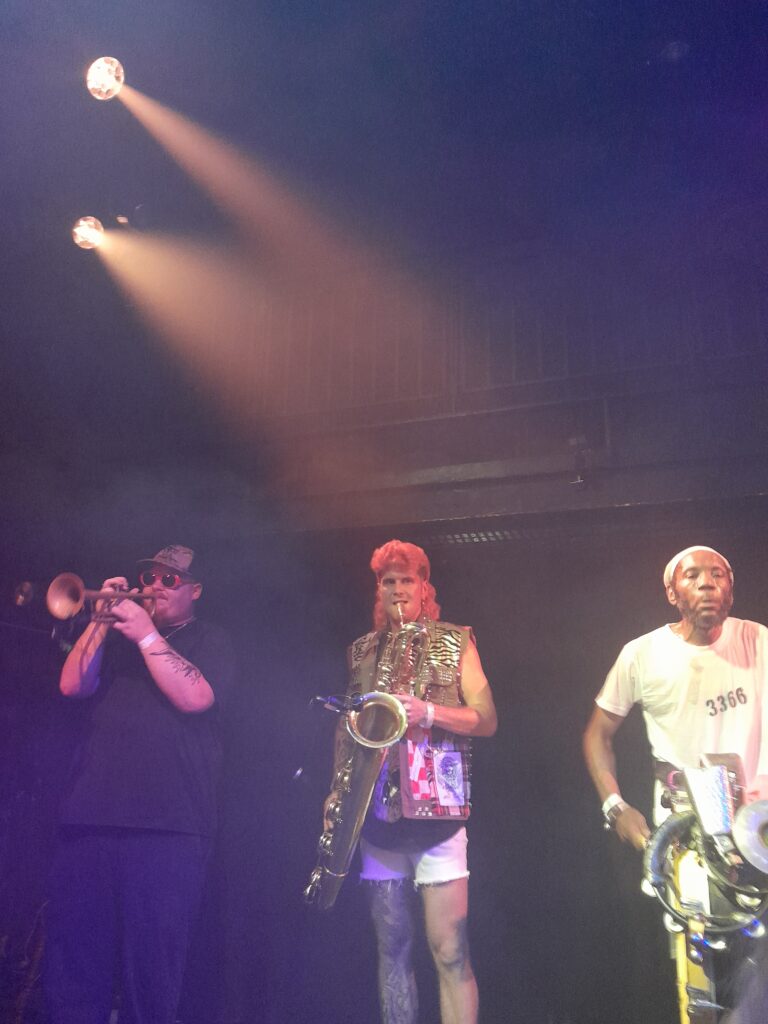 Too Many Zooz are NYC-based trio Leo Pelligrino on baritone sax, Matt Muirhead on trumpet, and David Parks on drums. 
London's Jazz Café was the perfect venue for the trio, the crowd was enthusiastic, and the space was large, packed, and atmospheric. After the first set by pianist/rapper Harvey White who topped his piano playing, with themes redolent of Debussy and Queen at times, with rap lyrics based on girls, drugs, girls, cars, and more girls, the crowd was ready and waiting for TMZ to come on stage. And they were not disappointed.
From the off, TMZ delivered an extended set, complete with an encore, that included improvised, stomping, funk-infused jazz with more than a touch of punk. 
Muirhead's trumpet with its bright, sharp phrasing contrasted perfectly with the steady thunking of Parks on his drums set, which he occasionally wheeled forward to blast the audience with some body-shaking beats. Pelligrino was on form and danced around the stage with his baritone while delivering challenging and at times, beautiful sax. 
The trio works incredibly well together, listening to each other, and giving stage space to solos. Muirhead developed an interesting relationship with the crowd. When some got a bit carried away, with one shouting 'F*** yeah!' in all the wrong places, he gave a short speech about how there is always one guy – the band calls him the 'F***yeah' guy, at a gig, who shouts louder than the rest and yes, he knows who he is'. On cue, as Muirhead raised his trumpet to his lips for the start of another number, the guy shouted at the top of his lungs "F*** YEAH!!!" to Muirhead's exasperation but evident amusement. Yes, there is always one. 
That guy aside, the audience picked up the energy from the trio and the music carried everyone along at breakneck speed. Parks drums with a slightly zoned-out expression on his face, concentrating on the rhythms, maintaining the tempo and, at times, bringing the other players back to the room. His timing is perfect, his sound immense, and he provides anchorage to the trio. Muirhead on trumpet is outstanding, his short, bright phrasing adding punctuation and texture to the music. He also provided outstanding changes to direct the sax into key alterations and spaces to allow Pelligrino to shine.
Pelligrino on baritone sax is breathtaking. His musicality and showmanship combine to create a visual and musical spectacle that is easy to engage with. Though no dancer, his moves on stage, all the while hefting the Yamaha baritone he now wields, delighted the audience. A born showman, he encouraged the audience to engage, shout and applaud, entering in a glitzy jacket and adding a pair of sunglasses to complete the look, asking for audience approval – and getting it. Even without the added showmanship, his playing is enough to engage and enthral the audience. You have to wonder at his strength as he cavorts around the stage wielding his instrument, in minute white-fringed shorts, the sunglasses and jacket soon discarded to reveal his torso clad in a tiny black vest to go with his tiny shorts. He is a showman but also a great musician, and you cannot help but be drawn toward his mighty sound.
TMZ is a force of nature and the combination of the laid-back personality and outstanding playing of Muirhead, the stoic steady thrumming and intricate solo work of Parks, and the outrageously talented Pelligrino who, without saying a word, has the audience eating out of his hand, is something to behold. 
TMZ have come on a journey since Muirhead and Pelligrino met at the Manhattan School of Music and busked in a band called Drumadics, joined by Parks and taking to performing in subway stations, yet they have lost none of their street credibility. 
An outstanding show and all three musicians, in different ways, demonstrated they deserve the fame they are now enjoying. I asked for a set list, to which the answer was 'There is none, it is all in here (points to head)'. Doh. 
A loud, energy-infused, and hugely enjoyable gig. TMZ are well worth going to see.