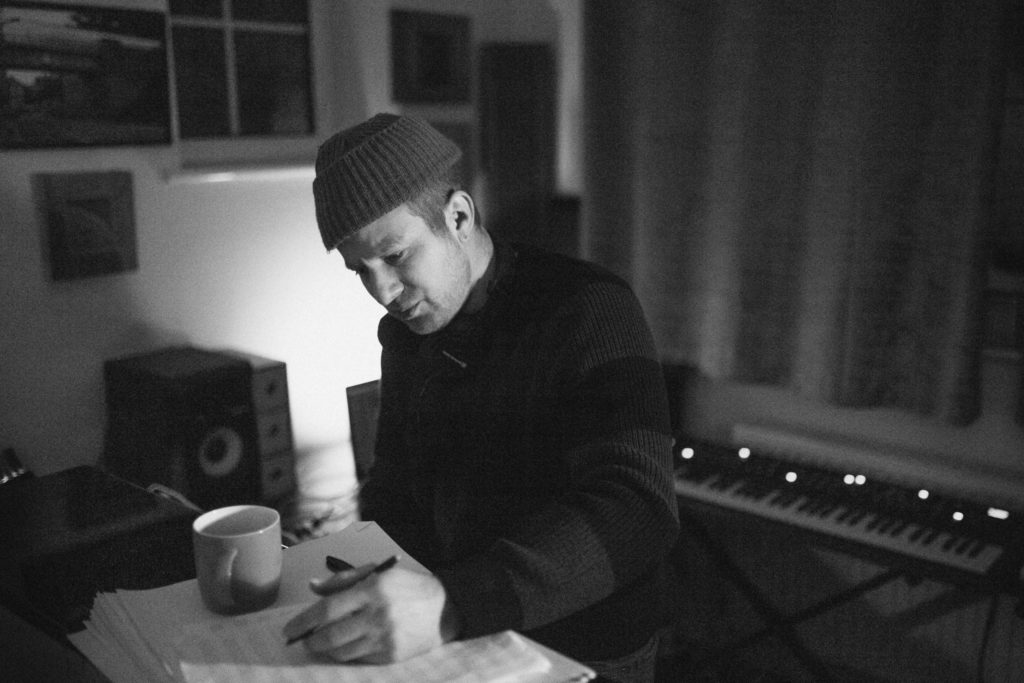 Congratulations on the pending release of "Look Up". How does it feel now it's complete?
Thanks so much Del! It just feels really good to start getting this music out there. I always find putting out an album to be an important part for me in moving on creatively to what's next. So I'm excited about putting this in to the world, and to working on a follow up….
Describe it in three words.
Oooh….tough one…..i'll go with: "lockdown anthem folktronica" 
It's a very personal album, what were the challenges in recording it?
It was my first totally self-produced record— quite an endeavour as it is —-coupled with the fact that the 2nd half of it was made during the first lockdown. All of this presented some challenges. But I think looking back that there were some real benefits in making the majority of the record in lockdown, in the sense that it gave me an outlet to process some of what was going on, and then on a practical level, I had the time and space to go further in honing my production in my home set up….experimenting without any real time pressure etc.
What are your three favourite songs from it?
Probably….."Fortify', "Lifeline" and "Last Man Standing".
You are a singer, songwriter, producer, with an incredible CV. How did it all start for you?
I started playing the piano by ear from very young (3 or 4), and just fell in love with making music. I was lucky to have some great teachers growing up who really nurtured my individuality, and I was never overly pressured in to the theory side of things until I was ready. I was then really fortunate to win a Full Scholarship to attend Berklee College of Music, and I ended up going out there for College at 19. This was a total game changer for me…. the level of teaching and the chance to collaborate and learn from such gifted young musicians from all over the world. It was amazing for me. My college years in Boston then paved the way for my move to NY, where I lived for 10 years… and this was a whole other music education for me…..I've been very lucky to have lived many lives in music…
What did you listen to growing up?
James Taylor, Sting, Keith Jarrett, Bruce Hornsby, Pat Metheny, Stevie Wonder, Oscar Peterson, Steely Dan, Anita Baker.All major influences for me….
You lived in New York for ten years, what are your favourite memories from there?
I think fondly back over my many (!) nights hanging and playing at "Rockwood Music Hall" in the Lower East Side. The venue fosters such a strong community, and is so richly diverse musically… I've never found another place quite like it. The venue played a really important part in in my development as a sideman …..wonderful memories playing there alongside so many incredible artists like James Maddock, Cariad Harmon, Jorscan. Ari Hest, Christina Courtin, Ryan Scott, Aaron Comess… I also developed my solo project there as a singer-songwriter with many gigs under my own name and with my alter-ego live/electronic project "Mister Barrington" alongside Zach Danziger and Owen Biddle. So many great nights there as a musician and audience member…many whiskeys and post gig pastas. Just the best.
I also really cherish the gigs that I did at the 55 Bar, another really special NY venue in quite a different way to Rockwood…..It's a kind of prohibition era style dive bar jazz venue in the West Village, known for housing long-standing residencies for greats like Wayne Krantz and Mike Stern. I had the chance to do many sideman gigs there alongside fantastic musicians like Bob Reynolds, Janek Gwizdala, Gregoire Maret, Ada Rovatti .That's where I met Randy Brecker, who sat in on a gig I was playing with his wife Ada (great tenor player), which led to my joining Randy's touring band for a while. Working with Randy then opened the door to collaborations/tours with a number of my heroes like Steve Gadd, Steve Jordan, Will Lee, the late and great Chuck Loeb and Nathan East. So I have a lot to thank the 55 bar for!!
You're a fantastic piano player, evidenced by my favourite track of yours "Family Tree", what was the catalyst for you taking up this instrument?
Thank-you very much Del. I was drawn to the instrument as a young boy—before my feet could even touch the pedals— in a way that I still can't quite explain. It was a sort of a calling for me, and I think that I always had a quite natural kind of style and affinity/relationship to the instrument. Then hearing Keith Jarrett for the first time as an 11 year old was a game changer for me. I saw a concert where he played 'Somewhere over the rainbow" as an encore, and was transfixed….
You use a mix of acoustic and electronic instruments, what has been essential part of your set up for you?
…..I do all my productions working in Ableton which I love…..I find it so flexible as a composition and production tool. Then there's my lovely Grotrian Steinweg upright piano which was my first purchase for my place when I moved back from NY 5 years ago. I also love my Prophet 12 which I discovered through my friend, the great drummer/producer Richard Spaven. He turned me on to it when making his "Real Time" record at Real World Studios a few years ago. I love it and run it through a Strymon Tape Echo pedal which gives it an other-worldly quality. These would be a few essentials….
Your songs come from a deep place, what's the easiest and hardest part of lyric writing for you?
I'm not sure that I find any part particularly easy honestly Del lol! When a song is more of a specific narrative approach—-like "Only One" for example, which explores being an only child—- I find those can be the hardest to shape, to clearly convey a feeling/meaning. I think that the more important the message/story of a song is to me as a writer to put across, the harder it can be. Because I think you can feel sometimes the weight of that responsibility to oneself to express something clearly when it feels that important to you as the writer, and I often find that I'm re-tracing my steps to ask myself whether it's landing in a way which really delivers the emotion/meaning well. That can be quite exhaustive at times (!), but also rewarding when you do get there. For me, I find that songs either come very easily, or are really difficult! Often not much in between. But over time, and with experience, I at least now have enough evidence that if I hang in there long enough…and don't give up….that the song will emerge. I think that knowing this somewhere deep inside is half the battle, and you have to have written quite a lot of songs to have that kind of faith in the process. I've put in enough hours now to at least have incentive to persevere when the going gets tough…
2020 was a time to reflect, what did you learn about yourself?
Well….. I definitely realised that spending time with friends is my favourite thing to do—particularly after I was denied that chance for a while, as we all were! But the whole experience of lockdown reminded me that making music is a close second for me as one of my absolutely favourite ways to spend time, outside of any particular creative or commercial expectation or wishes for success. Creating for creating sake as a pleasurable and precious way to pass the time. Because I think sometimes when you've been releasing music for a while, it's easy to forget that this simple joy is where it all started for most of us in music. So in a way, this period has helped me to kind of re-connect to that core feeling, and to recalibrate my relationship to making music. That's been really valuable to me at this stage of my music making life.
COVID had a major effect on the creative industry what kept you motivated?
I felt a responsibility to myself to do my best to emerge from it in a stronger position creatively than when I went in to it. I tried to embrace the time and space as a chance to really evolve my songwriting and production…..and to have something to document this moment on the other side. Thinking about sharing this new music, and playing and hanging again with people I love really kept me going.
What are you listening to at the moment?
Bon Iver (always) ….. Keith Jarrett (always)…… and have also been digging back in to Bruce Hornsby's older albums recently ("Scenes from the Southside" and "The Way it Is") which have been giving me a lot of joy recently, and I hadn't listened to for years. I've made some recent discoveries via some of my students in Phoebe Bridgers and Holly Humberstone, both of whom are fantastic songwriters. My great friend from Berklee days, gifted pianist and composer Romain Collin has kept me going through lockdown with his stunning solo piano recordings and Grammy nominated record 'Americana" with Brill Frisell and Gregoire Maret. I love his work. I'm also loving Laura Mvula's new record "Pink Noise", which has just been released. I'm fortunate to have sung on a few of the tracks, and to have been a part of her touring band for the last few years. Even if I had no professional connection to her, I'd still be listening to this on heavy rotation. It's just inspirational, powerful music. Another artist I work with called "Brave James" is releasing some great music which is also regularly on my earphones. He's someone to keep a look out for with singles steadily being released over the coming months
What are you looking forward to doing next?
I had the chance to renovate my studio towards the end of lockdown which has given me a new lease of life being in there. So I'm really excited to make a follow up to "Look Up" in this space. I'm also excited about more writing/production collaborations to come, and some shows with Laura Mvula also to look forward to.