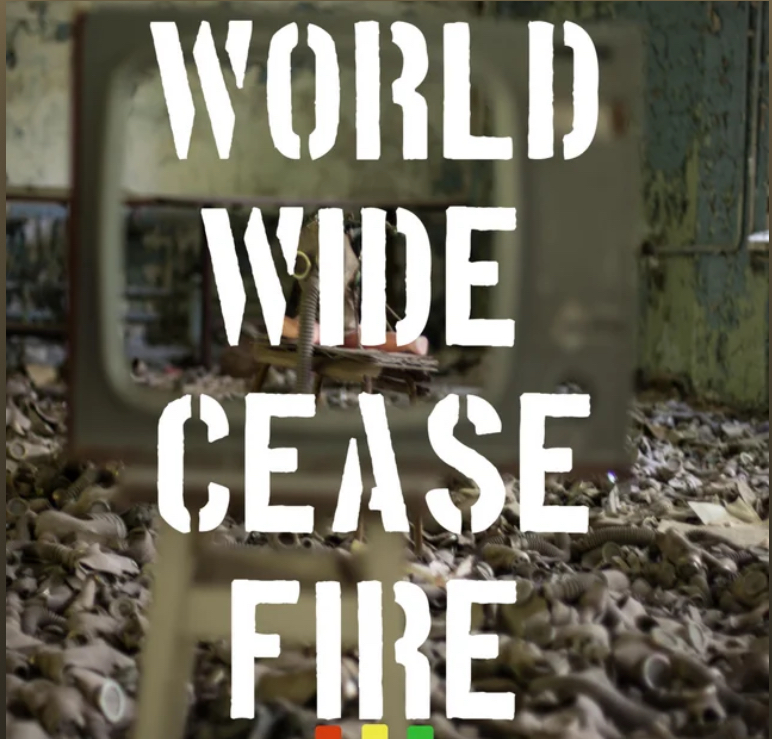 Well, this song is a protest song if ever there was one! Sunshine reggae groove laid down in dub style with reverb which is the main ingredient of a dub track… Lord knows we need this song right now. This song is about wars going on around the world. It may not be on our doorsteps in the UK right now but with in fighting within the UK government and across the dispatch box to the opposition there isn't much difference. 
Just for future reference there's a war in Ukraine, France is currently going through protests and it looks like things could spill. 
This song is – ironically – a war cry calling for a ceasefire, the chorus challenges us to stop fighting each other and it's catchy.
From the top, the roll on the toms tells you where this is going, on top of the drum groove that's straight out of the door hypnotic reggae grooves… the organ, the piano it's all there. 
I can't end this without quoting some of the lyrics.. 
What I want is a
Ceasfire ceasfire outernational ceasfire 
Too much suffering gotta stop ceasfire 
Finger off the trigger worldwide ceasfire
This is brilliant. 
Rebel Control are: 
Andy Baron – Vocals
Richie Concrete – Guitar, Keyboards
Additional Vocals – Vic Bynoe 
Richie Stevens – Drums 
Tambourine – Jeff Scantlebury
Congas – Matt Pharaoh
Since their debut album Jammin At Rebel H.Q. Rebel Control have been carving out a reputation as a serious live act playing festivals and club dates in the U.K. and Europe as well as supporting and touring with a myriad of acts including reggae heavyweights Luciano, Mad Professor, Easy All Stars and chart acts including Tinie Tempah and Roots Manuva.