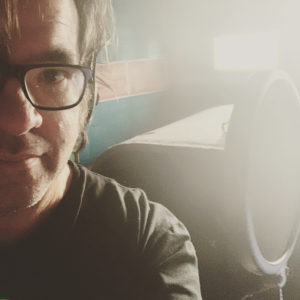 You are a singer/songwriter from Melbourne Australia how did it all begin for you?
Music has been a big part of my life from an early age. My older brother played guitar and when I was about four or five, I used to sneak into his room when he wasn't around and strum away on the strings, without chords and no idea what I was doing.
It's fair to say that he used to get a little mad when I put it out of tune, but he eventually started showing me a few things and encouraging me, which was nice.
I went on to get my own guitar, have some lessons and I played in some weekend garage bands during high school – all of which were pretty loose and had terrible names like Common Knowledge and Crisp Little Astronauts.
After high school the bands got better and I started playing live around Melbourne, which had an especially vibrant live music scene in the 1980s. Some of the bands – which played mostly original music – managed to garner a pretty good following. One of them released a single and album that did ok on the local alternative charts.
Towards the end of the nineties, I decided to do some travelling and stepped away from bands and live music, but I continued writing and playing songs on my own. It wasn't until the start of 2020 that I decided it was time to start recording as a solo artist. Since then, I've written, recorded and released six singles, all of which have had a pretty positive response, which is really pleasing.
What did you listen to growing up?
My parents had a very basic record player that was made mostly of timber and had a single speaker, but I was enchanted by the records they played, which included Frank Sinatra, Nat King Cole and The Seekers. I also remember listening to artists like Johnny Cash on the radio.
When I was about 10, my brother – whose guitar I used to torture – bought a really good component hi-fi stereo system and brought home vinyl LPs by artists like Pink Floyd, Jeff Beck, John Lennon and Fleetwood Mac. It's fair to say that when I first heard Dark Side of the Moon up loud on his stereo, I was totally transported and fell completely in love with the idea of making music.
Congratulations on the songs you've released so far. How does it feel? 
I love the process of creating – starting with just an idea and finishing up with something tangible and new to the world. In my case, it's also been an opportunity for a kind of emotional and psychological catharsis. I've found that sharing thoughts and feelings through my songs can help with healing and growth for me, and also hopefully strike the occasional resonant chord with those who listen.
There is always this moment just before I press the 'send' button to launch a song into the universe, where my heart is in my mouth and I wonder whether it's any good.
I think it's pretty common for artists to feel those kinds of insecurities, but at the end of the day, the process of creating is actually enough.
It's so much fun… like solving a really difficult puzzle that you've set for yourself – and is in and of itself an extremely rewarding process.
Having said that, there is also nothing quite like the buzz you get when your song comes on the radio or you get a message from someone saying that they've enjoyed your song or that it meant something special to them.
The wonderfully kind feedback and support I receive for my songs is fantastic, and it's the icing on what is already a deliciously satisfying creative cake.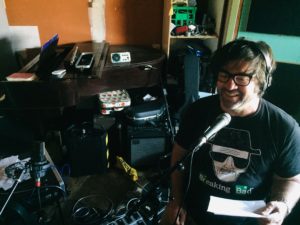 What challenges and triumphs have you experienced while recording and releasing your own music?
One of the challenges is the technical side of recording. I'm not trained in that area, so I have fumbled through and I'm trying to learn as much as I can.
I recorded my song 'Unhappy Accident' at home in Garage Band in one night and released it the next day, without even going through a mastering process. The production is pretty rough, but thankfully it somehow managed to capture a bit of a vibe that seemed to draw attention away from the dodgy mixing! 
These days I record everything at home in Logic Pro X and create a rough mix, and then get the final mixing and mastering done professionally. That way I can focus on the music and let someone who knows a lot more than me manage the really technical stuff. I'm still very much involved during the mixing and mastering stage – providing lots of input and feedback on the sound and feel – but someone else is pushing the sliders and twiddling the knobs.
The other big challenge for me – and I imagine, most indie artists – is getting the music heard and its been a steep learning curve.
I'm part of a wonderful indie music community on Twitter that has been a great help in this regard. We share each other's music and marketing ideas, and there are also lots of kind and generous playlist curators, radio programmers and blog / magazine writers like you on there who do so much to promote indie artists.
I'm continually astounded by the generosity of the people in that community – and their support has been a godsend to me and so many artists during the lockdowns, when live gigs have been impossible.
2020 was a busy time for you, what did you learn?
Firstly, I learned that it's possible to write, record and release your own music without necessarily having to go into a big expensive studio. The intuitive music software and online distribution services available these days have made it a lot easier than it used to be.
I think I lot of artists discovered this during the pandemic and saw it as an opportunity to create music – which is why there's been such a fantastic surge in independent music over the past 12 months or so.
I also learned a lot about the importance of a supportive community, such as the one on Twitter, and I've learned that even music that isn't necessarily in 'fashion' can attract an audience, especially if it is created with an authentic passion and intent.
There is so much excellent artistic talent out there – and it's wonderful that people are listening and sharing it.
I think most importantly, I learned that it's possible to turn what initially seems like a negative situation – such as a lockdown – into an opportunity to learn, create and grow.
The video for "In Your Eyes" uses a combination of stop motion, animation and live action. What was the inspiration behind it?
That song is about the feelings you might get when you realise your live-in partner is falling out of love with you.
The idea behind the stop-motion use of words handwritten on paper is that these symbolise 'notes' left by someone who can't find the right words to say – or summon up the courage to say them.
All of these notes were filmed in a domestic environment to reinforce this idea.
The woman in the video is there to represent the key subject of the song, and the other text animations are there to bring a dynamic feel and emphasise the lyrics in key parts of the song – such as the choruses, bridge and the call-and-response-style harmonies towards the end.
Tell us about Bella, your studio companion.
Bella is my fluffy little white Moodle (a cross between a Maltese Terrier and a Poodle) and she has been my constant buddy all the way through my writing and recording during 2020 and beyond.
She seems to like listening to my music, which is why she stars on the main page of my website (www.byronsmithmusic.com). I joke about her being my personal assistant and handling all my social media, but I think her most important role is keeping me company and making sure I get away from my studio workstation for a long, healthy walk at least twice a day!
You worked as a music journalist in a past life, do you miss it?
I certainly enjoyed those times, and had the good fortune to meet lots of local and international artists, see lots of concerts and listen to stacks of fantastic music.
I have fond memories and I'm sure I learned a lot through osmosis, but I don't miss it because I still get to be in among all the new music and I'm talking every day with fantastic music artists all around the world. I also write the occasional quick review for artists on Twitter who have released something I especially like, which is fun.
What bands and artists are getting you excited at the moment? 
There are so many, it's hard to narrow it down. From a 'big name' point of view, I'm a major fan of Nick Cave and the Bad Seeds as well as Jeff Tweedy – both of whom are really prolific and keep producing reliably thoughtful, beautifully crafted and emotionally-evocative songs.
From an indie perspective, there are far too many impressive artists to name them all, but some standouts include The Jobs who are creating thoughtful and melodic guitar pop out of Cleveland, Ohio. Off the top of my head, some others that have caught my ear recently include John Michie, Nunny Boy , fellow Australian singer songwriter Leigh Thomas and a wonderful low-profile acoustic duo out of the UK called Rough Sketches. Apologies to the many fantastic indies I've missed!
"Be Brave" your new single is coming out on the 27th January, how do you feel about it?
I'm excited for this release. It was written during the lockdown, and it's essentially a 'big ballad' that acknowledges the many challenges presented during that time, and by life in general.
It's kind of a 'call to action' for people to dig deep to find courage and resilience during tough times.
I hope some people will be able to relate to the words and that it inspires them to remain positive in the face of life's most frightening moments and toughest adversities.
Incidentally, through a strange confluence of circumstances, it features piano by Jeff Jacobs who used to play in Foreigner and toured with Billy Joel and quite a few other big name-artists, which is kind of cool! He did a fantastic job.
What are you looking forward to doing next?
I'm working on new music now, and have another single scheduled for release in March 2021. I have in the back of mind to take things live at some stage in the future, but at this stage that's at least 12 months away. In the meantime, I'm enjoying the process of writing, recording and releasing new songs … and I plan to continue doing that for the remainder of 2021.
Byron Smith On Instagram Byron Smith's Website Byron Smith On Twitter