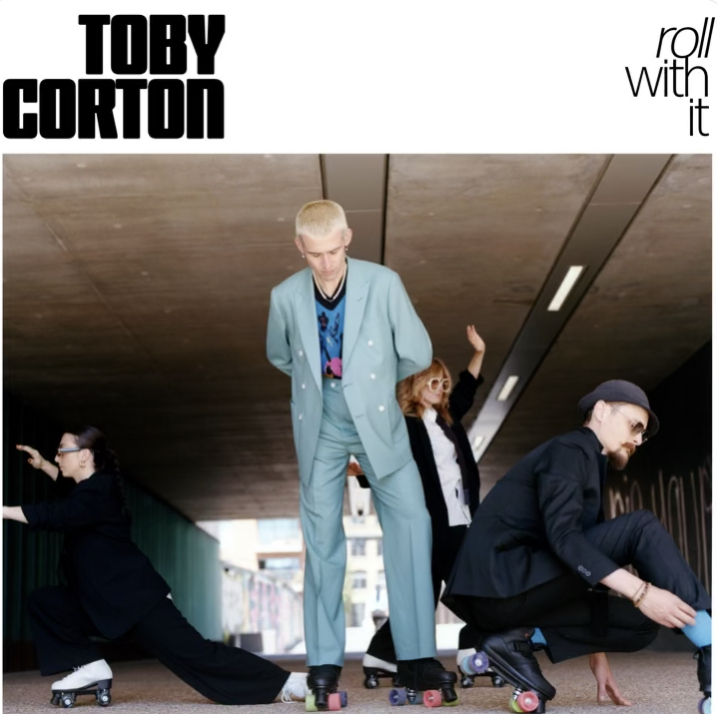 Wow… this is a TUNE! The soulful vocals mixed with a hip hip beat and strings is what sold it to me. Toby flies in with a vocal that's lazy and sings with a drawl that's not unpleasant to listen to, there's a cello accompanying him and it's brilliant! It's the chorus that hits me in the chest – some really nice harmonies on this…
He takes us on another flight with it you can just imagine phone torches in the air as people sing that chorus back..
"Roll with it roll roll roll with it…"
The drums are in your face, rim shot, shakers kick that's playing the same pattern as the bass more or less, it's really laid back, the wondering guitar solo gives the track the emotional melody and I love the background adlibs too.
This is a stonker of a tune!
The breakdown point at 2:14 where it goes into a slowed down dreamy state is just simply beautiful!
To quote BBC 6Music's Tom Robinson, Toby Corton is a 'charismatic queer cockney creative' currently based in East London. His music has been described by Earmilk as "British soul, held together by a modern indie pop overtone" and 2023 is shaping up to be an exciting year for his music.
Toby has been making music since 2017 and his love of the creative process has led him to taking photos of the likes of legendary Drag Queen Bimini and London Trans Pride founder Lucia Blayke. A refreshing mix of retro and modern influences, Toby describes his sound as "a modern British take on neo-soul built on a foundation of frank queer storytelling."