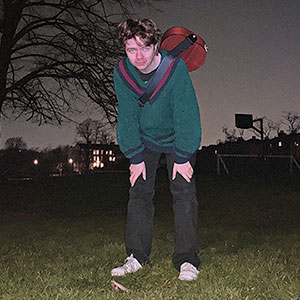 Ahh this song's lyrics make me laugh….
"Charlie's made it big on the TV set and I'm still cleaning toilets trying not to regret…"
This song is typical of Rain's sense of humour and backed with summery surfer vibe this calls for some serious airplay.
The way that this song is performed, it's just beautifully executed, there's a cowbell – yeah I give you the nod for that one, plus maracas, and the guitars are so bluesy and 60s it just makes me laugh…
In a time where "stars" are being made via shows like Love Island and have been since the days of Big Brother this is a thinly veiled jibe at how easy it is to make it that way, compared to artists playing the long game this is a song born out of frustration.
A lot of us creatives will identify with this for sure.
Overall, this song made me chuckle just for the opening line and I am now a fan.
Rainn Byrns has been on my radar for quite a while having been put there by the good people at Futureproof PR with another song that I played on the songbird sessions "Never Ending Story".
Growing up between a suburban air force town in Texas and the English commuter-ville of Swindon, Rainn Byrns now resides in South London, huddled amongst tape machines in his home studio. Time spent stateside informed an early penchant for Americana, and the prevalence of lo-fi and DIY culture during his formative years still bleed into his own writing and production. Backed by his band of trusted droogs The Byrnouts, Rainn's crappy-go-lucky interpretation of the world around him is equal parts earnest and irreverent – a balance of youthful ennui and an impulse to make light of it.
Following previous support from 6 Music's Steve Lamacq and shows with The Beths, Buzzard Buzzard Buzzard and Francis Lung, Rainn is now building up towards the release of his debut album 'New In Town' in late 2022, with recent single Never Ending Story being the first track from it and Big (released on 20th July) being the second. 
Special thanks to Futureproof PR