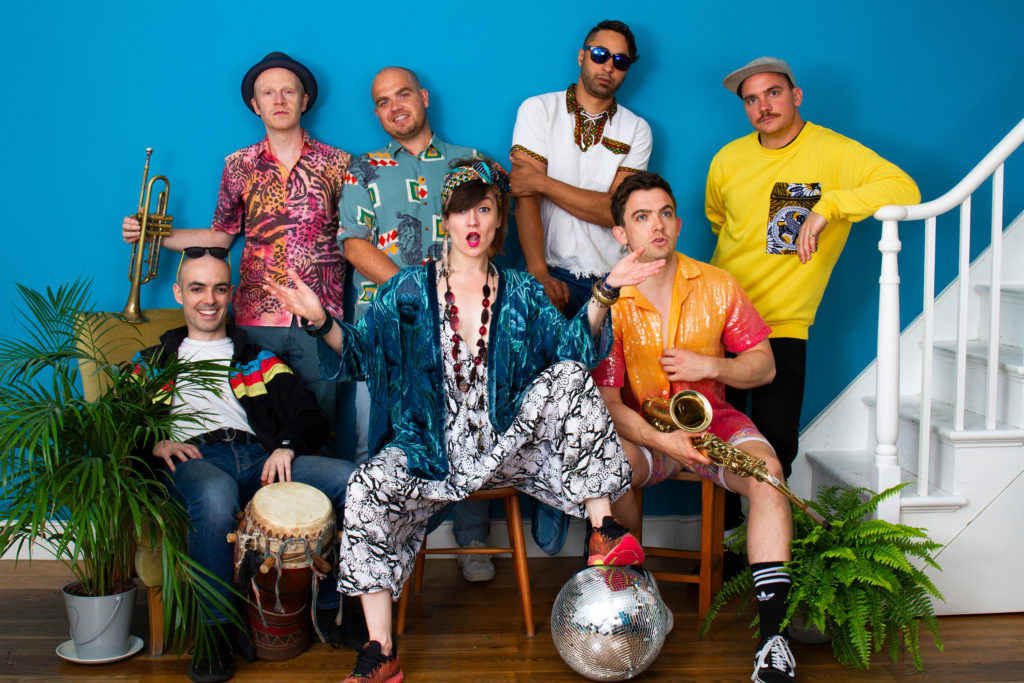 It's been a strange kind of day. 
I have watched the first two episodes of the new Obi Wan tv series, Stranger Things season 4 just dropped… 
And Cable Street Collective sent me their album to review. 
I'm blessed right now and it's not even 9am yet. 
So what did they send me? 
Well, it's a 13 track banger! 
Let's do this… 
Oh wait… First a word about them from the band themselves…
"Three of us (Fi, Ash and Tristan, on vox and guitars) went to Nottingham Uni together, and used to play the occasional open mic night. But it wasn't until we were living in London after Uni that we started making music together more seriously. We started playing the festival circuit, Bestival, Boomtown and so on, and gigging at places like Passing Clouds (RIP) and Hootenanny in Brixton. 
Aaron and Sam joined on bass and percs / loops in 2016, and we put out a second EP which got picked up by BBC 6Music, and various other places – and it just kept growing from there. Matt & Dom on the horns were regular "special guests," and in the end we just thought "let's get trumpet & sax in all the time", cos we were playing with them more often than not."
Right. Time to get the party started…
The Wolf
This brings such sunshine… Fi's voice is uplifting and she hits the ground running you can almost see her dancing at the mic as she sings her joy out on this one… 
The guitars – both bass, rhythm and lead are playing riffs that were birthed deep in African history… hi life…
The horns fuse Afrobeat melodies with a bit of Latin American flavour, and… it tastes good! 
Those drums are insane by the way. 
Bells And Whistles

 
This is what I wrote about this song last year.
Bells And Whistles has hi-life written all over it with a carnival vibe. The guitar riff in the intro makes you want to break out the supermalt and jollof rice (note: I HATE Supermalt) and dance a little bit… Shout out to CSC's bass player, because I can hear influences of Abraham Laboriel (my favourite bass player ever) and Jaco Pastorius with his melodic playing and rhythmic lines. I cannot wait to see them play live. They're seasoned musicians and this shines through in their sound, as this is almost written with festivals and carnivals in mind. We shall live this life again.
Cable Street Collective are a London band who have been championed by Tom Robinson, they are a seven piece who took their name from the uprising in east London against Oswald Moseley's black shirts, they've been hot on the festival circuit and have even collaborated with Osibisa's Gregg Brown.
Life on Repeat

 
 Continuing with the Latin flavour, and the horns coming blasting through, the bongos keep it upbeat, this like the rest of the album is festival ready, even carnival ready… this is probably my favourite song on the album. The song is in Ab and because of that "happy note" range it brings a smile to my face.
Nice work.
Americana

 
What I like about this is the way that a tube train rolling along is incorporated into the intro, it makes use of the sounds around them, and if you listen to the lyrics it gives you a clue as to where that was recorded.. somewhere on the Northern line.
Nice. 
The guitar playing had me jaw dropping by the way. 
Throw Down Your Feather

 
The horn stabs are tasty on this… You could just imagine people dancing in a line to this…. 
The ever present percussion takes it up a notch on this, and it's got a catchy chorus to it. One of my favourites.
Power Is Out
This track is slightly slower and if I might say so without a pun…. This is slightly darker.
All the elements are there but it's got a slight menace to it in the bassline, this is almost bluesy if not all the way. But it's a banger still! Shows the versatility of this band… 
Tant Pis Mon Cher

 
The title means "Too Bad My Dear", no I have not become bilingual! But this takes the tempo back up again and it's skilful, the drums are just kick and snare where the snare does a roll at the end of ever second bar…
There's a catchy bit where the breakdown is at 1:20 and you could hearth ohhhhs. This is a top notch performance!
Sew Up Your Lips
In my church we have a Congolese branch, and they love their guitars and this style of drumming, it's slightly slow in tempo but it certainly gets you grooving, I haven't seen their musicians in a long while but this made me miss them – that with the combination of "Tant Pis Mon Cher" – Fun times pre covid. 
That bassline is simply beautiful. 
Interlude
This is just a little bit of an instrumental outro to what "Sew Up Your Lips" and  it's a gorgeous idea, nice sequencing on this album so far. I am willing to lay a bet that Sew Up Your Lips is probably their favourite track and just needed a little bit more to tie it up.
Speaking In Tongues

 
This song is how I came to know about Cable Street Collective, via Fresh On The Net. This song features Gregg Kofi Brown, he's a bit of a legend in these parts for many reasons, one being that he's a renowned musician and songwriter in his own right, another being that he's also the bass player of Osibisa. 
Yes that Osibisa. 
He's also the father of Aaron, the bass player in the band.
Anyway, this song brings joy to my soul. 
That bass line is so fluid and the percussion just makes you naturally want to dance! The hook involves chanting, and it's infectious….
Above Or Below

 
This deviates from the usual flavour and adds a trap beat, but when it gets to the chorus there's a dub reggae influence – back to the dark flavours again too…. The horns are present too making it very punchy, and the way it switches grooves fluidly makes this song a sure fire hit potentially live!
Do It Again

 
The BOUNCE. Oh the BOUNCE! This song is so playful, shifting gears, and well thought out in its arrangement – at the beginning there's a drum fill around the bass, guitars, noodling comfortable then BAM! Into a shuffling beat that just… 
Bounces. 
This is easily my favourite song on the album, interesting arrangements, it's like you can't help but want to dance…. 
Such a great tune.
1000 Cuts
The sigh at the beginning didn't go unnoticed. 
This song starts off with an acoustic guitar, and is a ballad, among dance worthy songs – this shows the band's versatility, and while I sit here at 5am with my cuppa, this is just what I need. The djembes tap out the rhythm along a hint of distorted guitars.
The horn arrangement on this is spot on at around 1:50, simply giving the nice little instrumental break. 
This is the way to send folks home with a smile on their faces after a carnival feel.
Quite frankly, I'm glad that this has come out, I needed this, and I'm glad to see that Cable Street Collective are still doing it and bringing the party back!