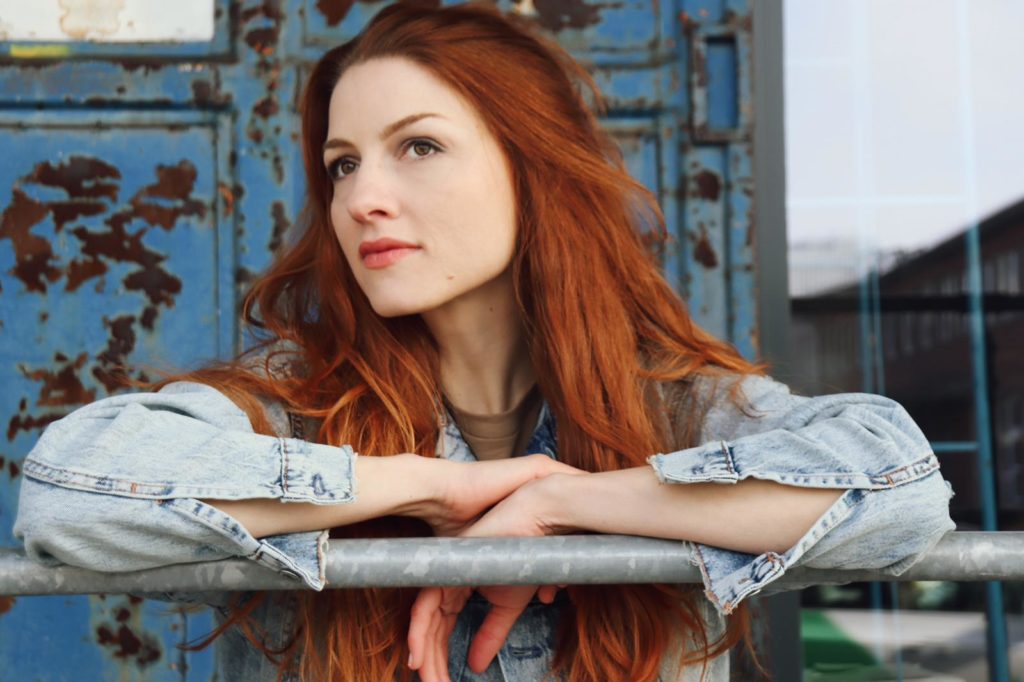 Hello Nora, how are you?
I'm good, thanks! Hope you are, too.
I'm great thankyou for asking!
Congratulations on the release of "We'll Make It", how does it feel?
Thank you! It feels great. I'm enjoying that I'm finally coming out with a Country flavored track again.
What's the story behind the song?
It's about a situation I had with my husband… who was still my boyfriend when it happened. We started talking about babies, and all of a sudden we freaked out and listed to one another why we're not a good match. I guess we just got scared looking at this huge commitment. For a few shaky weeks I had no clue whether we would break up or go all in. After this phase, when the baby topic came back up, we managed to put our fears aside and go for it. This experience taught me that a true commitment in a relationship can require quite some courage. "Mr. & Mrs. Right" doesn't necessarily happen out of nowhere.
It's part of a trilogy that describes your current life situation "Married with children", what was the main catalyst for this idea?
These three songs were the first ones I wrote right after my maternity leave. I wanted to write about my changed life situation and the experiences I'd had. So I dedicated one song to my husband / our marriage ("We'll Make It"), one to my children ("Be Yourself" out 03/18) and one to feminism ("Beautiful Lady" out 04/29).
You're a singer songwriter from Germany, how did it all begin for you?
I've always wanted to become a singer, I never had a plan b for a profession. After high school, I studied pop vocal performance and songwriting in Hamburg. At the same time, I tried to get started as a singer-songwriter, trying to find people to work with and locations to play gigs at. I recorded my first album, which is not available at present (thinking about reissuing it though). I also started teaching vocals. I'm a vocal coach to this day.
I've always tried to stay present in and around Hamburg, playing live, recording songs when I would have the opportunity.
What did you listen to growing up?
In my childhood and early teens I listened to divas – my favorite being Whitney Houston, but I was also a big Mariah Carey and Céline Dion fan. Later in my teens I gravitated towards grunge / alternative rock, but also pop.
You really started writing during the lockdown of 2020 what were those first steps like?
I was a singer-songwriter long before the lockdown of 2020. I took the opportunity of the lockdown to present myself on social media, mainly Instagram. Before 2020, I was a musician outside of social media, playing gigs in and around Hamburg. So I'm pretty new at content creation.
How does a typical writing session begin for you?
I play around on the piano a bit, trying out different chords and singing along to them. Sometimes I use the guitar instead.
However, there are situations when I make up songs in my head, for example on a walk or during a car ride… completely without an instrument. I usually record that with my cell phone and try it out on the piano later.
COVID affected the creative industry in a big way, what kept you motivated?
I guess it was my Instagram activity… I really wanted to figure out how to translate my work and myself to Instagram. It was quite a journey… content creation takes a lot of time and energy. But it was a really helpful process, I saw myself from a fresh perspective which I enjoyed.
2020-2021 was a time to reflect what did you learn about yourself?
I learned once again how important it is for me to be able to make and create music.
Did you pick up any new skills during this time?
Owing to content creation on social media, I learned how to create my own videos, getting into an editing software and figuring out how to transport a little story or information through a video. That's actually a lot of fun to me.
I also learned that I don't need experiences in the outside world in order to get inspiration for a song. There are so many memories, thoughts, feelings inside of me that I can write about… lockdown to me doesn't equal lack of inspiration, thank god.
Being from Hamburg what are your three favourite things about your city?
The harbor, the district of "Sankt Pauli" and the vibrant music scene.
What are you listening to at the moment?
Chris Stapleton. I'm marveling in his songwriting and vocal performances!
What are you looking forward to doing next?
I would love to move from releasing singles to a larger body of work… an EP or even an album. We'll see what I can realize.