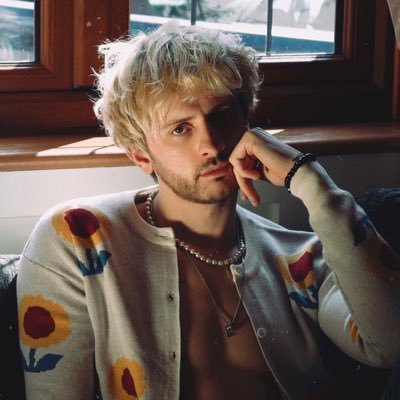 Hello Matt, how are you?
Great Del, thanks so much for having me! 
Congratulations on the release of "get on up", how does it feel?
I always feel a bit exposed when I release a song that I'm really passionate about and have poured my heart into. On the other hand though, there aren't many things that match the rush you get when you finally put that song you've been working on out there!
It has such a joyful bounce to it, what's the story behind the song?
I'd been in such a rut over lockdown like I think a lot of us were – not just musically but mentally I think I had a lot of self doubt going on inside. This song came out of a shift in how I was feeling, when it all suddenly started to click and for the first time in a while I started having a bit more belief in what I was creating. Lyrically it's definitely about being in a childlike relationship when you have these preconceptions of who that perfect person is and your willingness to compromise on that relationship because of societal expectations. But on reflection I almost imagine it to be about a relationship with two halves of myself – essentially standing up against my negative half and getting out of this situation.
You're a singer/songwriter from Andover, how did it start for you?
It all really started when I began getting guitar lessons. My guitar teacher really inspired me to learn about songwriting, and I was lucky to find friends who shared a passion for creating music. My uncle was also a huge inspiration, he sadly passed away a few years ago, but he had an amazing collection of guitar pedals and equipment that he'd share with me when he visited.
What did you listen to growing up?
Haha, urmm, well! I was absolutely obsessed with R.E.M. growing up, so yeah if Peter Buck is reading this hit me up for a collab. But I was also super into The Monkees, The Ink Spots, Ella Fitzgerald, The Troggs, Velvet Underground, The Dø, Vampire Weekend. I could go on, but they all definitely had an impact on me when I was younger.
You learnt Spanish guitar, what's your favourite piece to play on it? 
My Dad bought me the sheet music for a song called The Most Evolved by John Clarke. I literally stumbled across it on YouTube when I was about 11 but it must have struck a chord with me… pardon the pun. It's hard to resist playing the intro anytime I pick up a guitar.
You studied at BIMM, what was that like?
I don't imagine studying at BIMM to be much like other universities, but it was great fun. I really think it's a place that you get out of it what you put in for sure. Living in Brighton was incredible, there's not another place quite like it here in the UK.
What was the most important thing you learned on the course?
Put yourself out there! You miss out on 100% of the opportunities you don't go for. You suddenly have all this free time when you head to Uni which can be a shock to the system, but using that time to build your skills is crucial. So yeah.. does that count? Haha
You've worked with some heavy weight producers too, what was a big pinch me moment? 
I remember recording an E.P. with Pete Robertson in The Fire Pit at Warner Studios. That was definitely a surreal moment. You're there, like, hanging out with Pete and then you're also at this amazing place with so much musical history. You can't quite wrap your head around it when it's happening. 
You have your own studio attic, what's an essential part of your set up for you?
Can I say all of it? haha. I'd have to say my MacBook I suppose. It's really just so essential to have that if you want to produce your own music. But saying this I'm feeling a lot of guilt about my guitar haha.
COVID impacted the creative industry in a big way, what kept you motivated?
I found busking really helped me. For a period it felt like people had given up on the music industry, but I was super surprised by all the support there still was from these complete strangers when I'd busk. It also helped me regain a lot of self confidence – enough that I'm able to be putting music out now.
The last couple of years have been a time to reflect what did you learn about yourself?
That I can fit 50 cheeseballs in my mouth…
Who am I kidding, I already knew that.
I think I probably learnt how important writing music and being able to express myself creatively is for me as a human. I honestly don't know how I would have coped without having that as an outlet, I've struggled with my mental health over the years but music has always been there as a form of independent therapy in a way.
Did you pick up any new skills?
I have been massively working on my production. There's a lot of trial and error there, and it's honestly been a bit off a godsend having all this time to get things wrong as much as anything. There's no one there telling you what's wrong or what's right. Music being very subjective as well there's no right answer. But finding out what I like and what I want from this has been a skill in itself.
What are you listening to at the moment? 
I am crazy into the whole Bedroom Pop/ Indie Pop scene. Remi Wolf, Still Woozy, Solomonophonic, Life in Sweatpants and Sfven are definitely getting some heavy rotation at the moment. But also some friends of mine CARLIE, TWSTD ZOO, Mythic Creature, Eroir and Neef have been putting out some incredible material.
What are you looking forward to next? 
Other than 'get on up' hitting number one you mean? Just kidding. I've got some really exciting things to come which I'm not sure I can talk about just yet, but really just putting out these songs I've been writing over the last couple years. I've had a lot of time to create this portfolio and each song covers something significant to me and hits in a way that it feels important to share. I really just can't wait for the world to hear this project and hopefully make a few friends along