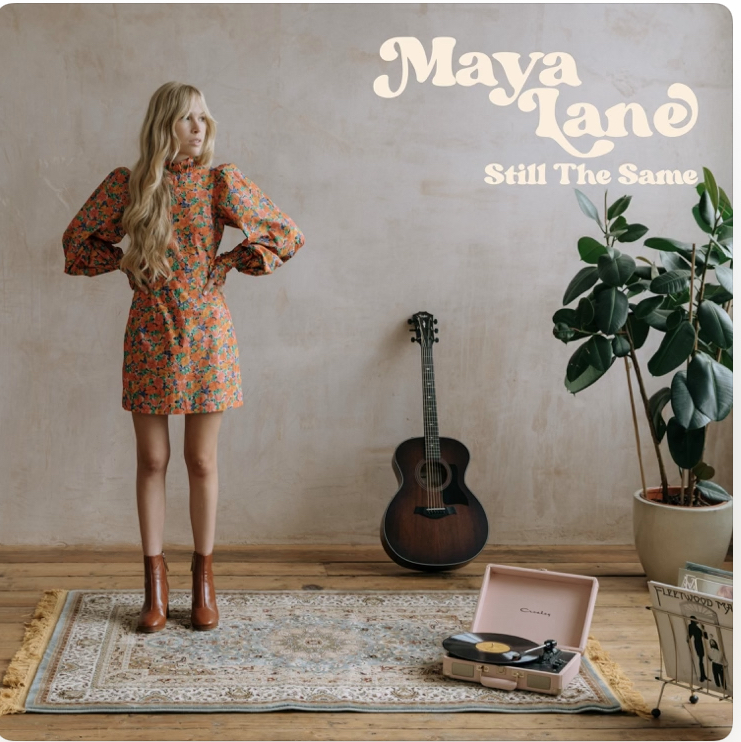 Hey,
I'm great thanks. I'm so excited that my debut single is finally out!
Congratulations on the release of "Still The Same", how does it feel?
Thank you so much! It's the best feeling. I've been working on this for such a long time, so to be able to share the song and see everyone loving and connecting to it, is amazing.
It's got beautiful and poignant lyrics, what's the story behind it?
I tend to write my songs from personal experiences and feelings. However, I love taking inspiration from everywhere (books, films, photos) and using my imagination to write and tell stories. This was the case for 'Still The Same', I went into the studio with the idea of telling the story of a breakup through the message of feeling like everything around you has changed but you are still the same person at heart.
You co-wrote it with Jonathan Quarmby. What was it like working with him?
I started working with Jonathan just after the first lockdown in 2020. I'd spent so much time in lockdown developing my sound and working on my music, that when I first went in with Jonthan the timing was right. I feel as though he really gets my brain and helps push me to be the best writer I can be.
He produced it too, what was the best bit of advice he gave you?
Ooo, that's a hard one. Jonthan gives a lot of great advice, he's always encouraging me to be authentic. But I think the most important thing to me is that he is honest. If I'm writing, singing or playing guitar and he thinks it could be better he will say so and I love that. It also means that when he compliments you it's coming from a genuine place.
You're a singer/songwriter from London, how did it all begin for you?
For as long as I can remember I have always loved music and dreamed of being a singer. When I was four I got a tennis racket for my birthday, which I immediately turned upside down, screamed 'I love it' and started playing it like a guitar. I think that was the first moment everyone around me realised that this is what I wanted to do, and shortly after I started vocal and guitar lessons.
I have always been super determined and would say that I properly started trying to push myself as an artist from around age 12. This is when I started playing shows, gigs and festivals. I used to sit down on my family laptop and send out hundreds of emails to anyone who was hosting a music night or organizing a festival, practically begging them to let me (a 12 year old girl) play.
What did you listen to growing up?
I was brought up listening to such a wide range of music, from reggae, rock, hip hop to pop but storytelling lyrics and effortless melodies of folk and country really drew me in.
Were there any particular songs that made you want to sing naturally?
Any Joni Mitchell song! I think she has the most amazing voice and her melodies are otherworldly.
You've got a new EP coming out later this year. How are preparations going for it?
It's all very busy but super exciting! Everyone always laughs when I say this, as I sound like an old woman, but I really have been working on this project for years now, so to have music that feels so authentic and that I love so much, coming out so soon is amazing.
What's your favourite track from it?
I'm the most indecisive person so this literally feels impossible to answer as they are all my little babies. Each song has a different meaning and holds a special place in my heart, so I can't pick one.
What's been your favourite part of the process so far?
I truly love the whole process of creating music, but there is nothing better than coming out of the studio with a demo you love and listening to it the whole tube journey home. With all these songs the minute we finished writing and recording them, they felt so authentic.
Any funny stories from the sessions?
I think people are always wondering what crazy vintage dress or coat I will be wearing next. I also always carry a packed lunch and snacks around to sessions, like a four year old, which people find quite funny.
COVID impacted the creative industry in a big way. What kept you motivated?
I feel as though I have been very lucky that over the last few years and lockdowns I've been able to take the time to work and focus on my music. I've always been very self motivated but one thing my managers always say which helps is, you might not get the time like this to be creative again, so use it and enjoy the process as you go.
The last two years have been a time to reflect, what did you learn about yourself?
One of the most important things I learnt was to trust myself and my opinion and do what I love and what feels right to me. Also that as much as I can try, you can't control and plan for everything but it has a way of working out.
What are you listening to at the moment?
I've always got my favorite albums like, ''Rumours' by Fleetwood Mac and 'Golden Hour' by Kacey Musgraves, on repeat. At the moment I'm also loving a band called Trousdale, their harmonies are insane.
What are you looking forward to next?
I'm really looking forward to releasing more music and have people see some of the visual side of my project as well. I also can't wait to play more shows, and watch people dance and sing to my song live.